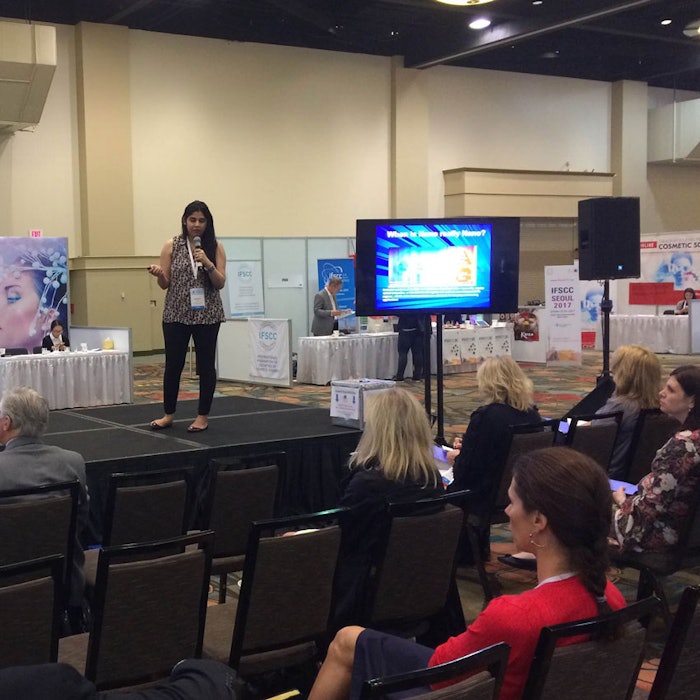 For two days during the IFSCC Congress in Orlando, more than 130 exhibitors highlighted some of the latest and greatest cosmetic innovations the industry has to offer. And, for the first time, the exhibition featured the "Innotech-Connect Zone" consisting of a Podium Presenter Corner, where attendees could meet and mingle with podium presenters, and a raised-stage "Innotech Speed Dating" presentation area.
The stage gave poster presenters, suppliers and peripheral industry experts the chance to talk for 10 min about their work with attendees, and to participate in a Q&A session. The audience members could then vote for "the most innovative" and "highest potential industry application."
Harshita Kumari, Ph.D., of Cosmetics & Toiletries' "Ones to Watch," was also one of the stage presenters. Her poster was entitled "When is 'Nano' really 'Nano'?" Kumari leads a research group of graduate students and post-docs at the University of Cincinnati that focuses on investigating the colloidal properties of cosmetic formulations, the synthesis of novel nano-assemblies, nano-encapsulation and delivery of actives across biomembranes.
Topics featured in the Innotech Speed Dating circuit varied widely. Following are just a few:
Bob Lochhead, Ph.D., of the University of Southern Mississippi, on "Formulating for Extreme Conditions";
Hanane Chajra, Ph.D., of Givaudan, on a new bio-active to address skin's biological stressors;
Stacey House, of Kobo Products, on the KoboGel Aqua series of color composites;
Joel Basilian, of BASF, on new and unique low molecular weight keratin proteins for hair maintenance and repair;
Steve Bailey, of the University of Southern Alabama, on a new concept for UV protection by enhancing the natural quenching mechanisms of skin folates;
Jennifer Donahue, of Croda, on 100% renewable nonionic surfactants; Matt Hoover, of Kruss SA, on the Ross Miles Foam Analyzer for automated measurements of foaming and foam stability (in accordance with ASTM D1173); and 
Janine Cherette, of Shin-Etsu Silicones of America, on texture creations using the company's unique emulsifiers.