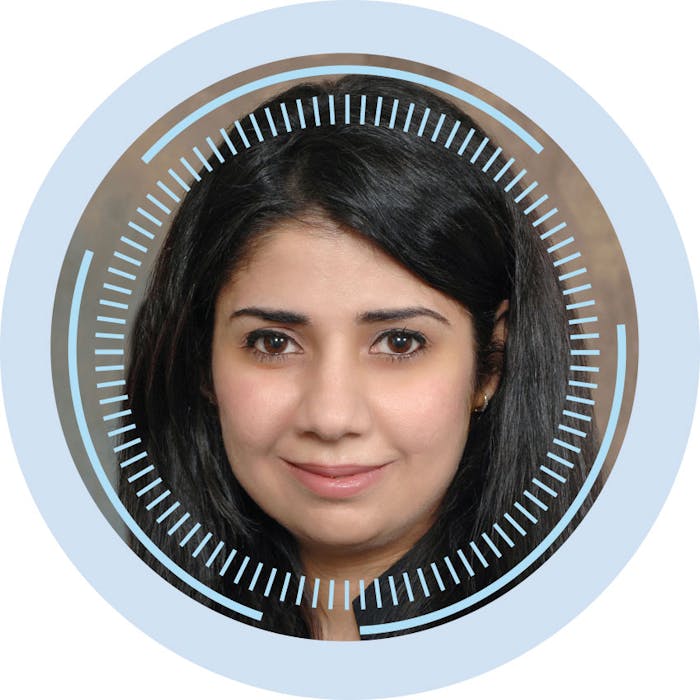 Harshita Kumari, Ph.D., obtained her bachelor of science degree from Nagpur University, India, in 2005 and her doctorate from the University of Missouri at Columbia, USA, in 2011. From 2009−2011, she was a foreign guest researcher at the National Institute of Standards and Technology's, NIST's, Center for Neutron Research (NCNR) in Gaithersburg, MD, USA. In 2011, she joined Prof. Carol A. Deakyne as a postdoctoral fellow, wherein she focused on theoretical studies.
In 2012, Kumari received the Royal Society of Chemistry's (RSC's) Journals Grant for International Authors and went to Stellenbosch University as a visiting scientist. In addition, she was a visiting scientist at Durham University, UK, and Flinders University, Adelaide, Australia. In 2015, she joined the University of Cincinnati (UC) as an Assistant Professor at the James L. Winkle College of Pharmacy.
At UC, Kumari is a research faculty member in the division of pharmaceutical sciences, with a focus on both biomembrane and cosmetic sciences. Her additional research interests include complex fluids, solution structures, nanochemistry and neutron scattering. Her research group or graduate students and post-docs focuses on investigating the colloidal properties of cosmetic formulations, synthesis of novel nanoassemblies, nano-encapsulation and delivery of actives across biomembranes.
She has presented several invited lectures at various national and international conferences, and has published more than 40 journal articles and book chapters. She is currently leading collaborations on perfumes and cosmetics with the University of Versailles, Paris, and is the chair of the Undergraduate Advisory Board of Cosmetic Science.
C&T: Who are/were your mentors?
HK: My Ph.D. mentor was Jerry L. Atwood, Curator's Professor and Chair of Chemistry, Senior Research Investigator, University of Missouri-Columbia. My postdoc mentor was Carol A. Deakyne, Professor of Chemistry, University of Missouri; and my academic mentor: Dean Neil Mackinnon, James L. Winkle College of Pharmacy, University of Cincinnati.
Cosmetic Interactions
C&T: What interests do you have, or current work are you conducting, that relates to cosmetics?
HK: My current work is focused on investigating the interaction of cosmetic actives with bilayer membranes, the synthesis and photochemistry of novel sunscreen agents, and the encapsulation of bio-actives and cosmetic actives within nanocapsules for sustained delivery. Colloidal chemistry is another major domain wherein my research focuses on structural investigation of soft matter including gels, polymers and surfactants. In addition, my group focuses on polymer-surfactant interactions and properties thereof.
C&T: What do you like most about your work? What do you like least?
HK: My work involves an amalgamation of principles of basic science, primarily chemistry, biology and neutron physics, with applied science, which opens avenues of novel innovative research in the area of cosmetic science. In addition, a major portion of my work revolves around nano-science, which is an intriguing and challenging area of research in the area of cosmetics.
C&T: What do you find most challenging about your work?
HK: The most challenging part of my research is bridging the gap between academics and industry by virtue of training innovative minds (i.e., graduate students and postdoctoral fellows) and preparing the new generation of cosmetic scientists who will revolutionize the field of cosmetics.
The Unknown and Nano-science
C&T: Give an example of an observation or a problem you solved or identified that you think has potential application in the cosmetics industry.
HK: A major problem in the area of cosmetic science is deciphering the unknown mechanisms of action of various skin, hair and oral care actives. Formulation science primarily involves adjusting formulations for desired properties, whereas quality assurance focuses on quantifying the delivery of actives and developing claim support data.
What remains unanswered is identifying the mechanisms of action and controlling parameters that could provide tools to design novel formulations with specified action and delivery effects. My research focuses on investigating mechanisms of action and interactions of cosmetic actives with human skin, which are extremely challenging to answer through traditional methods. We use nano-science to develop and investigate the novel properties of actives, which are otherwise untapped by cosmetic industry.
Cutting Edge, Consumer Acceptance and Collaboration
C&T: What about the cosmetics and personal care products industries excites you? How would you like your role in the industry to evolve?
HK: The cosmetics industry is a vibrant field that combines beauty with science. It's a reflection of current trends and shows how modern-age fashion and beauty have evolved with elegance. The most exciting arena in this field is the cutting-edge research that goes into making quality products that make women more beautiful. As a scientist, I feel extremely privileged to have the ability to solve mysteries of science and develop novel products for the cosmetics industry.
C&T: How is the industry helping to make this evolution happen? How could assistance improve?
HK: Business and industry provide a true picture of consumer responses. Discovery is only half the success; it must also be perceived well by consumers. Industry is, in particular, instrumental in transforming our cutting-edge research and ideas into finished products and putting it within consumer reach. An increase in scientific collaborations between industry and scientists in academics, and more investment in research would define the next generation of cosmetic industry.
The Nano Future
C&T: What areas or technologies do you think are untapped for cosmetics R&D?
HK: The use of novel biophysics tools to investigate mechanisms of delivery and action has been a relatively untapped area for cosmetics R&D. The use of nanochemistry for fine-tuning the properties of cosmetic actives and their delivery actions is relatively less explored.
C&T: How do you envision the cosmetics/personal care industry of the future?
HK: The cosmetics/personal care industry has a bright future ahead of it. With several untapped discoveries, novel innovations are yet to happen, which will transform the next era of the cosmetic world. The education sector and cutting edge research by academics is very active these days in unraveling the mysteries of skin and hair care. Nanotechnology and targeted delivery of skin care actives will be instrumental in transforming the future of the cosmetics industry.