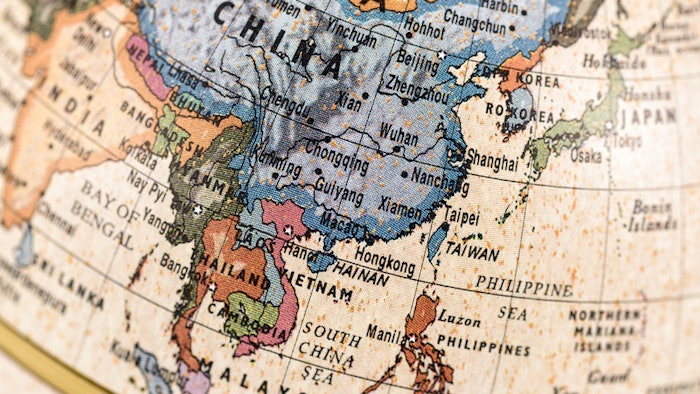 The organizers of in-cosmetics Asia have announced the shortlist for the 2022 Innovation Zone Awards, highlighting ingredient innovations launched since March 2022. Meanwhile, formulated ingredients related to this year's chosen product categories, Healthy Skin and Makeup, will be featured in the dedicated Spotlight On product display.
Related: What's Next for Beauty Accelerate and the Allē Awards
Twenty ingredients have been shortlisted, each with a chance of scooping the title for Innovation Zone Best Active Ingredient and Innovation Zone Best Functional Ingredient; more than 30 entries will be considered for the Spotlight On Formulation award. The winners will be announced on Wednesday, Nov. 2, 2022, at the show as it returns to the Bangkok International Trade and Exhibition Centre (BITEC).
In a press conference about the awards, Kilala Tilaar, CEO, Martha Tilaar group and Innovation Zone award judge spoke about the current Asia-Pacific (APAC) trends that are driving demand for sustainable and nutrient-rich ingredients, including a greater focus on traceability as well as the continued popularity of natural and organic ingredients. He revealed that a boom in supplier concept formulations was being driven by a need to support brands' product development and the increasing clinical focus in favor of efficacy that is supported by science.
In terms of judging this year's award entries, Tilaar, added: "In order for the winning ingredients to meet the needs of the industry, innovation, novelty, the use of technology and invention are my top concerns. The focus of this year's assessment is also on the growing consumer awareness of sustainability issues, so ingredient producers must demonstrate not only technological innovations but also how ingredients are produced using environmentally friendly processes that have an impact on society."
He continued, "Two topics that fascinate me this year are neurocosmetics and microbiome. The use of ingredients with biotech materials as part of their components is beginning to replace the cosmetic industry's reliance solely on chemical-based properties. The use of cosmetics with the advantages to human health and senses is combined in the emerging field of neurocosmetics."
Fellow judges of this year's awards include: Oliver Hofmann, Ph.D., in-cosmetics Asia 2022 official technical advisor and technical director, Shieling Laboratories; Awanthi De Silva, Ph.D., NPD lead (senior chemist), Moorebank aerosol fillers; John Jiménez, senior researcher, Belcorp; Kilala Tilaar, CEO, Martha Tilaar group; Muriel Pujos, technical and scientific director, skin care, Coty Monaco; Pi Hyun Jung, aka Director Pi, the Phi essential; Ranelle Anderson, technical director and co-founder, Ausmetix Pty Ltd; Seongmin (Mike) Sohn, CEO and representative consultant, REACH24H consulting group, Korea; and Stacey Fraser, co-founder, products director, Sage Collective.
Innovation Zone: Active Ingredient Award
Shortlisted in the active ingredient category are: 
Caressense biofunctional by Ashland Singapore:  Caressense biofunctional  (INCI: Water (Aqua) (and) Propanediol (and) Jasminum Grandiflorum Flower Extract) is a phytofermented extract from fresh and organic jasmine flowers, sustainably grown in Provence, and inspired by research on the connection between skin and emotions and science of love. The natural bioactive activates skin sensors of touch, the piezos, to release "feel-good" and anti-aging molecules for wellbeing and well-aging benefits.
Postbiolift Lactobacillus Ferment by BASF:  Postbiolift (INCI: Maltodextrin (and) Lactobacillus Ferment) is preservative-free, 100% natural postbiotic ingredient for healthy aging. It is designed to make the skin more elastic and smooth, lessen the visibility of crow's feet and create an even complexion. It provides radiance, matrix protection, elasticity and anti-wrinkle benefits.
DST-DX by Cellicon Lab: DST-DX (INCI: Not Provided) is the first targeted skin-lightener that is designed to target the melanocyte — a highly differentiated cell that produces a pigment melanin inside melanosomes. It contains one of the most potent tyrosinase inhibitors; even more potent than hydroquinone, the company reports.
CutiGuard CLR by CLR Berlin: Based on the extremophile red algae Galdieria sulphuraria, CutiGuard CLR (INCI: Betaine (and) Sucrose (and) Hydrolyzed Rhodophyceae Extract (and) Water (Aqua)) constitutes a refined approach to the first signs of skin aging. It transfers the adaptivity and resilience of Galdieria sulphuraria to a highly effective, natural active ingredient that protects the skin in stressful environments.
Sederma BB-Biont by CRODA Singapore (to be launched at the show)
Vitamin B12 Cryst by DSM Personal Care: A new grade of vitamin B12, Vitamin B12 Cryst (INCI: Cyanocobalmin) is produced through non-GMO bacterial fermentation, has a natural origin index of 68.7% and is halal approved and vegan compliant. It helps relieve fatigued and irritated skin, protect the skin barrier and promote a more vibrant looking complexion. 
Rootness Awake by Clariant: Rootness Awake (INCI: Propanediol (and) Water (Aqua) (and) Ipomoea Batatas Root Extract (and) Sodium Sulfate) is an extract from the roots of sweet potato that have been cultivated in aeroponic conditions thanks to an environmentally friendly plant milking technology that directly stimulates the roots to produce active molecules. It targets the main mechanisms of action responsible for dark circles and under-eye bags, improving eye contour brightness and stiffness (+95% after only 7 days) and a decreasing puffiness (-30% after 7 days).
NovoRetin by Mibelle Biochemistry:  NovoRetin (INCI: Pistacia Lentiscus Gum/Pistacia Lentiscus (Mastic) Gum (and) Hydrogenated Lecithin (and) Phenethyl Alcohol (and) Ethylhexylglycerin (and) Caprylic/Capric Triglyceride (and) Water (Aqua)) is based on mastic, an aromatic resin that comes from a tree that exclusively grows on the Greek island of Chios. NovoRetin serves as an ideal plant-based retinol alternative, providing both strong anti-aging effects and exceptional benefits for acne-prone skin. 
Myramaze Essence by Rahn: Myramaze Essence (INCI: Caprylic/Capric Triglyceride (and) Myrothamnus Flabellifolia Leaf/Stem Extract) is a sensocosmetic that revives and vitalizes the skin. It reinstates the skin's natural radiance and relaxes the skin and mind. It is proven to balance facial hydration, reduce redness, brighten skin, reduce roughness and increase gloss. In addition, it strengthens the skin barrier and makes it more elastic. It also imparts a plumping effect to the lips, reducing wrinkles.
Elaya Removat by Vytrus Biotech: Elaya Renova (INCI: Glycerin (and) Olea Europaea (Olive) Leaf Extract (and) Pentylene Glycol (and) Cyclodextrin (and) Citric Acid (and) Cyamopsis Tetragonoloba (Guar) Gum (and) Xanthan Gum (and) Tocopherol (and) Phytic Acid (and) Water (Aqua)) is a natural active that boosts hair tensegrity – an architecture-inspired concept that considers scalp, hair follicle and hair shaft where all parts are interconnected and the whole hair system is revitalized with a plant strategy.
 Innovation Zone: Functional Ingredient Award
Shortlisted in the functional ingredient category are:
Antaron Soja Glyceride by Ashland Singapore: Antaron Soja Glyceride (Proposed INCI: Maleated Soybean Oil Glyceryl/Octyldodecanol Polymer) is a novel nature-derived, biodegradable, water resistance film former and SPF booster for sun care formulations that also provides transfer resistance for color cosmetics. Antaron Soja Glyceride is non-GMO, vegan suitable and compatible with both organic and inorganic ingredients.
Z-COTE Sheer by BASF: This naturally derived liquid dispersion of zinc oxide is a highly effective, inorganic, broad-spectrum UV filter with excellent photostability that allows for the creation of lightweight formulas that protect the skin. Z-Cote Sheer (INCI: Zinc Oxide (and) Coco-Caprylate/Caprate (and) Polyglyceryl-2 Dipolyhydroxystearate (and) Lecithin) offers a low-whitening effect, so it is applicable for a wide range of sun and skin care applications, including daily wear products for all skin tones. With its ease of use and high compatibility, it offers excellent flexibility for formulators and works in harmony with other natural ingredients.
SeaBalance 2000 by Carbonwave: According to the company, SeaBalance 2000 (INCI: Pentylene Glycol, Sargassum Fluitans/Natans Extract, Xanthan Gum) is the world's first seaweed-based cosmetic emulsifier. It delivers performance like that of a synthetic emulsifier while being completely natural. Made from upcycled Sargassum, it prevents 450 kg of CO₂e with each ton of seaweed used.
Tegosoft LO MB by Evonik (Thailand):  Tegosoft LO MB (INCI: Lauryl Oleate) is a natural replacement for mineral oil with similar sensory properties in skin care products. The medium spreading emollient is fully based on renewable sources and produced by a unique, eco-efficient process. Its excellent wetting properties make it especially suitable for color cosmetics.
Isonaturane 12 by Global Bioenergies: This naturally sourced isododecane is described as one of the most important molecules used in the cosmetics industry, both in the makeup segment, where it is reportedly the only molecule able to deliver long wear properties, and in skin care and hair care, where it endows textures with lightness and softness.
SolaPure Glo by Hallstar: All-natural SolaPure Glo (INCI: Vegetable Oil (and) Simmondsia Chinensis (Jojoba) Seed Oil (and) Curcuma Longa (Turmeric) Root Extract) leverages curcumin's benefits to improve sun protection's SPF and PFA performance, control hyperpigmentation and promote overall skin well-being. It can be used in any cosmetic formulation to provide youthful radiance and glow.          
Vitacel CS 30 Oat by J. Rettenmaier and Söhne: This ingredient is an upcycled byproduct of the food industry. According to the company, using oat straw, the process to create this product wastes no food. With a high technological procedure, Vitacel CS 30 (INCI: Cellulose) is possible to upcycle this waste material to a high-quality product with an average particle size of 30 µm. This low particle size leads to a fine soft-touch powder with high water and oil-binding capacities.        
Dekamulen Power'Feel by Jan Dekker exclusively at IMCD: This natural-derived cellulose-based emulsifier offers good emulsifying performance (up to 20-30% of oil) and is capable of emulsifying a broad range of emollient types. Dekamulen Power'Feel (INCI: Microcrystalline Cellulose (and) Xanthan Gum (and) Cellulose Gum) provides nice sensoriality, light and silky textures, and high spreadability with a quick break, without a peeling effect, at low use levels (1.0-1.5%). 
HY-N Solution by Nabsolute: This delivery system is a patented nano-modified hyaluronic acid grafted with poly-isopropyl acrylamide. HY-N Solution (INCI: Hyaluronic Acid/Poly Isopropyl arclyamide copolymer, Butylene glycol, phenoxyethanol, Water (Aqua)). offers a range of functional benefits including moisturizing, anti-inflammatory, wound healing, whitening and anti-aging properties.
Sharomix 699 by Sharon Laboratories: Finally, Sharomix 699 (INCI: Zinc Acetate (and) Sodium Benzoate) is a broad spectrum preservative blend with a minimalist composition, suitable for cosmetic applications inspired by clean beauty. Both of its components are listed as food preservatives and represent concrete alternatives to traditional preservation proposals. Completely water-soluble, it is also suitable for baby care and wet wipes applications, while its high biodegradability makes its an eco-friendly preservative.