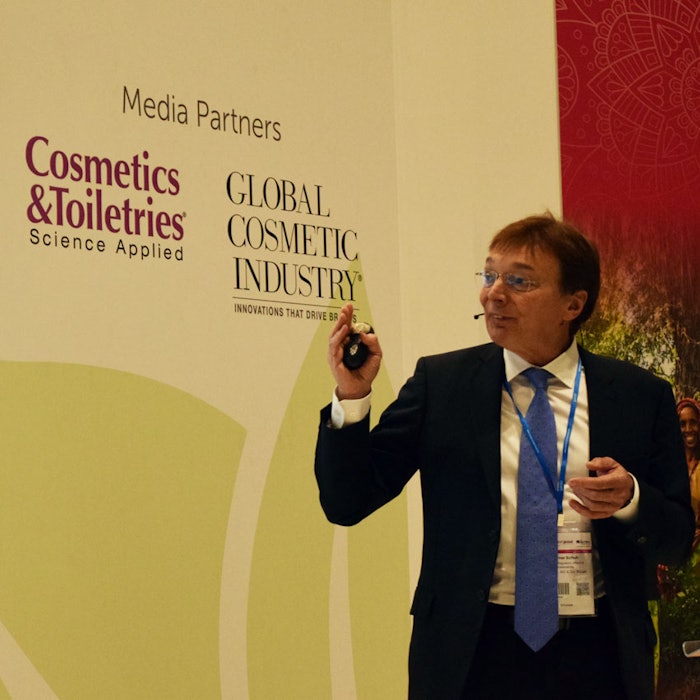 It didn't take the industry long to embrace sustainability. Especially considering this term, as a core cosmetics R&D principle, only seemed to surface in the mainstream ten or so years ago. Maybe its swift adoption came about because we were already moving in this direction, taking steps to optimize methods, processes and formulas; using recycled materials; and scavenging new sources, in some cases out of necessity. No doubt consumers had something to do with it, too.
However we got here, sustainability, in its many forms, is here to stay—or sustain, rather. Whether it's portrayed as renewably sourced, fair traded, eco-friendly, replacement chemistries/processes, etc., it has taken center stage in every leading company's script and full production, not unlike it did during in-cosmetics 2017.
This series explores the three main approaches suppliers and manufacturers are taking toward sustainability, as presented during in-cosmetics Global. These include: social responsibility and empowerment; measuring sustainability; and greener chemistries and processes. Here, we also get a glimpse the influence sustainability has within major manufacturers—and the industry itself.
Sustainable Strategies: Case(s) in Point
Nothing speaks louder to sustainability's fixture in our industry than the organizers of this, the largest exhibition in our industry, giving it focused, premium space on the show floor—which Cosmetics & Toiletries and Global Cosmetic Industry proudly supported. Rising tall around the perimeter of the "Sustainability Corner" were narrow display walls made from recycled materials. Each featured a small window display with which attendees could interact to learn about new sustainable materials and hear featured exhibitors' initiatives relating to sustainability.
Several presentations in the Sustainability Corner highlighted "case studies" of major players in the industry, who described their take on, and embrace of, sustainability. These included: Solvay Novecare and L'Oréal, on building a sustainable supply chain for guar; Beiersdorf AG on embedding sustainability in innovation; Serdex, an affiliate of SEPPIC, on sustainably obtaining Harungana Madagascariensis extract from Madagascar; SILAB and Quantis, and the path toward a "2°C strategy"; Neal's Yard Remedies on sourcing FairWild rosehip seed oil; and overall sustainability initiatives from Brenntag, Indena, Croda and Clariant.
Henkel Beauty Care's Werner Schuh, Ph.D., for example, demonstrated the company's commitment to being a leader in sustainability. "Our ambition is to achieve more with less. This means we create more value for our customers and consumers, for the communities we operate in, and for our company—at a reduced environmental footprint."
Lifecycle calculations revealed that a large proportion of Henkel's products' environmental footprint is generated during their use.
The company's ambitious 20-year goal, "Henkel's Sustainability Strategy 2030," is to triple the value it creates in relation to the environmental footprint of its operations, products and services. It refers to this as becoming three times more efficient or "Factor 3."
According to the company, progress has already been made in the areas of production and logistics, which has led to a 15% reduction in Henkel's "internal" footprint—in terms of water and energy consumption, as well as carbon dioxide emissions and waste generation per ton of product—between 2011 and 2015.
Henkel also considers close cooperation with retail partners as a key success factor. They support one another with their sustainability activities, for example, with eLearning and measuring tools.
"Our products are used daily in millions of households. Lifecycle calculations revealed that a large proportion of our products' environmental footprint is generated during their use. For that reason, we seek to encourage responsible, sustainable consumption through targeted communication. As an example, our 'BeSmarter' initiative informs consumers about the responsible use of resources when using our products."
The company is confident its Factor 3 target for 2030 is realistic. "For the purpose of progress tracking and performance monitoring, we have developed and implemented measuring tools which are being expanded in scope and refined on a continuous basis by internal and external experts."
Interestingly, The Dow Chemical Company and Lubrizol, traditional petrochemical companies, also shared approaches to sustainability at the Sustainability Corner. For example, Kate Geraghty, global sustainability manager for Dow, described the company's aim of creating high-value formulas while conserving resources and supporting more efficient manufacturing processes. And Marie Ollagnier, global strategic marketing manager for Lubrizol's Skin Essentials group, explored how sustainability performance can be enhanced across the company's value chain.
(Continue to Part II)