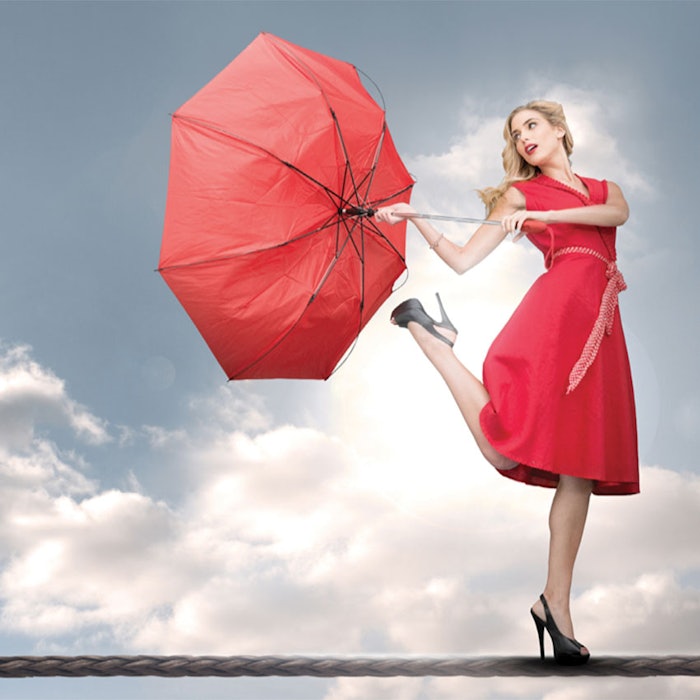 Acrobatic acts and shape-shifting. That's what the new issue of Cosmetics & Toiletries is all about: Ingredients that walk the wire between formula phases and product categories, balancing and flexing their molecular muscles to the formulator's whim.
When we planned the 2016 editorial calendar, these cross-category technologies rose to the top as crucial "workhorse" ingredients, whose time in the spotlight often fades in comparison with benefit ingredients. But it turns out, they do so much more…and it's their time to shine.
Rigano likens cross-category technologies to Proteus in Greek mythology, who is ascribed the god of "elusive sea change," suggesting the constantly changing nature of the sea. This carries the positive traits of flexibility, versatility and adaptability. He takes a close look at stearic acid, betaine, titanium dioxide, xanthan gum and even fragrance and the multiple functions they serve.
Similarly, Goswami et al. characterize "The Many Faces of Microemulsions" in pharma and cosmetic applications. Known for their capabilities to increase the delivery of actives, moisturize skin and stabilize formulas, microemulsions also hold interesting potential as reaction mediators and analytical reagents.
Another angle on crossing categories is Steventon et al.'s work on orally administered polyunsaturated fatty acid supplements to support the skin barrier. These authors provide evidence in support particularly of γ–linolenic acid to improve skin barrier function.
Ross-Fichtner et al. perform their own balancing act with a discussion on the archaic language of regulations vs. today's state-of-the-art technologies. "The real issue is the use of the antiquated concepts of 'cosmetic' and 'drug' in today's cosmetic world," he wrote. His answer? Taking a risk vs. benefit approach to cosmetics.
Beyond the fantastic feats you'll find here and in the Digital Edition, the 2016 IFSCC Congress in Orlando last month performed a multitude more. Watch my IFSCC video highlights or check out our event coverage to learn more.
This issue of Cosmetics & Toiletries bends over backward to inspire and ignite your imagination. Sit back, relax and enjoy the show.
Rachel L. Grabenhofer
Cosmetics & Toiletries Managing Editor