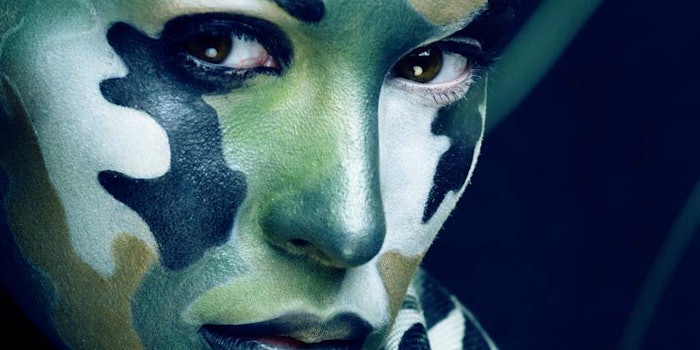 The London College of Fashion (LCF) recently held its digital '20 Years of Cosmetic (R)Evolution' summit featuring insights and advice from industry experts to graduates—and on the flip side, student insights from their industry placement projects. Plus, a look a current and future trends.
The event also fostered panel discussions between students and alumni, gave an overview of research co-creation by Danka Tamburic, and more.
Vegan Formula Updates
Among several student presentations given, Eilis McGowan described her work with Manchester-based bespoke private label company Amelia Knight. McGowan served as a regulatory technologist for the company.
She focused on updating formulas containing ingredients such as a PVP that was no longer considered vegan. In particular, she described work on an eyebrow gel to replace the ingredient and subsequent testing to ensure the vegan version performed equally and met consumer expectations. In the end, the updated formula rated higher than the original.
See related: Food Virtues in Beauty, Part I
Transparency and Safety
Rita Santos Maia Da Silva presented her experience in working with manufacturer Deciem, where she served as science communications associate—i.e., the "voice of the labs." She collaborated with all departments, providing quotes for press and retailers, creating master text and material for new product developments, creating educational pieces for customers and staff, and even conducted academic research for the company's R&D. "Knowledge is power," she noted, "but peer-reviewed knowledge is even better."
See recent: Debate; Why 'Clean' Beauty Doesn't Mean 'Safer'—Yet
She also described a project heavily focused on transparency and ingredient safety. In a study conducted to understand consumers' perception of transparency, clean beauty and trustworthiness of the cosmetic industry, 64% of the survey participants (n = 152) indicated the cosmetic industry is not transparent. In relation, 76% felt cosmetics marketing is not transparent, while more than 30% associated clean beauty with transparency.
Taken together, Santos Maia Da Silva concluded the industry must "build trust by removing the need for trust." She added that consumers should be educated on the basics of toxicology—i.e., risk = hazard x exposure, as well as cosmetic regulations and safety reports. In relation, she pointed to blockchain technology as a means for companies to communicate transparently to consumers in a decentralized and traceable way.
Editor's note: Since Santos Maia Da Silva's presentation, Deciem has released this project in its "Everything is Chemicals. Including 'Clean' Beauty," campaign.
'If anything, in 10 years, we will have a more restricted and limited palette of technologies forcing us to create efficiency and make things work better together—doing more with less. That's exciting to me as a scientist.'
Tips and Tricks for Industry Success
Through a panel discussion between three LCF course alumni and two students, personal success stories emerged to help novice cosmetic scientists find their way in the industry.
Make a U-turn, if needed. For example, 2012 alumni Pippa Harman, co-founder of the skin care recommendation platform Renude, shared, "Have a direction of where you want to go and make steps toward that—but if you get there and it's not what you expect, don't be afraid to do a U-turn." She explained her experience, which started in cosmetic formulation but she decided it was not for her. "Also, work super hard and prove yourself, then don't be afraid to ask for what you want."
Explore the uncertain. Alumni Elizabeth Dufton, Ph.D. (2010), key accounts manager for brands at Surfachem, advised, "You never know who you're going to talk to and where that little e-mail might lead you." She explained that in her transition from being a Ph.D. to becoming a brand manager, she took a chance at a program offered at Leeds that had only of sliver of relevance to cosmetics. While it was not initially a good fit, something else was. "I could translate the academia and chemistry into the brands and the application of creating ingredients for applications on the other side."
Be open-minded and network. Lastly, 2013 alumni Peyta Ruda, technical manager of skin care for Meiyume, a packaging and retail solutions provider, kept it simple. "It's been an interesting journey. An amazing course exposed me to all the elements…Once you get into the industry it's really interesting to network and create relationships."
Stay innovative. Wrapping up, the panelists chimed in with thoughts on how they stay innovative in each of their fields. "I think innovation starts with multiple disciplines," said Dufton. She added that regulation also plays a role, but only gets you so far; she gave the pharma industry as an example. "We [also] need to understand how the body works to better innovate," she said.
Rethink ingredients. Ruda noted, "I think the interesting bit is trying to get the newest and most exciting ingredients. I do think there's [only a] little we can do with new ingredients due to regulations." She added, however, that there are ways such as through biotech, pharma, food, upcycling, etc., that the industry can be more innovative on the ingredient side, "to be more sustainable and put things to good use. To take and formulate those into an exciting texture and think of ways they can be used," she said.
Adapt to the market. In Harmon's case, her company was founded on the premise of innovating. "I am co-founder of a skin care recommendation service. We created it because the industry is changing in many ways and is dynamic." She described the vast amount of information available to consumers and how confusing this can be. "There is a lot of information online and it's confusing," she said. "What we're doing at Renude is helping to give consumers advice.
See related: Combinatorial Skin Care; Heredity, Experience and Enhanced Product Customization
Personalizaion in the skin care space is what we believe the consumer is after," she added. By looking at details such as budget, lifestyle and skin needs, and integrated those with AI, the company can create recommendations that are "highly accurate and change over time." In addition, Harmon agreed that how skin responds to stress and hormones, sustainability and personalization are the key three trends today.
Trends Shaping the Industry
After an overview of research co-creation by Danka Tamburic and the LCF cosmetic science program, industry experts Katerina Steventon, Ph.D. (Independent Skincare Consultance, Ltd.), Paul Matts, Ph.D. (P&G and LCF), and Carol Treasure, Ph.D. (XCellR8), weighed on scientific innovations and trends that have shaped the industry within the past five years.
Cruelty-free. Treasure highlighted innovations happening on the testing front, especially in terms of cruelty-free cosmetics. "Consumers still want products that are safe. … [They also] want to know about reconstructed tissues, cell models and computer models." She furthered that it is no longer "just a tickbox" for animal alternatives; it is now about finding the right tests that relate to humans. "It's an exciting time," she said, underlining next-gen risk assessment as the path forward. To achieve this, according to Treasure, we need to create and accurate picture of what happens in humans.
Sustainability and ethics. Treasure also emphasized, "So much in cosmetics will be all about what we can do to contribute to sustainability and ethical practices, help climate change, get involved to make sure we're playing our part—there are many trends for ethical, sustainable, cruelty-free…"
'Many consumers I speak to don't [even] realize animal testing has been banned—we need to communicate this and celebrate the successes but also be transparent; be willing to share the challenges with the public.' 
Skin complexity, microbiome, mental health and more. Steventon believes visualization technologies have uncovered insights on the complexities of skin. "Facial mapping by DSM going from single points [on the face] to a heat map ([i.e. illustrating] hydration, barrier function, age) has shown us how complex the face is. Also, it shows us that using specific skin sites [for tests] is not appropriate, as it's all different."
Steventon also called attention to the dialogue happening around the skin microbiome. "[It's] multidisciplinary at the moment… an early discussion … what excites me is there are healthy skin signatures," she said, noting connections between gut and skin microbiota. "These are interesting areas of work," she added, and projected future trends in personalization, transparency and mental health.
See recent: Review Explored Skin Microbiome, Aging/Health Connections and Testing Challenges
Emotions of aging, big data/AI and the handheld answer. Matts noted there is a consumer desire to look younger but also an emotional aspect to consider behind this driver. He also underscored how nearly everyone today has a smartphone that could be used in the push for personalization. "Today consumers use their smartphone to acquire images of their faces [that are] encoded with a wealth of information about the skin, hair, teeth, lips—there's so much information they are capturing. Some 3.5 billion people own a smartphone and take 460 selfies per year."
In relation, according to Matts, in the past 3-5 years, technologies had to be developed to capture and isolate information, to analyze and simulate visions for the future. "[Technologies are] using AI, deep learning and other techniques…[toward the] mega trends for … personalization, need for truth and proof—[all] based on the tool already in their hands. [This] uniquely meets consumers' biggest unmet higher order needs." The question, according Matts, is what else to do with all this big data. "It requires mastering the IT challenge, and organizing and maintaining it."
New materials needed, regulations, doing more with less. Matts continued with a serious look at the industry's future. "Our future is tough. We have tough changes and decisions ahead. … We haven't seen any introductions of new materials and we are facing a tsumani of new regulations; take sunscreens for example. We all face premature aging and sunscreens are at the core … and they face unprecedented challenges… The ECHA, U.S., China—regulators are demanding impossible amounts of data and we face the elimination of these classes of molecules." He likened this to the tragic loss of parabens but put a positive spin on the opportunities this forces. "In short, if anything, in 10 years, we will have a more restricted and limited palette of technologies forcing us to create efficiency and make things work better together—doing more with less. That's exciting to me as a scientist."
Sage Advice for Industry 'Survival'
The panel session closed with advice from the experts to graduates and novice cosmetic scientists.
Transparent and proactive communication. "When we face adversity, that's the time for innovation," said Treasure. "There's an opportunity for the industry to be more transparent, as we've said, and [state] what we can and cannot do. I would encourage students to think about how to really communicate their message to the public. They are really the drivers for the regulatory changes."
She added that sometimes, the industry is not good at communicating its successes and social media is where the negative messages grow. "Many consumers I speak to don't [even] realize animal testing has been banned—we need to communicate this and celebrate the successes but also be transparent; be willing to share the challenges with the public. Delve into issues more carefully. Be ultra-careful about claims being made and don't just jump on the bandwagon of what's popular."
Expand your knowledge. Steventon shared two points. "Listen to the space outside of your own," she said. "And understand that the skin is a living organ."
Learn, say 'yes' and give back. Lastly, Matts wrapped his advice in three simple points: "First, never stop learning. You might think you have finished but it's only a phase. Cultivate lifelong learning. Second, say 'yes.' Just through saying yes, it takes you to some interesting places. [Finally], try to give back."