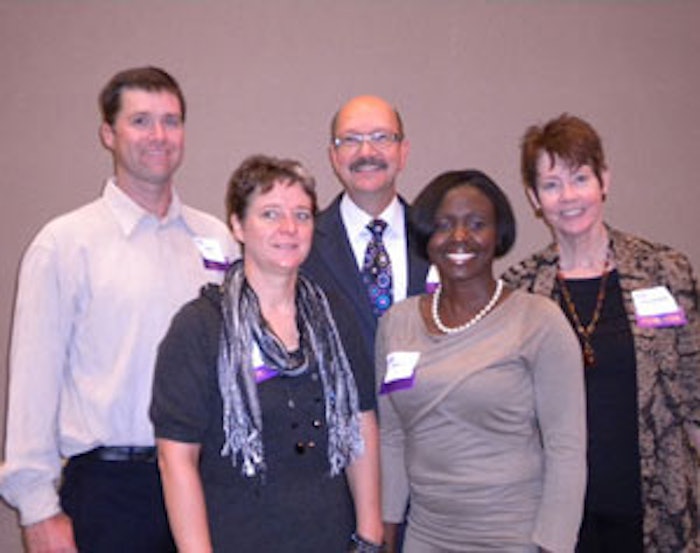 Cosmetic science is a melting pot where a number of sciences and industries from biology and chemistry to engineering, testing and regulation are combined. The Midwest Chapter of the Society of Cosmetic Chemists (MWSCC) showcased the different hats that cosmetic science wears at its 2011 Fall Technical Symposium on Oct. 13, 2011, with the theme "The Many Faces of Cosmetic Science." In addition to providing speakers from different arenas within and surrounding personal care, the event also showcased its first Student Poster Exhibition, which featured a variety of subjects from the pharmacist's role in natural/organic cosmetics to mold calibration for drugs and cosmetics.
The speaker lineup, which boasted experts from different industries and niches in personal care, began with Eunice Cofie, president and chief cosmetic chemist at Nuekie Inc. Cofie's presentation addressed ethnic personal care product needs. She began with a short clip from America's Ethnic Skin: An Al Roker Health Special, a documentary produced and narrated by Al Roker that addressed the needs, issues and challenges of a variety of skin tones. She noted, "By 2050, more than 50% of the United States will be of ethnic background or non-Caucasian." According to Cofie, women with darker skin tones have expressed a need for effective upscale products and more natural products, specifically natural products for hair.
She added that there are difference in ethnic skin and hair. For example, Cofie found that black skin is thicker than Caucasian skin. She also added that there are more proteins in black hair, which leads to more breakage. Hispanic women, according to Cofie, often suffer from melasma. Cofie explained that there is a need for better matching foundations. "It is so hard for them to get a foundation that matches, and they often mix different foundations to get the correct shade," she explained. To create innovative ethnic personal care products, Cofie encouraged formulators to get out of the lab. She recommended looking to certain cultural practices for inspiration or ideas. She noted that in regions of Africa, women apply a black paste after their rite of passage that stimulates hair growth. Also, certain regions apply hair mayonnaise, use ketchup for acne and cysts, apply plantain leaves to soothe burns and utilize thyme for brittle hair. In some Hispanic countries, women use the violeta plant and guava to treat acne in addition to neem to treat eczema. She recommended the use of hyaluronic acid, shea butter, mango butter and beobab oil and glycolic acid for treatment of ethnic skin and hair.
The conversation then transitioned to another face of cosmetic science, devices and engineering, as Robb Akridge, PhD, co-founder and vice president of clinical affairs for Pacific Bioscience Laboratories (Clarisonic), addressed attendees. Akridge was one of the inventors of the Clarisonic cleansing brush, a device that was first thought of at a Denny's restaurant. He and a few fellow colleagues had the idea for a device that unplugged the pores. He went through the evolution of the product noting "When you invent something, you have to see what else is on the market." On the market at the time was the rotary brush with an expired patent and a vibrating microdermabrasion device. After going through a number of prototypes, his team ended up with was a cleansing device that moved at a sonic rate to create a repetitive, bi-directional force on skin to unclog pores.
After protecting their invention with a number of patents, his team then was ready for safety and efficacy testing. According to Akridge, the team measured sebum before and after the device was used. They also applied fluorescent makeup and cleansed the skin with their device and other cleansing device to compare the efficacy. Future studies on the device led to development of brush heads to address a variety of skin concerns, including: delicate, sensitive, normal, body and deep pore. Akridge concluded that a winning device has to be an unmet need, has to be safe, has to be effective and has to fit into the consumer's daily routine. He added, "The consumer has to have a great initial experience."
Jill Costa, PhD, chief perfumer at Bell Flavours & Fragrances, followed Akridge with a talk on choosing a successful fragrance for a personal care product. She explained that the vast majority of fragrance materials are hydrophobic and between log Kow 2.5-3.5. There are a few exceptions, specifically vanilla, which has a log Kow 0 (hydrophilic) and citrus terpenes, which have a log Kow 5 (hydrophobic). She explained that "like dissolves like" when it comes to fragrance. Therefore, most fragrances in emulsions are incorporated into the oil phase. Fragrances equilibrate in micelle in micelle structures and into silicone or oils in solutions. However, fragrance can change based on product matrix. "The same fragrance will change in different types of matrixes such as lotion, shower gel and silicone," added Costa. This is due to different concentrations, solubility differences and addition of other materials (water, heat). For example, shower gel is difficult to fragrance because it diluted so much in water and little is left on the skin. "You may ask, why are shower gels usually citrus and fruity, and the answer is because it works."
Costa noted that the fragrance carrier is currently a hot topic, with popular options being dipropylene glycol for water-based formulations with high surfactants, isopropyl myristate for bath oils and hydrophobic matrices and polysorbate 20 for water-based products with low surfactants. She discussed the request by formulators to dilute a fragrance to decrease its cost. She noted that this really does not save the company a great deal of money, as more of the diluted fragrance is needed than the concentrated fragrance to have a successful scent and the diluent is an added cost. She noted that many formulators ask for water-soluble fragrance, which involves adding a surfactant such as polysorbate at 70%. She explained, "If you can solubilize the fragrance yourself, you can save your company that cost." Costa has had a number of formulators ask her for all natural fragrances or essential oil blends. She finds that natural materials are limited and vary greatly is cost. With the request for an all-natural, allergen-free fragrance, she added "It usually doesn't work, and if it does, it doesn't smell nice." She noted that essential oils can discolor a product, which can be adjusted with chelators.
After the morning presentations finished and lunch and mingling concluded, it was time for the MWSCC to name the Best Poster Award, which was sponsored by TH Hilson. Lori Hilson from the company named the award winners, which were chosen by a panel of experts selected by the MWSCC. Third place was awarded to Tao Bai from the University of Illinois in Chicago for her paper, "Roles of the Pharmacist in the Natural, Organic Cosmetic Industry," which was co-authored by Ronald L. Koch. Second place went to Kathleen Davis from the University of Southern Mississippi, for her paper, "Acrylate/C10-30 Alkyl Acrylate as an Osmotic Sponge, which was co-authored by Laura Anderson and Robert Y. Lochhead, PhD. Finally, the Best Poster Award was given to Andrew D. Kosal from the University of Notre Dame for his paper, "Polyelectolytes of the Poloxamer/Propylene glycol/Water system," which was co-authored by Erin E. Wilson and Brandon L. Ashfeld. In addition to receiving their awards, the students were also given cash prizes to aid them in their pursuits of science.
The afternoon began with Kathleen Martin, a spectroscopist and research associate for McCrone Associates. Martin's presentation was focused on identifying the materials that should not be present in a formulation. She began with the different types of contaminants that can be found in cosmetic products including: chemical contaminants such as heavy metals, dioxanes, phthalates and nitrosamines; microbiological contaminants such as bacteria and mold; and particulates such as visible and subvisible (≤50 μm). Martin's search for contaminants typically begins from quality control personnel, the manufacturer in product development or stability testing or from consumer complaints from visual, tactile or olfactory clues. She noted that particulates can arise from the manufacturing process due to poor dispersion of ingredients, manufacturing debris, corrosion or environmental contamination. Other sources can be reaction between ingredients, raw materials, packaging and postconsumer use. Some environmental particulates can be hair, charred material, dirt, paint chips or cardboard.
To identify the particulates, Martin first uses a stereomicroscope to identify visual and tactile clues before using particulate isolation and instrumental analysis. Particle manipulation, solvent washing and filtration can all be used to isolate particulates. Instrumental analysis can involve SEM/EDS for morphology and elemental data, infrared spectroscopy and Raman spectroscopy for molecular identification, Polarized light microscopy for fibers, glass and insects and Gas chromatography/mass spectrometry for odors. Martin took attendees through her process to identify a few contaminants found in personal care products. She concluded that contaminants will always be present in products; therefore, the best a manufacturer can do is to take all the precautions they can to avoid them.
Regulation of sun care was then the topic at hand with a presentation by Farah Ahmed, vice president and associate general counsel of the Personal Care Products Council (PCPC). Ahmed started with a brief history of sunscreen rule-making in the United States, which all led up to the recent Final Rule on Labeling and Effectiveness Testing, which was issued in June 2011 by the US Food and Drug Administration (FDA). The big news, according to Ahmed, is that the FDA now recognizes the skin cancer prevention and anti-aging benefits that sunscreens can provide to the consumer. She explained some of the main points of the final rule, noting that it describes allowed claims, testing procedures to support those claims and non-permitted claims that would mark a product misbranded.
She added that while the 2007 proposed rule allowed for labeling reductions for smaller packaging, the 2011 Final Rule did not. The rule, according to Ahmed, must be implemented by June 18, 2012 for products labeled on or after that date and June 17, 2013, for companies with revenue less than US $25,000 per year. She emphasized that non-complying products introduced before June 18, 2012, do not have to be pulled from the market, but rather can use the 1999 or 2007 rules until June 17, 2013. Ahmed provided an overview of new testing requirements with the rule, including an application of 2 mg/cm2, the P2 reference formula and water-resistance claims, among others. She clarified the requirements for broad spectrum labeling and testing, which includes an SPF ≥15, a critical wavelength ≥ 370 nm and no in vivo UVA testing. Ahmed further detailed the new sunscreen package, which can include SPF value and broad spectrum claims but not a star ranking. In addition, it must include sunscreen uses and directions for all sunscreens and a warning for sunscreens less than SPF 15 or not labeled as broad spectrum. Ahmed gave a few examples of sunscreen products labeled according to the new rule, and then showed those product labeled according to the PCPC's recommended changes. These changes saved a considerable amount of critical product space.
Ahmed expressed the PCPC's concerns over implementation, noting that the rule's required date may limit the sunscreen products available for summer 2012. In addition, the PCPC found that one year of compliance time was not sufficient for manufacturers. Ahmed briefly discussed the ANPR: Dosage Forms, noting that the PCPC requested a time extension in addition to supporting the spray and powder forms. She also briefly tacked the Proposed Rule: SPF 50+, adding that it is a divided issue in the PCPC.
The final speaker of the day was Perry Romanowski, who addressed the research aspect of cosmetic chemistry. In order to inspire attendees to successfully use the Internet for research, Romanowski provided a number of sources that he has found helpful in his work. Romanowski provided helpful reference websites, starting with a number of sites for raw material data, including the Cosmetics & Toiletries Bench Reference, Innovadex, SpecialChem4Cosmetics' INCI Directory, the GCI Directory and the PCPC Buyers' Guide. He also gave websites for training and education, including: theComplete Cosmetic Chemist, the Society of Cosmetic Scientists' Diploma in Cosmetic Science, the Institute for Personal Care Science, SpecialChem4Cosmetics' e-training and the Center for Professional Development. Romanowski then moved on to regulatory websites, which included: the FDA's Cosmetic Info, the European Commission, Health Canada, Japan's Ministry of Health, IFRA and the Cosmetic Ingredient Review Board. He added that basic research can be done on sites such as the Journal of the Society of Cosmetic Chemists, PubMed, various patent sources and online product retailers such as www.drugstore.com.
To stay on top of news, Romanowski recommended the websites of industry magazines, consumer magazine websites and feeds from science publications, noting the benefits of RSS feeds. He provided helpful tips to conduct research in a search engine, providing all the various benefits of Google. Romanowski discussed the importance of following industry blogs, innovation blogs and science blogs, as he provided a few examples such as the Chemists Corner and The Beauty Brains. He emphasized the benefit of social networking sites such as LinkedIn and Twitter as well as supported the market knowledge obtainable through online forums. Romanowski discussed Innocentive and Elance as two websites for outsourcing experts. He then explained how the consumer can use the Internet to create new formulas, duplicate competitive products and find new product ideas. Romanowski provided some tips to maintain productivity while researching on the Internet, including: avoiding distractions, limiting time and turning off e-mail alerts, among others.
As cosmetic chemistry evolves, it will continue to source ideas and inspiration from other industries and from various niches in personal care. The 2011 Fall Technical Symposium provided attendees with the means to utilize these niches for future innovations.