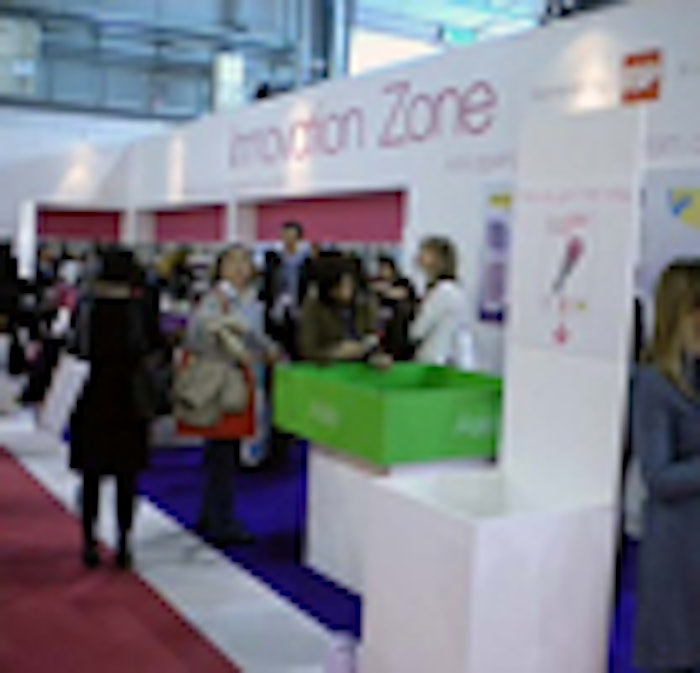 In-Cosmetics 2011 was highly focused on the development of sustainable personal care products. This trend was found not only in the ingredients launched or highlighted there, but also in the featured seminars and special zones.
SiCC: Myths on the Internet
Before the event began, however, it was prefaced by the Italian SCC's (SiCC) seminar, "Myths and Truths in the Internet Era." Elio Mignini, SiCC president, opened with his observation that "product quality is not an absolute entity," meaning that quality is subject to interpretation. He added, "consumers aren't willing to pay for quality that's not measurable." Next, Livia Biardi of Euroconsumer spoke on safety in cosmetics. She stated, "Safety should not depend upon the claims [that are] desired to be made." Biardi added that the industry needs to strive for consumer-friendlier labels and concluded, "We must think about the target consumers and work to not communicate to them in a specialized language."
Vincenzo Rialdi and Marco Vassallo of the Italian Ingredients Association presented a proactive rather than reactive approach to spreading good information instead of misinformation. Dene Godfrey then followed with a discussion of the consumer myth that preservatives are "bad." Godfrey noted that while a preservative-free product may be technically possible, it is not morally possible. He concluded with the plea for R&D to stop using the preservative-free claim. Next, manufacturer Just Italia presented its firsthand experience with alarmist information. According to the company, the most problematic channels for misinformation are forums and blogs; it also noted receiving requests from consumers with news clippings attached asking for clarification on points of consumer alarm. The company's efforts to dispel myths involve providing its sales force with the proper tools to respond, and to present consumers with clear communications, such as through the frequently asked questions page on its website. Finally, Luigi Rigano's presentation covered the exaggeration of natural products as a myth of certified safety, after which Mignini wrapped up the session with the comment, "The future is in communicating."
The SiCC session closed with audience comments. One attendee noted how the same consumer alarmist claims and concerns discussed were also prevalent in Poland. Another noted how bloggers of the world are the new media, and that informing them is perhaps the key. Godfrey suggested on potentially accrediting certain bloggers so they have credentials behind them, to build trust. He furthered that groups such as the Environmental Working Group and the Skin Deep ingredient database are examples of sources propagating misinformation. Mignini added that many activist bloggers don't think rationally, so identifying a means to communicate with them is crucial.
Trend Presentations
On the opening day of In-Cosmetics, Anna Ibbotson, industry manager at Kline, gave the first of the Marketing Trends Theater presentations on ingredient trends in personal care. According to Ibbotson, 2008–2009 was a challenging year for personal care. She noted that the personal care market was valued in 2010 at US $300 billion and that Europe continues to be the dominant region in personal care; however, China and Brazil are gaining ground. According to Ibbotson, skin care is the largest and fastest-growing market segment in personal care. This segment is benefitting from innovation, and anti-aging and anti-acne products are drivers within the market. Other segments innovating in personal care included naturals, home devices, nutraceuticals and men's care. In fact, she noted the men's care market has grown 5% globally, with the large players being P&G and Unilever. Ibbotson added that men's grooming is a growing market in Asia.
Transitioning into ingredient trends, Ibbotson noted that surfactants and conditioning polymers are driving the ingredient market, with emollients following. While Europe and the United States account for 70% of the world's personal care ingredients, Ibbotson noted that China and India are growing in market share; specifically, emollients have grown in China by 9.5%. Skin lighteners such as arbutin are also growing in China; however, hair fixatives are not gaining ground there. In India, emollients grew by 11%. Regarding the growth in China and India, Ibbotson commented, "Although we get excited about India as a new market, we have to realize that there is a roof in this market due to low disposable incomes."
According to Ibbotson, the natural and anti-aging trends are driving the growth of the emollients. In China, classic emollients mostly are used, such as caprylic/capric triglyceride, myristyl myristate and isopropyl palmitate. In addition, the use of lanolin is decreasing due to its animal source, even though its sourcing does not harm the animal. Ibbotson added that the natural market has not been affected by the economic downturn. For example, naturals in Europe grew 12% in 2010 and 13% in the United States in 2010. She added that 75% of botanicals are used for anti-aging benefits, followed by anti-inflammatory benefits, skin lightening and microcirculation. Finally, Ibbotson noted that the delivery system market has grown, with nanoparticles comprising half of that market. Ibbotson finished her presentation by adding that it is important to "understand what consumers want and to look at neighboring markets."
Toward the later part of the last day, Sybille Buchwald-Werner from Vital Solutions gave a presentation in the Marketing Trends Theater on ingredient trends in South Africa. She noted that the personal care market in South Africa was estimated at €2.47 billion in 2007 and has experienced double-digit growth in the time since. She conducted a survey of cosmetic use in the South African area and found that consumers spend an average of 2% of their income on cosmetics. Fragrance was very important in the area, as the women did not shower daily. Also important were natural ingredients, of which the women recognized oils more than extracts.
Special Sections
The Innovation Zone showcased a number of ingredients launched by suppliers. Among them were: Nicoment (INCI: Menthyl Nicotinate (and) Menthol) a vasodilating, cooling ester based on the nicotinic radical by B.C. Cosmetic and Food; a nonionic surfactant based on organic certified coconut fatty acids by Cremer Care, CremerCOOR PG4 Coco (INCI: Polyglyceryl-4 Cocoate); a melanin by Lipo Chemical designed to shield the skin from the high energy blue/violet visible light that ages skin, Liposhield HEV Melanin (INCI: Melanin), which is described in "A Melanin Derivative to Shield the Skin from High Energy Visible Light," an article in the March 2011 issue of Cosmetics & Toiletries magazine ; and a highly concentrated liquid phospholipid compound by Lipoid comprised of sunflower, bio-ethanol and mixed tocopherol, Phosal 40 IP, among others. This area on the show floor also featured live ingredient demonstrations from suppliers, in addition to Anti-Aging Around the Globe, stations of recently launched personal care products arranged by continent for Europe, North America, Asia and Latin America. The products were available in their designated stations for attendees to touch, smell or peruse ingredient listings.
The show's In-Focus feature also highlighted the theme "Sustainable Beauty," with a number of suppliers presenting their environmentally responsible processing methods and ingredients in the zone. Croda featured green personal care formulations created using Blue Technology, its concept of exploiting cold processing to create a more eco-reponsible formulation. IBR Ltd. was also present to discuss the sustainable manufacturing of edelweiss by cultivating the flower's cells in a laboratory for use in serum. The most prominent feature at the zone was Beraca's showcase of the sustainable journey of the açai berry from cultivation in the fields, to plant production and formulation into Kiehl's finished Açai Collection.
Awards Reception
After the first day's exhibition, attendees and suppliers filed into the Market Trends Theater for the In-Cosmetics Supplier Reception & Awards Ceremony, where both the winners of the 2011 In-Cosmetics Innovation Zone Best Ingredient Awards and Cosmetics & Toiletries's 2011 R&D Awards were announced. In-Cosmetics' Richard Hesk announced the winner of the Innovation Zone Best Ingredient Award for 2011 was Lipo Chemicals for its Liposhield HEV Melanin, an active designed to shield the skin from the high energy blue/violet visible light. NeoPharm Co., Ltd. won silver for Defensamide and gold went to ISP for Caspaline 14.
It was then time to announce the winners of Cosmetics & Toiletries magazine's R&D Awards 2011. Rachel Grabenhofer, editor of Cosmetics & Toiletries magazine, then announced the winner for Best New Technology was Croda Europe, Ltd., for its Solaveil SpeXtra inorganic UV absorber. In addition, the winner for Most Creative Application was Iredale Mineral Cosmetics for its Tantasia natural self-tanner. See our previous coverage for more information on the winners and nominees of the Cosmetics & Toiletries R&D Awards.
Technology Launches
During an Innovation Seminar, BASF introduced its new anti-stretch mark active D-Stria (INCI: Butylene Glycol (and) Pentylene Glycol (and) Alcohol (and) Serenoa Serrulata Fruit Extract). The ingredient is said to improve stretch marks by reorganizing the extracellular matrix through reducing the tension of the striae-myofibroblasts and boosting the synthesis of elastin and collagen. According to the presentation, 60% of individuals in Japan are concerned about stretch marks. In addition, stretch marks reportedly are the most common complaint after pregnancy in the United States. The company noted that while the active cannot erase 100% of stretch marks, it can reduce their appearance.
IMCD presented its new D5 alternative, Smart5 (INCI: Isododecane (and) Hydrogenated Tetradecenyl/Methylpentadecene), which is comparable in price to volatile silicones and imparts a pleasant, silky feel to skin without greasiness in emollient applications. According to the company, a high degree of solids wetting allows the D5 alternative to act as a dispersing agent for pre-dispersed mineral pigments. In addition, it has high water interfacial tension, allowing for formulation with a wide range of emulsifiers. Also launched by the company was Silkflo4 ECO (INCI: Hydrogenated Tetradecenyl/Methylpentadecene), which is more readily metabolized by bacteria than other hydrogenated polyalkenes available, allowing it to be a more biodegradable option.
The second day of the show, Clariant introduced Velsan SC (INCI: Sorbitan Caprylate,) a viscosity modifier that boosts preservation. The product is designed for use by formulators who are creating "preservative-free" cosmetics or products with less preservative content. The co-emulsifier is based on renewable resources and is Ecocert certified. It can be formulated into o/w emulsions, creams and lotions, in addition to baby shampoo, body wash and facial wash. The company also discussed formulating concepts such as decorative cosmetics, dandruff products, anti-acne products and eco-responsible products, among others, for the younger generation, i.e., 'tweens to 20s, a group comprising 20% of the market. This market reportedly is educated and looking for more eco-responsible products.
Dow Personal Care featured three new technologies, including Ecosmooth Silk (INCI: Ethylene/Octene Copolymer (and) Ethylene/Sodium Acrylate Copolymer) a new conditioning polymer, which Lionel Genix, global marketing director, described as a "new tool in the formulator's toolbox" because it is designed to improve wet and dry combing from a non-cationic platform. "The polymer works by combining hydrophobicity with the hair shaft and replacing fatty acids in the hair. It's a completely new chemistry." Genix noted that the product can be used to replace silicone in a 1:1 ratio. In addition, the company launched a polymer for aerosols that delivers shine and hold simultaneously, as well as polymers that deliver new levels of conditioning benefits.
Azelis also debuted a new formulating concept from Evonik at the show—a powder to cream formulation. This concept was developed through a collaboration between the two companies and involves oil and water phases that are both dry. To create the formulation, the water is absorbed in silica and combined with an oil phase of light liquid paraffin. According to the company, the formulation concept has many applications and it has a true powder feel. Azelis had developed nearly 40 formulations with the concept, such as a powder-to-cream blush, a leave-in hair powder and a sun cream.
ISP and Takasago announced an agreement to develop oral care innovations. Based on ISP's complex coacervation encapsulation technology and Takasago's flavors, the partnership will help produce new flavor and sensory approaches to elevate consumers' experience in products such as toothpastes, mouthwashes and whiteners. Under the agreement, the companies will aim to commercialize new products using ISP's encapsulation technology to deliver sensory experience based on Takasago's flavors. The alliance enables the partners to more quickly commercialize encapsulated flavors with unique sensory benefits. "Our encapsulation technology combined with Takasago's unique flavors will produce exciting innovations for this segment of personal care," said Jim Mish, senior vice president/general manager, ISP Personal Care. "These sensory benefits give oral care marketers many possibilities for new products, and our joint formulation and technical service capabilities will vigorously support their efforts." The companies expect the alliance to produce novel sensory solutions in the near future. Development times will also depend on customer needs.
DSM was also present at In-Cosmetics to discuss Regu-Fade (INCI: Resveratrol), a pure resveratrol designed to brighten and even skin tone. According to the company, the brightening active, although specifically of interest in Asian markets, is also useful in Western skin care. The active is said to take a multiple-step approach to skin lightening by down-regulating several genes that control skin pigmentation. It is also said to brighten the skin in just two weeks, which benefits consumers looking for fast results. The company also debuted its new identity at the event; as a result of its Pentapharm acquisition, the company overhauled its logo and added the tagline "Bright Science. Brighter Living." with a colorful logo and design to match.
Cosmetics & Toiletries magazine unveiled its new online educational program, the Complete Cosmetic Chemist, at In-Cosmetics 2011. Perry Romanowski, expert formulator and the program's director, was present at the magazine's booth to explain the program to attendees. Many were excited about the 12-video series, which allows students to work at their own pace in subjects such as shampoo and nail products.
AkzoNobel introduced four new products as part of its Structure Cel line. According to the company, the products are derived from by-products of the manufacture of cellulose and are therefore eco-friendly. The four products are said to combine rheology-modifying with foam-boosting and vary by their viscosity. According to the company, they require less energy for processing and allow for the use of less surfactant in cleansing systems. Along with its new eco-friendly ingredient launches, the company discussed efforts for the more sustainable production of personal care raw materials. This approach allows each business unit to establish its own sustainable policy, with the personal care unit's policy being: "We Care," a more sustainable approach to innovation.
Cognis, now part of BASF AG, introduced Cetiol RLF, a light and mild emollient that can be used to replace cyclomethicone. The product is made from 100% natural renewable feedstock and is naturally catalyzed using enzymes. In addition, the company debuted formulation concepts for sensitive skin that add a lipid layer enhancer to increase mildness, and fragrance and preservatives suitable for sensitive skin.
Jan Dekker launched GemmaNova (INCI: (Water (aqua) (and) Butylene Glycol (and) Carthamus Tinctorius (Safflower) Bud Extract), a compound from safflower buds designed for anti-aging products, during its Press Champagne Hour. According to the company, the safflower is grown by the company using its Bud Nest technology, which grows the safflower in a contaminant-free environment. A representative from Acti-Chem, Jan Dekker's partner, was also present to discuss three grape-derived ingredients. While Resveratrox (INCI: Vitis Vinifera (Grape) Vine Extract (and) Inulin) was designed to protect skin cells, Vitisin (INCI: Vitis Vinifera (Grape) Root Extract (and) Water (aqua) (and) Butylene Glycol) was designed to inhibit tyrosinase and lighten skin, and Viniferol (INCI: Vitis Vinifera (Grape) Vine Extract (and) Inulin) was designed as a slimming ingredient.
Botaneco launched a certified organic version of its safflower oleosomes, Hydresia O (INCI: Carthamus Tinctorius (Safflower) Oleosomes (and) Water (aqua)), a 65% dispersion of oleosomes in water. The oleosomes are said to improve the aesthetis of organic formulations and can be used as the primary emulsifier in organic skin care.
Laboratoires Sérobiologiques, a division of Cognis (now part of BASF AG), debuted a compound for scalp health that addresses scalp sebum, moisturization and irritation. Sanicapyl (INCI: Sodium Lauryoyl Lactylate (and) Butylene Glycol (and) Piper Nigrum (Pepper) Fruit Extract (and) Inga Alba Bark Extract) ensures scalp comfort and hair health by calming scalp irritation, regulating sebum production, moisturizing the scalp and reducing dandruff. The company's booth also featured a 3D television for attendees to watch a multidimensional video of the products in action on skin and hair.
Dow Microbial Control discussed its new launch, Kathon CGIII, which is a low-salt preservative. According to the company, low salt preservatives allow the formulator to avoid the incompatibilities with magnesium. The preservative can be formulated in rinse-off products.
Gattefossé presented its new resveratrol product at the show, Malt Secrets (INCI: Propanediol (and) Water (aqua) (and) Hordeum Vulgare Seed Extract), which is derived from barley through a special brewer process that reportedly results in a 100% composition of polyphenol derivatives with antioxidant properties. The compound is said to protect the skin from free radicals to prevent the aging of skin. The company also noted that the special brewing process allows the compound to be formulated in environonmentally friendly and certified organic formulations, as it is approved by Ecocert Greenlife and certified natural by the Natural Products Association (pending).
This year's In-Cosmetics provided a new perspective as to what it means to produce a green or natural personal care product. While suppliers continue to produce organic or natural versions of their products, they are also exploring or using environmentally responsible processing methods to create current and secure future products. In-Cosmetics 2012 will take place April 17–19 in Barcelona, Spain.