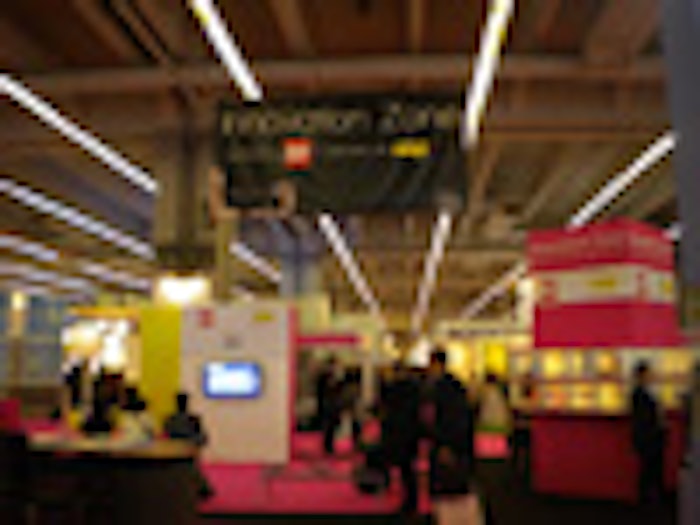 Black pepper berries, anyone? How about bitter greens, manilkara leaf, corn, or a little stevia? These are among the numerous resources into which raw material suppliers have tapped to design new solutions for finished cosmetic and personal care manufacturers. These and other inventions were presented during In-Cosmetics Paris, held April 13–15, 2010, but not before show organizers initiated bigger picture talk on the industry's direction overall to get the creative juices flowing.
Innovation Debate
Formulating controversy, the show opened with a press conference to debate, "Is Innovation in the Cosmetics Industry Dead?" The panel discussion was led by Bertil Heerink, director general of COLIPA, and included industry experts: Eric Perrier, executive vice president of R&D for LVMH; Elisabeth Azoulay, director of Editions Babylone; Nica Lewis, head consultant of Mintel Beauty Innovation; and Patricia Paneau, director of research communication for L'Oréal.
To delve into this topic, Heerink opened the debate by first asking panelists to define innovation. Perrier noted, "Innovation is a discovery that meets customers' needs." He added that visitors to In-Cosmetics, including himself, attend the show to find innovative ingredients. Perrier also commented on the perception of regulations and their impact on innovation. "Regulations provide a framework within which you can be very innovative." He illustrated this concept by comparing regulations to the frame surrounding a piece of art; the painting itself being cosmetic innovation.
Paneau noted, "For us, innovation is to observe consumers and come up with material and life sciences to meet their expectations." She added, "Investing in research and innovation will open new fields that are unknown or immature."
Lewis remarked, "Innovation is not dead, [and a prime] example of one opportunity for innovation is [creating for]  the emerging generation of mixed race individuals."
Azoulay furthered, "To innovate in beauty, you have to think about society." She explained that while beauty differs among cultures, a commonality between them is the obligation of humans to transform their bodies. "Beauty is like a language," said Azoulay. "It's a human means to express oneself."
Once the panel discussion closed, Heerink invited members of the press to present questions to panel members. During this session, Perrier addressed one question regarding biotechnology and the consumer's perception of it. He noted the differences between biotechnology-derived ingredients and biotechnology as a tool to detect new biological mechanisms in skin. "Biotechnology-derived ingredients that are non-GMO are interesting because they take less water to produce; these are considered 'white' chemicals. However, GMOs cannot be considered natural. Biotechnology as a tool measures the efficacy of ingredients and detects biological activity on the skin. It's not futuristic, it's only a tool."
Katie Schaefer, associate editor for C&T magazine, asked "Has the trend for 'free-from' formulations helped or hurt innovation?" To which Lewis replied, "This trend has emerged as 'nu natural' and plays into the idea that products are safer; however, this does present challenges to formulators."
Rounding out the session, Rachel Grabenhofer, senior editor for C&T magazine, asked the panel, "What are the greatest threats to innovation?" Perrier's response: "Every four or five years there is a big step forward in developing ways to measure efficacy or to formulate." He noted that in those in-between years, there is a gap in innovation. "Currently, the gap in innovation is in makeup; new ways are needed to apply it, measure its effects and to develop makeup." He added, "Tools make innovation much more interesting and understandable."
Perrier also discussed consumer perception versus reality. "There is a disconnect between what we [as cosmetic R&D experts] know and what consumers think they know." He observed that this is an important distinction, noting that "listening to consumers is a top priority."
Paneau commented on opportunities rather than threats, reiterating the necessity of thinking globally when designing products. She also found the decoding of the human genome to be a new tool to support product claims being made to a more educated consumer base. Paneau also noted the mixing of races as an area of opportunity, and added that advances in biotechnology could advance innovation.
In the end, panelists generally agreed that innovation in cosmetics is not dead, although some felt the industry is looking for the next big step in innovation. Perhaps some of the ingredient or concepts launched at the show will move the industry to that next step; following is a sampling from the show.
Skin Defense
Enabling the skin to protect itself from environmental assault or the effects of aging was a primary trend among raw material suppliers. Silab, for example, highlighted its Celldetox product, which boosts autophagic processes within skin cells. Anti-irritation was another approach in this area, with products including oils for sensitive skin derived from milk thistle and gingko. Terms such as anti-edema, barrier enforcement and skin immunity appeared on product descriptions; one notably focused on circadian rhythms for improved skin immunity.
Another example to increase skin's long-term immunity came from Induchem with its Unisooth ST-32 complex (INCI: Water (aqua) (and) Pentylene Glycol (and) Tamarindus Indica Seed Extract (and) Stevioside) to protect Langerhans cells. Giorgio Dell'Acqua, who developed the material with the company, explained, "It is based on the same natural ingredient as the sweetener and was inspired by the foods industry." He noted that ingredients based on a food grade materials appeal emotionally to consumers since the materials can safely be ingested and the consumers therefore consider them safe. Other materials launched focused on skin elasticity; hair and skin restructuring—in one case, based on millet; and skin purification, regulation and balance. Two products, designed to increase skin's tolerance, came from BASF, including its Osmogeline skin equalizer based on red algae extract, and its Symbiocell "pro-tolerance" technology based on Cestrum latifolium (bitter greens) extract.
Buiding Collagen
While some innovations aimed to beef up the skin's defenses and restore balance, several others focused on building up collagen and repairing the skin. One example from the In-Cosmetics Innovation Zone was Innovabio's DrinkBeauty Peptan collagen nutraceutical. Others, from Laboratoires Sérobiologiques, a division of Cognis, were Elestan LS 9913 (Glycerin (and) Manilkara Leaf Extract (and) Water (aqua)) and Elestan PW LS 9879 (Manilkara Leaf Extract (and) Maltodextrin), which were designed to stimulate the production of collagen; the company adds the materials are applicable for antiaging as well as anti-glycation and firming body care. Still other ingredient suppliers aimed to revitalize and regenerate the skin, in addition to providing anti-fatigue properties.
Antiaging
Also targeted to maintaining skin health and youthfulness, Silab launched a high performance antiaging ingredient, Retilactyl D, derived from black pepper berries, to target the reticular dermis by increasing its adhesion to strengthen the skin's underlying structure. Other innovations focused on antiaging as well; Induchem, for instance, presented an Alp rose stem cell extract designed to lift and tighten facial skin as well as body cellulite. Indena presented an asiaticoside for antiaging, while BASF presented its Hyalufix GL "shadow eraser" based on Galanga leaf extract to plump wrinkles. Finally, in a skin whitening approach to antiaging, Laboratoires Sérobiologiques highlighted its Radianskin (INCI: Hydroxyphenoxy Propionic Acid) skin lightener, which it showed to be as effective as kojic acid.
In relation, during the In-Cosmetics Marketing Trends Theater presentations, Marie-Alix Leroy from Being presented on alternative approaches to antiaging. Leroy noted the aesthetics industry inspires cosmetics through products such as "facelift makeup" or "skin care with Botox-like effects"; she also noted growth in ayurvedic and traditional Chinese medicine (TCM) products, and observed that many cosmetic companies are pairing with nutritionists.
Nutricosmetics
The transfer of nutrition into cosmetics was the theme for Leonidas Dokos, PhD, an industry analyst for the specialty chemicals group of Frost and Sullivan, in his market trends presentation on ingredients in the nutricosmetics market. According to Dokos, the most popular nutricosmetic ingredients include: carotenoids such as beta-carotene, lycopene and lutein; vitamins A, C and E; polyunsaturated fatty acids such as omega 3 and 6; and other ingredients such as phytosterols, CoQ10, green tea, fruit extracts, hyaluronic acid and collagen. "According to the data, now is the time to enter the nutricosmetic market," said Dokos, who furthered that to do so, one must educate the consumer and establish scientific credibility.
Skin Basics
Besides antiaging effects for skin, some ingredient suppliers focused on skin care basics. International Specialty Products (ISP), for example, featured its Osmoline product for improved hydration and glow, and several other suppliers also stayed the course of skin moisturization; in one case, launching a carob seed ingredient for moisture binding. Micro-circulation, anticellulite and firming technologies were also ingredient trends in skin care; specifically Seppic, with its Voluform firming technology.
Back to Nature
The industry has never really wandered too far from nature, at least as of late, and several launches in this area attest to this fact. For instance, Dr. Straetmans presented its Symbio Solv XC natural solubilizer, while Rhodia launched its Rhodapex ESB-70 Nat, a sugar cane-derived SLES, for cleansing applications. In addition, Grant Industries launched UV Cut TiO2-60-VL, a 60% dispersion of ultrafine TiO2 in an Ecocert-certified, volatile coconut alkanes solvent.
Other eco-friendly materials focused on solvent-free processes, greener alternatives to silicones, and materials with improved sustainability and biodiversity. Ecocert certification appeared on some product labels and one company, Analyses Recherches Innovation Instrumentale, highlighted its water plant emulsion processing technology. Additional materials launched in the natural sector functioned as natural exfoliants and emollient butters; specifically apricot and mango, among others.
Kitosyme launched an alternative to animal-derived chitosan—its vegetal-derived chitosan, which is suggested for hair styling, antimicrobial benefits and hydration as well as to add a silicone feeling to skin care without using silicone. Finally, Beraca launched its Anti-acne Active System Organic, a combination of açai, andiroba and copaiba to eliminate acne-causing bacteria reportedly without drying the skin.
In relation to the naturals segment, also during In-Cosmetics Marketing Trends Theater presentations, Sarah McCartney of Lush presented her company's green strategy to not use air freight where possible. The company therefore incorporates local ingredients into its formulations; for example, the seaweed in its Canadian products is sourced from Vancouver. McCartney noted that the cost of Lush products also varies by location based on the cost of the raw materials used in them.
New in Hair Care
Developing effective hair fixative, conditioning and color maintenance products is an ongoing task and several new ingredients were presented with this aim in mind. AkzoNobel launched DynamX H20, an aqueous version of its alcohol-based DynamX, for formulation into styling products such as pastes, waxes and gels. According to Laurie Marshall of AkzoNobel, "Those [formulators] looking to protect hair color should try an approach outside of 'sulfate-free.'" Marshall added that the company is developing more biopolymers based on corn, potato and cellulose, as more formulators are looking for natural alternatives to polymers. In addition, Rhodia launched Mackine 301, a gentle surfactant designed to maintain hair color, while other suppliers presented solutions to volumize and style hair, several built on water-based polymers.
A few ingredient launches this year, notably targeted mechanisms, involved in hair growth. ISP, for one, launched BiotHAIRapy, a line of extracts designed to enhance hair follicle marker expression. Within the line, Capauxein, based on corn extract, is said to maintain the hair growth cycle as well as boost regeneration. Hair growth stimulants from other suppliers were based on yeast and rice, and apple and mushroom stem cell extracts.
Segment-specific
In several different instances, global suppliers promoted their company's expertise in local consumer markets by developing products with a look, feel and in many cases, indigenous ingredients to appeal to those markets. While this may not be a new approach to product design, the focus of suppliers to promote their expertise in this way is. Specifically, Cognis/Laboratoires Sérobiologiques presented formulation solutions targeted to various regions by specific textures, actives, etc. Other innovations promoted ingredients sourced from exotic locations; for instance, Brazilian materials including raspberry and pine tree, as well as ethically supplied Australian botanicals.
A different segment-specific strategy by DSM aimed to roll out a line of formula concepts specific to men, including skin care, after shave balm, a sebum fighter, wrinkle repair and sun and eye care. According to the company, this approach leverages several products from its portfolio with one another to offer manufacturers a combined and complete approach to this market segment.
Delivering More
Ingredient delivery is yet another challenge, and one in which ongoing work continues. Aquea Scientific, for example, featured its Aquea highly charged micro capsules (HCMC) for delivery, while Induchem launched Gold and Silver Unispheres beads based on cellulose and sugars that can be loaded with actives, fragrance, etc. Various other spheres and liposomal vehicles were also highlighted, including BASF's Cytovector QD cationic liposomes based on quasi-drug compliant ingredients, reportedly designed to enhance cellular penetration.
Supplier Services
Perhaps the effects of last year's economy sparked what seemed to be an increase in supplier services leveraging existing processes and practices. In relation, several tools for formulators were offered; such as an HLB chart provided by Lipo Chemicals, formulating guides from Univar, and fold-out posters from BASF highlighting actives and their respective product applications, as well as BASF's Sunscreen Simulator calculator, designed to assist formulators in calculating the in silico Sunburn Protection Factor (SPF) of materials (www.basf.com/sunscreen-simulator).
Finally, beyond "how-to" guides, some companies launched materials to reduce the amount of certain ingredients such as actives required in formulations to improve efficacy. For instance, Clariant launched new formulating concepts to "protect and preserve," including a new polymer in its Aristoflex line that boosts SPF and other solutions that reduce the amount of preservative needed in a formula.
In-Focus: Fashion and Cosmetics
Fashion and cosmetics have one major element in common—they both must be innovative to be successful. These two industries often inspire each other with trends for the future. In-Cosmetics focused on this cross-inspiration for this year's In-Focus theme: Fashion. The three fashion trends featured at In-Focus were Seductive Future, Natural Extravaganza and Sensuous Veils. Seductive Future comprised metallic and cold tone fabrics such as blue and green. Meanwhile, Natural Extravaganza explored a variety of textures and colors in natural fabrics. Finally, Sensuous Veils featured muted hues and sheer fabrics with a romantic tone.
So how do these fashion trends inspire the beauty industry? They can be used as blueprints to help cosmetic manufacturers choose innovative ingredients, create formulation textures, and choose packaging that will appeal to a trend savvy consumer.
Awards Reception 
To mark the 20th anniversary of In-Cosmetics, attendees gathered on April 14, 2010, at the 20th Anniversary and Awards Reception to network, debate industry politics and honor innovation in the cosmetics industry. During the reception, Grabenhofer announced the winners of C&T magazine's International Technology Awards. For the New Technology category, Procter & Gamble Beauty and Grooming was awarded for its use of global gene expression profiling to study changes that occur in skin with aging. The New Technology Launch Award was presented to RBT, a Syneron Company, for its elure Advanced Dermal Whitening campaign. Finalists for the New Technology award also included The HallStar Company for its SolaStay S1 photostabilizer, and CeeTox Inc. for its animal alternative in vitro skin sensitization test method. Finalists for the New Technology Launch award included Sederma for its Chromocare product campaign, and ColorMetrics for its TouchBack by ColorMark hair color in a marker campaign. (More on the finalists)
Following Grabenhofer, Richard Hesk, group exhibition director for In-Cosmetics, awarded the event's first ever Lifetime Achievment Award to Alain Khaiat, PhD, who accepted the award proudly as his colleagues cheered him on. Khaiat has been involved in the field of cosmetic science for over 40 years. The three other individuals nominated by the industry for this prestigious award included: Karl Lintner, PhD; Daniel Maes, PhD; and Johann Wiechers, PhD.
Breaking Records
By the end of the second day, In-Cosmetics had broken all previous attendee records and by the end of the show recorded a whopping 7,839 attendees, an increase of 26% over the previous record set in 2007, making the 20th anniversary installment of In-Cosmetics the best-attended in the exhibition's history. According to the organizers, this was reflected in the overall show size too. For the first time, the event exceeded 10,000-sq-m, with 575 companies from over 40 countries worldwide signing up to showcase their latest innovations to a captive audience.
Not only did the show itself set a new precedent, at the end of the show, travel conditions involving a large cloud of volcanic ash over much of northern Europe marked a new global phenomenon stranding several industry members abroad—including Cosmetics & Toiletries magazine staff members. Everyone did the best they could to make do with the situation and as of this report, airports and travel conditions are promising and travelers will soon make their way home.
In a Twitter feed to industry members, Grabenhofer reported to the industry, "While the dust has settled from the show, it's still in the air over much of Europe … So since we're still grounded in Paris, we plan to keep an eye out for what strikes us as potential upcoming ingredient trends." C&T magazine editors reported on a few interesting ingredients in products sold in Paris, including: bamboo, almond, grapefruit, apricot, coffee and agave sap. In one product, pomegranate, collagen boosters and tourmaline crystals were used to match the antiaging effects of laser treatments. Another launch based on shiitake and wild apple tree stem cells was said to stimulate sirtuins and hair stem cells to preserve and grow hair.
The show itself was the most successful one to date, and packed with meeting after meeting with high profile clients and a bustling show floor. It's a sure sign that the industry is ready to take the next step. Here's hoping that the international airlines are as well.