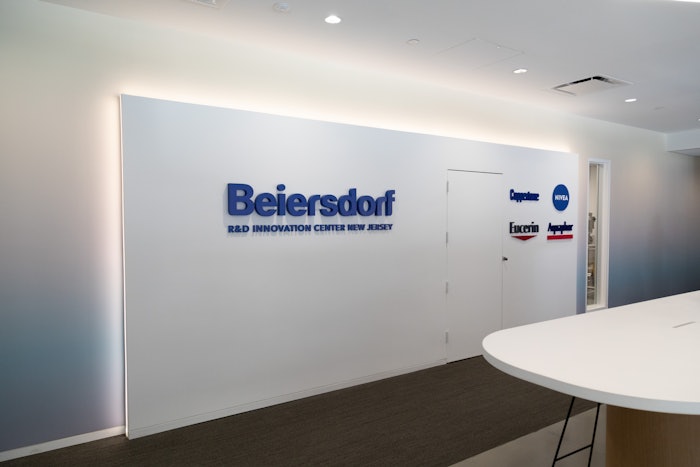 Beiersdorf has opened its new innovation center in Florham Park, New Jersey, and its new North American headquarters in Stamford, Connecticut.
Innovation Center
The innovation center is one of two regional innovation centers of Beiersdorf in the world; the other in Shanghai. It is the first global center of excellence for over-the-counter and sun care products outside of Hamburg.
The new LEED-certified center in New Jersey spans about 3,000 m2 of office and laboratory space with room for expansion, and includes collaboration spaces, a consumer sensory panel focus room, and state-of-the-art GMP laboratory suites for the development of OTC products. 
North American HQ
Designed to optimize the experience of flexible and evolving dynamic work styles, the LEED-certified, open-concept offers more than 250 workpoints, collaboration areas and special high-tech areas.
The campus also features a state-of-the-art fitness center, a meditation space, dry-cleaning services, an array of green spaces and an indoor/outdoor dining area at the Terrace Café. 
Beiersdorf CEO Vincent Warnery, said, "The Beiersdorf innovation center will be our powerhouse in North America. The U.S. represents the world's largest skin and sun care markets. A strong R&D presence in North America and an enhanced position in skin and sun care is vital to growing our business in the region and fully pays into our C.A.R.E.+ strategy."
Gitta Neufang, corporate senior vice president Global R&D, said, "Regional Innovation Centers are a vital part of our global R&D strategy. With this new center we significantly enhance our R&D capabilities, allowing us to accelerate innovation as well as to facilitate close collaboration with our local partners. It therefore enables us to fuse and fully leverage internal and external skin expertise in order to identify unmet patient and consumer needs, and to develop innovative, therapeutic skin care products."