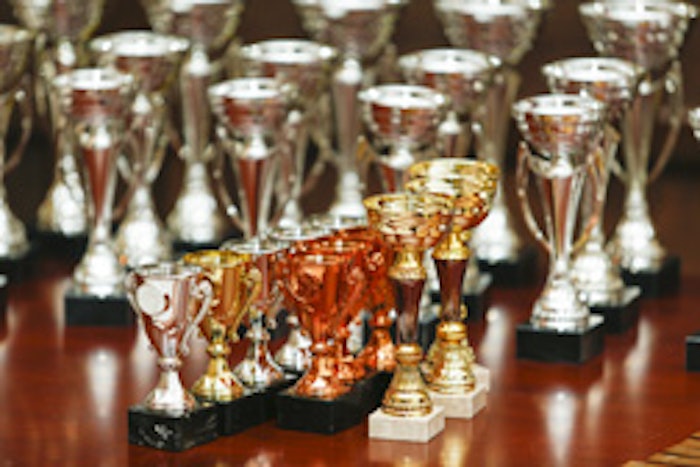 Following two days of nonstop networking and marketing, the sun began to set on in-cosmetics 2016 in Paris Wednesday night. But before the event came to a close, the much anticipated award winners from the Innovation Zone were announced.
"The nominated products combine innovative science and product features in a way that demonstrates substantial benefits to manufacturers and end-users when compared to existing ingredients," according to the in-cosmetics' website.
Without further ado, the winners are:
Active Ingredients
Gold: Givaudan (Soliance – Induchem): Neurophroline, the first generation of cosmetic active ingredients able to block the production of cortisol. Developed from wild indigo seeds, used in Ayurvedic medicine, this active also claims to promote the release of endorphins.
Silver: Lucas Meyer Cosmetics: Miniporyl, a pore minimizer designed to rebalance three skin conditions responsible for pore enlargement: excess sebum production, incomplete keratinocyte differentiation and loss of skin firmness.
Bronze: Solabia Group: Redyless, based on piperonyl glucose, features an innovative molecule obtained by enzyme biocatalysis dedicated to controlling instantaneous and transient redness (flushing) or chronic redness (rosacea) to gain comfort and a harmonious complexion.
Functional Ingredients
Gold: Agrimer: Seaweed Caviar. Made from marine polysaccharides, these 3D "shell-less" pearls serve as vectors for active ingredients. Described as a new galenic for exfoliating skin care, the beads melt on the skin without the need to remove any residue.
Silver: Sigmund Lindner GmbH: Siliglam Nature, a biodegradable glitter.
Bronze: Ashland with Polyelectrolyte Complex Three.
Green Award
Gold: Seppic: Ephemer, a gametophyte extract taken from macroalgae cells grown in a laboratory and harvested at an ephemeral stage in the life cycle of Undaria Pinnatifida seaweed. During this growth stage, the macroalgal cells accumulate anti-oxidant molecules. 
Silver: Sederma—Croda: Majestem, an active ingredient obtained by the elicited plant cell culture of Leontopodium alpinum or Edelweiss, an exclusive technology developed by Sederma. It is the first anti-aging ingredient that delivers visible lifting of the skin on the neck and face to combat sagging caused by sun exposure and air pollution.
Bronze: IBR Ltd.: IBR-Pristinizer, a natural, aqueous extract of Asteriscus Graveolens, a flowering plant native to the Saharan and Judean deserts. It has anti-pollution, anti-oxidant and anti-inflammatory benefits.
Awards in the Sensory category went to Capsum (gold), Nikkol Group (silver) and Technature (bronze).
Kevin Gallagher, retired president, personal care and actives for Croda, was awarded the Lifetime Achievement award. Gallagher thanked his wife, in-cosmetics and Croda in accepting his award.