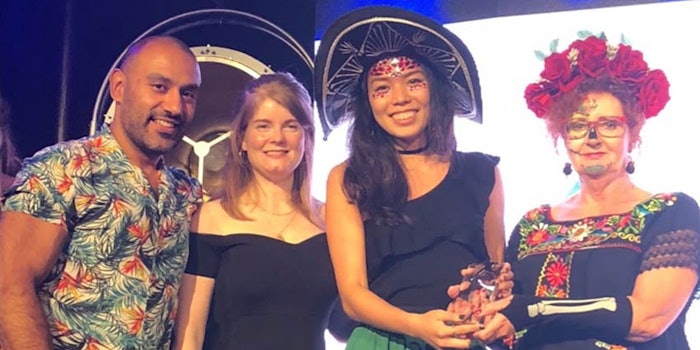 For the second consecutive year, Safic-Alcan has won the Laura Marshall Award for Innovation for its Let's Face It exfoliating and cleansing pad. The product, which is reusable, plastic-free, long-lasting and sulfate-free, was selected by this year's visitors to SCS Formulate.
Previously: Salfic-Alcan Furthers Life Sciences Strategy with Italian Acquisitions
Society of Cosmetic Scientists' (SCS') president Mary Lord presented the award during the first evening of SCS Formulate 2019.
Safic-Alcan's Marketing Manager Julienne Lim, R&D Manager Amy Walsh and R&D Chemist Manny Tailor developed the product with the concepts of sustainability, naturality and biodegradability and the challenge of solids.
Previously: Safic-Alcan, Plant Advanced Technologies Announce Distribution Agreement
The product is based on potato starch and seaweed technology, with its key ingredients being Structure Solanance, or modified potato starch from Nouryon; and Safic Care TCK 2, or Chrondus crispus rheology modifier from Safic-Alcan. It also used coconut and rice scrubs from Greenphyt.
"The product created a lot of attention and buzz at Formulate, which is great as we really wanted to focus on sustainability; it's a main driver for our company as a whole," said Lim.
"We ran out of 250 samples by 1:00 p.m. on the first day of Formulate," said Tailor. "If we'd had 1,000 samples we could have run out. We have a lot to send out! One company wants to sell the product as a base while others are also wanting to use it."