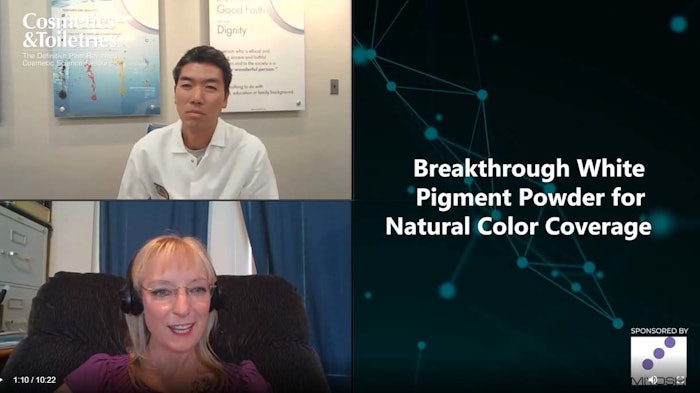 This video is sponsored by:
Miyoshi America
Miyoshi America's MiyoHaze White (INCI: Magnesium Potassium Titanate) recently won the 2022 C&T Allē Award for Most Significant Color Cosmetic Innovation. In this exclusive interview, sponsored by Miyoshi America, team members take us behind the scenes to learn more about the award-winning ingredient and what makes it unique.
See related: Miyoshi America Launches MiyoHaze White, TiO2-like Opacifying Powder
Featured innovators include: Shoji Takekawa, R&D Sr. Manager; Kyle Ludwig, R&D Chemist; Shree Weaver, Application Manager; and Asya Popili, Sales and Marketing Manager.
"New core ingredients for makeup are very rare in cosmetics," explained Takekawa. "Something that can provide opacity is even more rare. You have TiO2, ZnO, barium sulfate and calcium chloride, but these have been around for ages." In addition, they can give a chalky appearance to skin. 
"As a supplier of makeup ingredients, we have been searching for some way to provide [natural] coverage, without the usual ingredients. ... MiyoHaze White is able to provide a 'white pigment' that provides sufficient coverage ... by means of a completely new raw material."
Watch now: