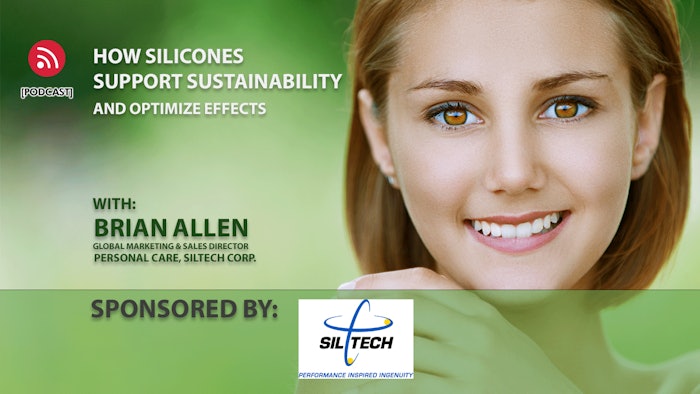 Silicones have come under the lens of scrutiny in recent years as the naturals movement morphed into clean beauty and, in turn, sustainability. This is due in part to some silicones raising concerns over bioaccumulation, making others guilty by association; although many will argue that silicones, derived from silica, are both natural and sustainable.
In this podcast, sponsored by Siltech, Brian Allen, global marketing and sales director for personal care at the company, explains how new silicone chemistries are enabling the thoughtful design of products, maximizing their sustainability and efficiency, and becoming more sustainable in and of themselves.
See related: Siltech to Show Silube Sustain-S at TeamWorks
"Over the past several years, the personal care market has raised concerns about the sustainability of silicones," Allen said, adding that Siltech recognizes the keen interest for sustainable product offerings. "Silicones are derived from abundant natural sources and are, in fact, sustainable."
Furthermore, he explained how Siltech uses its expertise to modify the silicone backbone to improve sustainability, including adding organic components, while being highly efficient at low usage levels. He also presented the utility of methicones, which are silicones made without undesired cyclomethicone; theses are considered more sustainable and meet strict EU regulations.
Listen now to learn more.