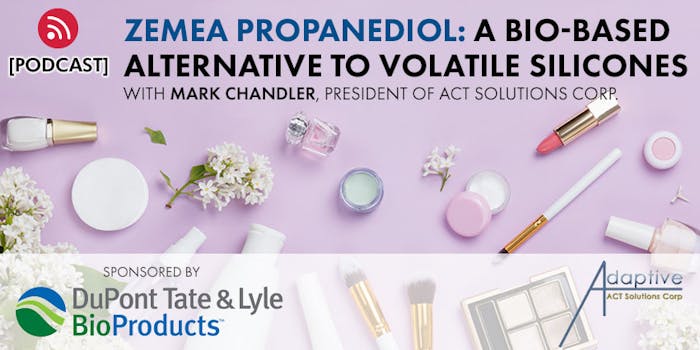 This podcast is sponsored by:
DuPont Tate & Lyle BioProducts
In the following video interview, sponsored by DuPont Tate & Lyle, Michele Behrens, of Cosmetics & Toiletries, connects with Mark Chandler, president of ACT Solutions Corp., about finding an alternative to volatile silicones due to recent industry trends about diminishing the use of synthetic silicones. This has led to bio-based Zemea propanediol to help companies fulfill their sustainability goals without compromising on quality.
"What our surprise was how good this [Zemea blend] was," explained Chandler. "Liquid foundations, tinted moisturizers, BB creams, etc. . . . every bit [of this blend is] as good as the volatile silicone but in a consumer-friendly, skin-friendly, environmental-friendly platform that is frankly even easier to make than water-in-silicone emulsions."