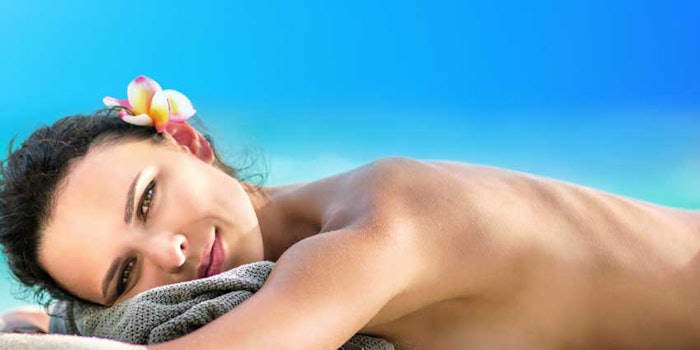 ID 139194710 © Maksim Pasko | Dreamstime.com
Seppic's wesource debuted its natural melanin-booster, Lumipod (INCI: Isosorbityl Octanoyl Leucine), for a safe and quick tan with lasting effects.
Related: Read the Label: Tancream with SPF 50
Lumipod is designed to bypass the need for sun exposure for consumers seeking tanned skin. The ingredient is supplied as a light yellow, viscous liquid that is water dispersible and currently COSMOS-pending.
According to the company, the active was tested as a tanning booster in vivo and found to act faster than acetyl tyrosine with longer effects. In the study, 20 Caucasian women ages 20-37 applied a formula with 1% Lumipod versus 1% acetyl tyrosine or placebo to the thigh area twice daily for 11 days, during which they received six UV applications.
Results exemplified that Lumipod boosted skin tanning up to 15%. This effect was twice as effective as acetyl tyrosine from Day 4. It also provided a long-lasting tan for up to two weeks after use and improved skin color, when compared with the placebo.
Additionally, when tested as a melanin booster in vitro, the active was found to boost melanin synthesis and boost melanin transfer from melanocytes to keratinocytes without UV stimulation. Melanin synthesis was evaluated on normal human Caucasian melanocytes and B16-F1 melanoma cell lines. The cells were treated with Lumipod, EtOH (control) and IBMX (3-isobutyl-1-methylxanthine) or α-MSH, both of which are known to stimulate melanin synthesis (positive control).
In normal Caucasian melanocytes, Lumipod was found in vitro to boost melanin synthesis by 47%; and when evaluated on B16-F1 melanoma cells, it boosted melanin synthesis by 272%. Both studies showed efficacy similar to IBMX and α-MSH.
Previously: Maui Babe Browning Lotion Accelerates Tanning Naturally