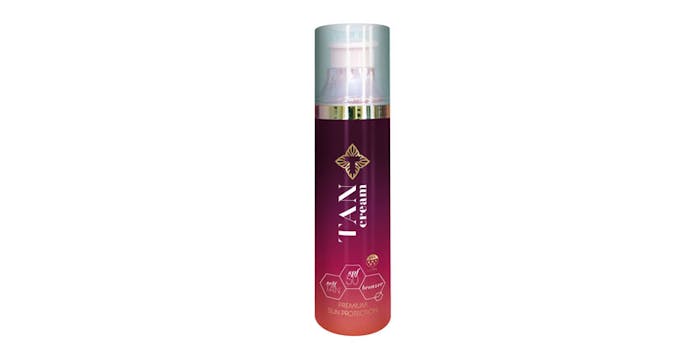 This 'Read the Label' is focused on multifunctional products; specifically, Tancream. This is a rich moisturizer, SPF 50 sunscreen (5-star UVA protection), gradual self-tanner and instant bronzer in one product. For all the chemists reading, yes, you read that right—self-tan and SPF in one product.
Related: Soaking up the Self-Tan: The Pros and Cons of DHA and Self-tanners
The self-tan molecule, dihydroxyacetone (DHA), is notoriously unstable. It likes acidic conditions (pH 3-4) but it doesn't like it when too much/any pH adjuster is added to the formula. If too much buffer is added, I have learned from my own experience that this increases the degradation of the product. Once you add in the DHA, it will naturally bring down the pH of the formula over a day or so. Even though it's tempting to add pH adjuster, it's always best to check the pH the next day after formulating.
DHA works by reacting with the amines, peptides and amino acids in the skin through the Maillard reaction to create a brown color. Because it reacts with these molecules, if the formula contains any ingredients with nitrogen groups, it will begin to react inside the product, resulting in a less visible coloring of the skin. It also doesn't react well to high temperatures, inorganic sun filters, aloe vera, iron oxides, carrageenan, various vitamins, etc., the list goes on. 
Besides the DHA, organic sun filters are difficult to formulate with. Not only are there different regulations about usage levels around the world, but they are also complex molecules that react and often cause emulsions to split and separate back into their oil and water phases. The use of both organic sun filters and DHA in this Tancream is truly innovative–it is a combination both myself and colleagues have tried to create for several years unsuccessfully. 
Product Background
Tancream was created when co-founder, Gillian Robson, was diagnosed with melanoma skin cancer. Her life dramatically changed and she was advised to use high SPF 50 sunscreen daily. She enjoyed tanning and wanted a product that combined the two factors–a tan with high SPF. Gillian teamed up with friend and fellow product development expert Katy Foxcroft, co-founder of Tancream, and together, the pair worked with formulators Jack Ferguson, Ph.D. and Jo Warren to develop Tancream.
The product claims to impart moisturizing properties while delivering an instant natural tint. After application, it reportedly gives skin an even tone, leaving a smooth silky texture while blemishes and age spots are reduced in appearance. The gradual self-tan will work after a few hours to produce a healthy color, and regular use will maintain the tan while protecting the skin from UV damage. The specially designed formula also inhibits the development of a "self-tan smell" and is fragrance-free.
Previously: The Genetic Relation Between Skin Tanning and Burning
Instructions for use are different depending on the area of application but generally speaking, a generous amount should be applied to the face and exposed areas daily. The ingredients below in bold are ones that I believe are strongly contributing to the product's performance and claims: 
Ingredients: Water (Aqua), Dibutyl Adipate, Butyl Methoxydibenzoylmethane, Ethylhexyl Methoxycinnamate, Diethylamino Hydroxybenzoyl Hexyl Benzoate, Dihydroxyacetone, C12-15 Alkyl Benzoate, Distearyldimonium Chloride, Butylene Glycol, Octocrylene, Caramel, Troxerutin, Cetearyl Alcohol, Phenoxyethanol, Caprylic/Capric Triglyceride, Lecithin, Ethylhexylglycerin, Disodium EDTA, Sodium Hydroxide, Bis-PEG/PPG-20/5 PEG/PPG-20/5 Dimethicone, Methoxy PEG/PPG-25/4 Dimethicone.
Editor's note: While the "Read the Label" series provides an overview of the ingredients cosmetic manufacturers use and their related claims, without use levels or access to clinical studies, the author is drawing conclusions based on speculation—albeit from training, formulating experience and, in some instances, evidence in the literature. The following is offered for your consideration and further verification.
Dibutyl 
Adipate
This soft-feeling emollient is responsible for the product's spreadability. Not only is it a good spreading agent, but it also helps to solubilize sunscreen filters and avoid the occurrence of crystallization over time.  
Butyl Methoxydibenzoylmethane
This is known as avobenzone and is an organic sunscreen filter that absorbs UVA rays, particularly in the 340-400 nm region. It is oil soluble and usually comes in crystal form. Due to its sun protection factor, it helps to protect the skin against photodamage and premature skin aging. 
See related: In Light of Exposure, Understanding Avobenzone Part I, Characterization
Ethylhexyl Methoxycinnamate
Known as octinoxate, this is a broad-spectrum UVB absorber. It is often used in combination with other sun filters. It is oil soluble and seems to be the most used sun filter in the world.
Diethylamino Hydroxybenzoyl Hexyl Benzoate
This ingredient is a long-lasting, oil-soluble UVA absorber. As well as imparting SPF, it has strong antioxidant properties so it stays stable in formulas longer and fights free radicals that cause skin damage that lead to skin aging. 
Dihydroxyacetone
This is the self-tan molecule. Ideally, it needs to be stored at cold temperatures (below 4°C) in its powder form. It is water soluble and has been used for many years. It can be used in a variety of applications including hair coloring treatments, henna and most commonly, self-tanners.
For light tans, the usage level is around 3% and for darker tans, it's up to 10%. As mentioned previously, it's quite a reactive molecule and tends to have a lot of incompatibilities. 
C12-15 Alkyl Benzoate
This is an excellent solubilizer for lipophilic materials, and is particularly good for sunscreens and volatile silicones. This material will also be contributing to the product's spreadability and will help to remove any tack/stickiness. 
Distearyldimonium Chloride
This conditioning agent is commonly used in hair conditioners. In skin care, it creates a soft moisturizing effect and leaves the skin feeling smooth while providing emulsifying properties to create rich creamy textures. 
Octocrylene
This UVB absorber supports high SPF formulas. It has slight water repellence and can improve water resistance in sunscreens. It helps to improve the solubility of butyl methoxydibenzoylmethane (avobenzone) and is a yellow, oil soluble, viscous liquid. 
This is typically a food ingredient that works well with DHA to create a luxurious golden brown color. Often self-tans have iron oxides to create the brown, instant bronzer coloring so consumers can see where product has been applied, but the problem with iron oxides is that they react with the DHA and so the final color of the self-tan can change.
Red iron oxide particularly reacts and fades in color, which just leaves blue and yellow iron oxides in the formula. This is why, when consumers leave a self-tan on the shelf for a long time and then use it, it can appear green. 
Bis-PEG/PPG-20/5 PEG/PPG-20/5 Dimethicone
This silicone emulsifier creates highly stable formulas. The dimethicone part leaves a soft, silky skin feel while the PEG groups create a rich, viscous emulsion. 
In-use Testing
Before testing, I was skeptical—how could this sort of formula be stable? First, I opened the product and observed the contents to discover a rich, caramel-colored emulsion with no signs of instability.
The product is packaged in an opaque bottle with a pump dispenser. I thought I would try this when the weather was nice, although the brand does promote daily application regardless of the weather. It was a rare, mildly sunny day in England so of course, I did what most Brits do and sunbathed as I wanted to test the SPF. 
I'm a regular user of self-tanners and have learned the tips and tricks to achieve a "streak-free" glow, but a first-time user may find it a little intimidating. Luckily, the instant bronzer inside the Tancream acts as a guide and you can see where you have been and where you still have "patches" that need covering.
I also think this is a great way to see where you need to apply more sunscreen, too. The bronzer is subtle to the point where the skin is not going to look too different–it's more of a natural glow.
Upon application, the product is very spreadable to where it glides over the skin and a little goes a long way. I used my hands to apply the product but you could use a tanning mitt, too. After application, I waited 5 min for it to dry and then carefully washed the palms of my hands to remove excess product. It's essential not to get wet for a couple of hours as this will cause streaks to form. Once dried, there was no residual tacky feeling that is usually seen with high SPF sunscreens. My skin felt moisturized and looked healthy. 
After sitting in the garden for a few hours with a book, I couldn't see any redness appearing in my skin and knew the SPF was doing its job as I tend to burn quite quickly. I was starting to develop a nice golden base color from the DHA and when I showered later that evening, I could see the results of the self-tan, which lasted over a week. 
Overall, I was really impressed with this product. I couldn't stop touching my skin for days after use, it felt like it had a soft film coated on. My skin was in great condition, it looked good and it felt good too. There was a very mild self-tan smell but because the DHA level is fairly low, it wasn't anywhere near as potent as some of the other self-tans that I have previously used. 
I would recommend this product. Sun protection is important and why not have a healthy glow while you're at it? You can buy it online at £44.95 for 100 mL (~$60 for 3.38 fl. oz.). 
Source: Tancream
Disclaimer: This article was produced in the UK and therefore the INCI listing and INCI names comply with European labeling requirements.