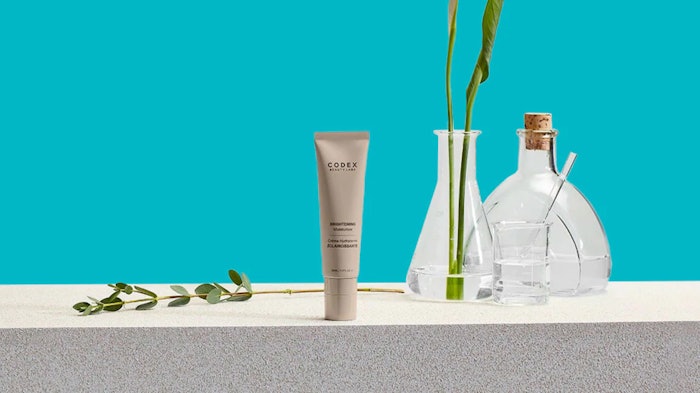 Image source: Codex Beauty Labs
Codex Beauty Labs' Antü mini kits are designed to defend against springtime pollutants and to calm, nourish and protect the skin. Three versions are available, including the: Skin Defend Kit, Skin Stress Reboot Kit and Skin Reset Kit. Each mini kit reportedly contains everything the skin needs to refresh and replenish its barrier.
According to the company, its biotech approach uses plant cells to develop active ingredients that support the formulation of potent, vegan, cruelty-free and sustainable products. Each product in the Antü Mini Kits is tested to ensure all performance claims are backed by clinical data.
Skin Defend Kit
The Antü Skin Defend Kit includes the nourishing Antü Brightening Moisturizer and the Antü Refreshing Gel Cleanser, both reportedly proven to protect against inflammaging.
It features Codex Beauty Labs' plant-rich AntüComplex and M3 antioxidant formula to soothe irritated skin and reverse damage to the skin barrier caused by stress, UV rays and pollution.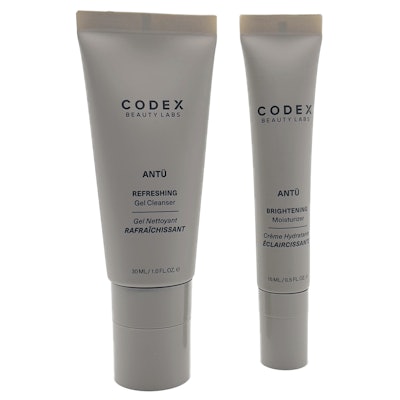 Skin Stress Reboot Kit
The Antü Skin Stress Reboot Kit includes the Antü Brightening Serum and Antü Radiance Mist, both of which are designed to infuse the skin with moisture while reversing inflammaging.
The Antü Brightening Serum nourishes the skin using the patented antioxidant-rich AntüComplex to restore the skin barrier, rebuild collagen, improve skin firmness and re-densify skin. In addition, hibiscus helps to relax and smooth expression lines. Finally, the Antü Radiance Mist gently exfoliates and tones with AHAs such as mombin plum and mango, and deeply hydrates with hyaluronic acid.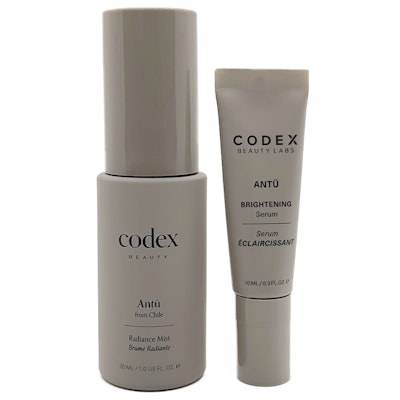 Antü Skin Reset Kit
Lastly, the Antü Skin Reset Kit includes the Antü Brightening Eye Cream and Antü Brightening Night Cream, both are reported to work over night to combat puffiness and inflammaging.
The Antü Brightening Eye Cream helps to firm, smooth and lift, containing ingredients such as muira puama to reduce the appearance of dark circles. The Antü Brightening Night Cream further pampers the complexion by restoring the skin's hydration over night for a smoother, rejuvenated, more radiant appearance. It also includes blackjack flower to mimic the power of retinoids for visible skin elasticity, and daisy to brighten and help fight hyperpigmentation.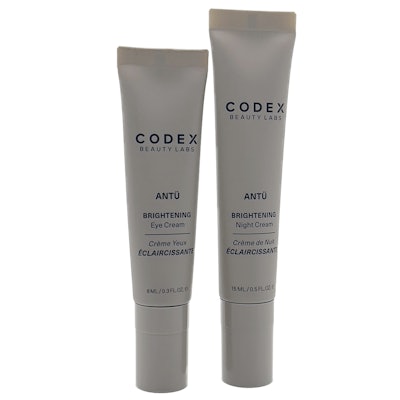 "As travel begins to open up around the world, we wanted to create the perfect mini sets to combat inflammaging whenever and wherever you are," said Barb Paldus, CEO and founder of Codex Beauty Labs. "Each Antü mini kit delivers our patented AntüComplex to reduce reactive oxidative stress in skin from UV rays, pollution and stress—the three main culprits that lead to inflammaging—so that you can travel at ease this year."
Ingredients (Antü Barrier Repair Moisturizer): Water (Aqua), Shea Butter Ethyl Ester, Propanediol, Lactobacillus Ferment, Glyceryl Stearate Citrate, Glycerin, Cetearyl Alcohol, Lactobacillus, Glyceryl Stearate, Carrageenan, Cocos Nucifera (Coconut) Fruit Extract, Entada Phaseoloides Bark/Seed Extract, Sodium Benzoate, Physalis Angulata (Camapu) Extract, Caprylic/Capric Triglyceride, Xanthan Gum, Potassium Sorbate, Citric Acid, Citrus Limon (Lemon) Peel Oil, Citrus Aurantifolia (Lime) Peel Oil, Astrocaryum Murumuru Seed Butter, Hydrolyzed Sodium Hyaluronate, Sodium Phytate, Cymbopogon Martini Motia (Palmarosa) Herb Oil, Buddleja Globosa (Matico) Leaf Extract, Aristotelia Chilensis (Maqui) Leaf Extract, Ugni Molinae (Murtilla) Leaf Extract, Tocopherol, Limonene, Citral, Linalool.