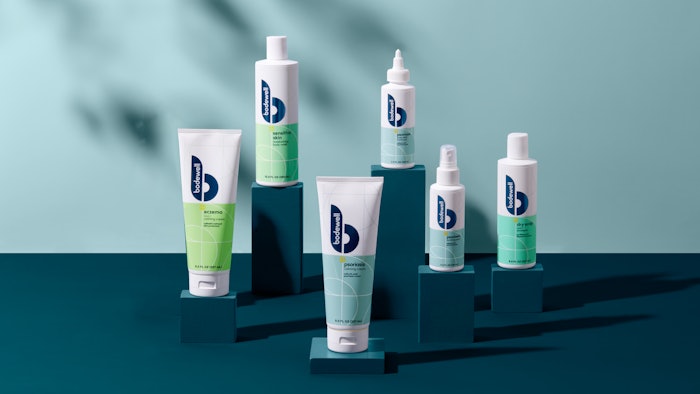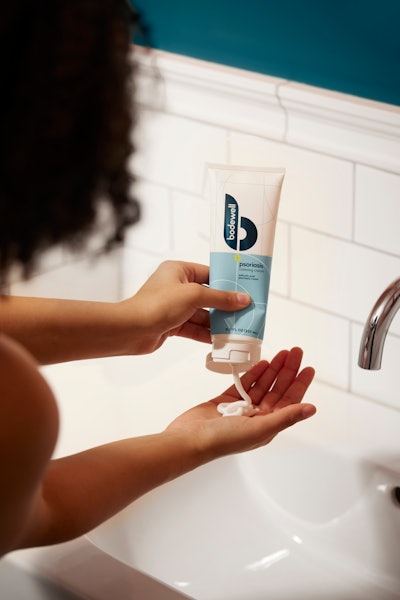 P&G Ventures has reintroduced Bodewell, a line of skin care products developed for individuals afflicted by eczema and psoriasis. The line featured gentle products with high efficacy, including such actives as colloidal oatmeal and salicylic acid, along with essential moisturizers and a botanical blend called BW22.
The collection of products includes:
Eczema Daily Calming Cream
Psoriasis Calming Cream
Psoriasis Scalp Relief Treatment
Psoriasis Soothing Spray
Dry Scalp Daily Shampoo
Sensitive Skin Moisturizing Body Wash
The range retails at the brand's e-commerce site for $18-32. Subscription plans are available. 
Inspired by skin science and nature, Bodewell products are said to gently soothe irritated skin and help skin to rebalance itself over time—resulting in symptom relief and clearer-looking skin over time. The products also help relieve itching and irritation. They are free of steroids, parabens and fragrance, and they require no prescription.
According to the company, Bodewell starts working from Day 1 to help relieve flare symptoms. After 4 weeks of use in a consumer study, 9 out of 10 users felt the Bodewell Daily Eczema Calming Cream made their skin feel healthy and 8 out of 10 users agreed that the Bodewell Daily Eczema Calming Cream reduced the number of "bad skin days." Bodewell Psoriasis Calming Cream also recently earned the National Psoriasis Foundation Seal of Recognition.
"Nearly 40 million people in the US are affected by eczema or psoriasis," said John Scarchilli, director of P&G Ventures. "But it can be difficult to find solutions that are both gentle and effective—and reasonably priced. We don't think people should have to deal with tradeoffs when it comes to their skin care treatment so we designed Bodewell to be both gentle and powerful."
Ingredients (Psoriasis Calming Cream): Water (Aqua), Glycerin, Stearic Acid, Cetyl Alcohol, Carthamus Tinctorius (Safflower) Seed Oil, Dimethicone, Cocos Nucifera (Coconut) Oil, Glyceryl Stearate, Niacinamide, Sodium PCA, Phenoxyethanol, Petrolatum, Triethanolamine, Carbomer, Caprylyl Glycol, Tocopheryl Acetate, Alcohol, Hamamelis Virginiana (Witch Hazel) Bark/Leaf Extract, Avena Sativa (Oat) Seed Extract, Populus Alba Bark Extract, Populus Tremuloides Bark Extract, Cochlearia Ocinalis Flower/Leaf/Stalk Extract, Phytolacca Decandra Root Extract, Lens Esculenta (Lentil) Fruit Extract, Berberis Vulgaris Bark Extract, Scrophularia Nodosa Extract, Veronica Ocinalis Extract, Sanguinaria Canadensis Rhizome/Root Extract, Althaea Ocinalis Root Extract, Chamomilla Recutita (Matricaria) Flower Extract, Sambucus Nigra Extract, Achillea Millefolium Extract, Aesculus Hippocastanum (Horse Chestnut) Seed Extract, Malva Sylvestris (Mallow) Leaf Extract, Nasturtium Ocinale Leaf Extract, Smilax Medica Root Extract, Tussilago Farfara (Coltsfoot) Leaf Extract, Pimpinella Saxifraga Extract, Vincetoxicum Hirundinaria Root Extract.