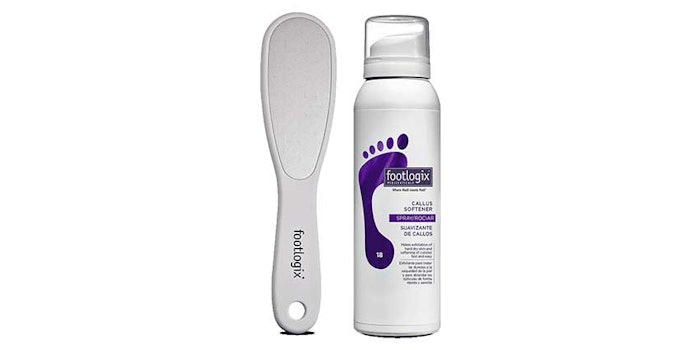 Footlogix
Footlogix will be launching an 'At Home' Foot Care Combo to exfoliate hard, callused skin and leave feet feeling smooth and revitalized.
Related: Anatomy of Foot Care Formulas
This kit was created after the reformulation of the company's Professional Callus Softener spray. When combined with the Footlogix "At Home" Foot File, the combo is said to provide an effective hydrating, softening treatment for dry, rough, cracked and callused feet.
The Footlogix Callus Softener spray is gentle and moisturizes the skin. It is a reportedly non-aggressive formula that does not need to be washed off, as it will continue hydrating the skin after use. The 360-degree spray bottle can be worked from any angle to make it easier for consumers to spray difficult-to-reach areas on the feet.
After the softener is absorbed, the callus can be gently removed using the foot file. The file is double-sided and made with stainless steel. It is lightweight with a rubberized handle and can be used multi-directionally without shredding the skin. The foot file is also easy to clean as it can be washed using a brush with soap and water.
This kit is an expansion of the company's home care product offerings; it also offers a professional range for salons, spas and foot care professionals.
Below is a company "how-to" guide for proper use:
Ingredients (Callus Softener spray): Water (Aqua), Urea, Glycerin, Phenoxyethanol, Methylparaben, Tetrasodium EDTA, Butylparaben, Ethylparaben, Propylparaben.
Previously: BotanicalsPlus Reveals 5 BP-ExfoliCare Exfoliating and Skin-boosting Actives