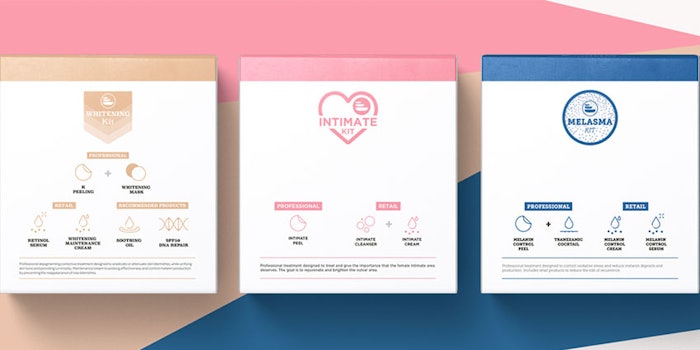 Neftis Laboratorios
Neftis Laboratorios has designed three professional treatment kits, specifically for intimate care, melasma and skin lightening.
Related: Formulating Feminine Hygiene for the Underserved Indian Market
The company formulates and manufactures professional cosmetics as well as provides corresponding technical support and documentation for its products according to the latest regulations from each country.
Neftis Intimate Kit
This kit contains a professional treatment that is designed to rejuvenate and brighten the vulvar area. It includes an intimate cleansing gel, moisturizing gel and intimate peel.
Featured: Pulse Device Designed for Intimate Care
Step 1—Intimate Peel: This daily gel-cream is a bleaching treatment designed to improve hyperpigmentation and stimulate the production of collagen, thus achieving a firmer vulvar area. It can also be used in areas such as the groin, mons pubis, perineal and gluteus. It consists of a reportedly pain-free, minimally invasive, microscopic peel with a pH of 3.0-3.5. It also does not alter the natural flora and increases the homeostasis of skin.
Step 2—Intimate Cleanser: This daily soft gel is carefully formulated at a pH between 4.5 and 5.5, also so it does not alter the natural flora and, rather, increases the skin's homeostasis. It can be used daily to help reduce the risk of recurring bacterial infections and can be used in conjunction during antibiotic treatment.
Step 3—Intimate Moisturizing Gel: This daily gel-cream protects and moisturizes the vulvar area, preventing discomfort, dryness, irritation and infection. It also moisturizes and calms the skin for a natural balance.
Neftis Whitening Kit
This professional depigmentation treatment is designed to lessen skin spots while evening skin tone and providing radiance. The kit includes a peel, lightening mask, maintenance cream, retinol serum, sunscreen and soothing oil.
Previously: Spot-lightening Treatments
Step 1—K Peel: This peel degreases and exfoliates the skin to prepare for further treatments for more effective results. This peel has a pH range of 1.5-2.5.
Step 2—Whitening Mask: Having a pH of 3.5-4.5, this mask can not only be used for the face,  but also the hands. It reduces the number of dark spots while revitalizing skin.
Step 3—Whitening Maintenance Cream: This cream enhances the results obtained with the mask and prevents the appearance of new pigmentation disorders.
To boost treatment results, Neftis Laboratorios recommends using additional products such as the retinol serum, soothing oil and SPF. The Retinol Serum may be applied before the maintenance cream, as the retinol would accelerate skin renewal, reducing pigmentation and restoring collagen and elastin. In the case of irritation, the Soothing Oil soothes and repairs the skin while providing it with nutrients, vitamins and antioxidants. Additionally, the SPF 50 DNA Repair protects the skin from blemishes and spots.
Neftis Melasma Kit
To control melanin production, this professional treatment is designed to address oxidative stress and reduce melanin deposits and production. This kit includes a control peel, tranexamic acid blend, control serum and cream.
Step 1—Melanin Control Peel: This gentle peel exfoliates the skin and removes excess of melanin from the upper layers.
Step 2—Tranexamic Cocktail: This blend mainly consists of tranexamic acid—an active ingredient that can block the production of melanin, as it acts through various enzymatic pathways. The blends work synergistically with tyrosine and blocks the formation of plasmin.
Step 3—Melanin Control Serum: This combination of active ingredients protects the skin from stress and keep melanin synthesis blocked.
Step 4—Melanin Control Cream: The cream promotes skin renewal and lightening, which can be used directly on the spot, locally or over the face.
Also related: The Bright Side—Formulating Lighteners to Protect and Maintain Skin Health
Ingredients (Neftis Melasma Kit): Melanin Control Peel: Alcohol Denat., PEG-8, Ferulic Acid, Water (Aqua), Isopropyl Alcohol, Phloretin, Lactic Acid, Malic Acid, Triethanolamine, Citric Acid, PEG-35 Castor Oil, Retinyl Palmitate, Sodium Lactate, Tocopherol; Tranexamic Cocktail: Water (Aqua), Tranexamic Acid; Melanin Control Serum: Water (Aqua), Propylene Glycol, Niacinamide, Methypropanediol, 3-o-Ethyl Ascorbic Acid, Sodium Citrate, Trideceth-9, PEG-40 Hydrogenated Castor Oil, Caprylyl Glycol, Glycerin, Citric Acid, Phenylpropanol, Polysorbate 20, Glutathione, Tocopheryl Acetate, Disodium EDTA, Propanediol, Phenoxyethanol, Saccharide Isomerate, Vitis Vinifera Leaf Extract; Melanin Control Cream: Water (Aqua), Glycerin, Glycolic Acid, Cetearyl Ethylhexanoate, Sodium Hydroxide, Alpha-arbutin, C14-22 Alcohols, Glyceryl Stearate, PEG-100 Stearate, Koji Dipalmitate, C12-15 Alkyl Benzoate, Dimethicone, Cetyl Alcohol, C12-20 Alkyl Glucoside, Dipropylene Glycol Dibenzoate, Butyrospermum Parkii (Shea) Butter, Polyacrylate Crosspolymer-6, Tranexamic Acid, Sodium Benzoate, Tocopheryl Acetate, Niacinamide, Fragrance (Parfum), Xanthan Gum, Polysilicone-11, Potassium Sorbate, Hydroxyethylcellulose, PPG-15 Stearyl Ether Benzoate, Disodium EDTA, Butylene Glycol, Bisabolol, Sodium Nitrate, Decyl Glucoside, Alcohol, Palmitic Acid, Phenoxyethanol, Caprylyl Glycol, Hexylene Glycol.