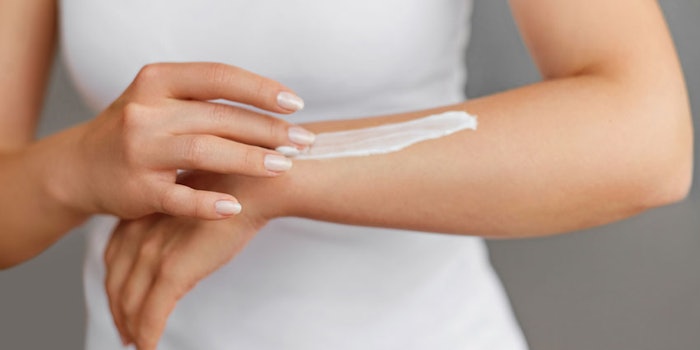 This editor's pick highlights Mibelle Biochemistry's CM-Glucan Forte (INCI: Magnesium Carboxymethyl Beta-glucan), a vegan beta glucan from baker's yeast, which has been shown to alleviate six symptoms of eczema and strengthen the skin barrier.
The ingredient also is reported to calm sensitive and itching skin, and rebalance the skin's immune system in less than one week. Furthermore, in vitro it was shown to reduce IgE antibody production, the release of IL-1α and IL-8 expression (a marker for atopic skin), while inhibiting the adhesion of Staphylococcus aureus bacteria to skin. Notably, the following formula provides a simple solution with only 11 ingredients.
Sensitive and Compromised Skin Strengthener
A.
Sodium Stearoyl Glutamate (o/w emulsifier)
qs to 0.80% w/w
Caprylic/Capric Triglyceride (emollient)
7.00
Triisostearin (emollient)
5.00
Butyrospermum Parkii (Karite ON, Sophim; emollient)
2.00
B.
Water (aqua) (solvent)
65.91
Glycerin (humectant)
15.00
Phenoxyethanol (preservative)
0.80
Chlorphenesin (preservative)
0.25
C.
Sodium Polyacrylate (thickening polymer/stabilizer)
1.20
D.
Magnesium Carboxymethyl Beta-glucan (
CM-Glucan Forte
, Mibelle Biochemistry; skin care agent)
0.04