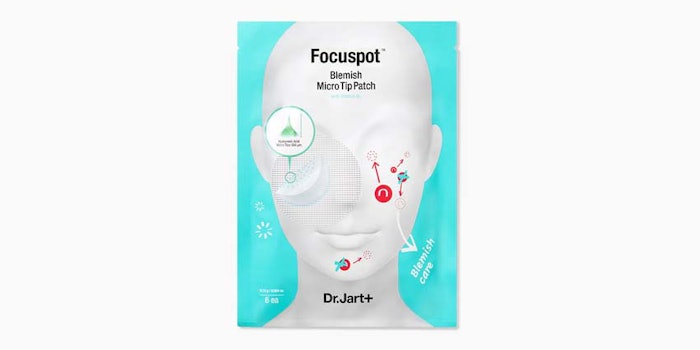 Dr.Jart+ website
Estée Lauder's Dr.Jart+ brand launched its Focuspot Microtip Patch range last year to target lines and wrinkles, dark spots, dark circles and blemishes. The latter has especially been positioned to address breakouts caused by wearing face masks or 'maskne.'
The self-dissolving micro patches are said to melt deeply into the skin surface to target blemishes in a manner similar to microneedles. The Blemish MicroTip Patch contains 65% hyaluronic acid, vitamin B3 and peptides to help keep skin clear of excess sebum that can lead to blemishes and other imperfections.
The product is dermatologist tested and reportedy clinically proven to reduce sebum on blemish-prone skin. Users are instructed to: open the pouch and carefully remove the patch from its tray; remove the white film without touching the center of the patch; and holding the edges of the patch, place its center on the desired area. They then press the patch straight down to firmly adhere to skin where it is left in place for a minimum application of two hours.
For maximum effectiveness, it should be applied before sleeping and removed in the morning. Is should be applied to dry skin before or after the user's regular skin care routine.
Ingredients: Sodium Hyaluronate, Trehalose, Clitoria Ternatea Flower Extract, Niacinamide, Oligopeptide-76, Water/Eau (Aqua), Curcumin, Maltodextrin.
Additional Details (per Dr.Jart+ website): +Melting Effect: Hydrating hyaluronic acid micro tips (500 ㎛): Infused with Vitamin B3 (niacinamide) melt deep into the skin to help balance it with moisture while fighting excess oil to help blemish-prone skin. +Polypeptide: Oligopeptide-76: helps to promote healthy-looking skin. Formulated without: Parabens, Mineral Oil, Petrolatum, Synthetic Dyes, BHT, DEA, Sulfate, Triclosan, Fluorescent Material, Formaldehyde.
Source: Dr.Jart+ website