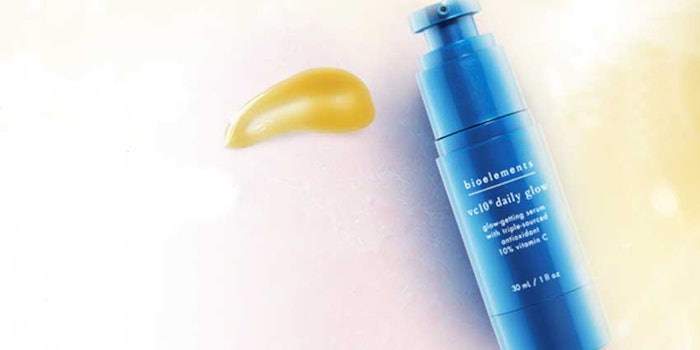 Bioelements has introduced vc10 Daily Glow. This vitamin C serum affords the skin a glowing appearance as it fights free radical damage such as lines, spots and skin sagging caused by the sun, pollution and chronological aging.
Related: A Balancing Act: Stabilizing Vitamin C for Skin Benefits
Vc10 Daily Glow features 10% vitamin C, triple-sourced from vitamin C derivatives and natural acerola cherries, which reportedly contain 65× greater vitamin C content than oranges. This serum also includes the hydrating benefits of vitamin E, hyaluronic acid and Anadenanthera colubrina bark extract to moisturize, brighten, even skin tone and target the appearance of collagen breakdown. Plus, the company's airless packaging limits oxidation, keeping the formula fresh and ensuring optimal usage.
"The topical benefits of vitamin C are well-known but the current marketplace of vitamin C formulas often comes with consistent complaints from consumers, including irritation, unpleasant odors and product instability," said Teresa Stenzel, Bioelements regional education business manager. "These drawbacks outweigh any benefits but the vc10 Daily Glow is calibrated for effectiveness and stability at 10% vitamin C without introducing irritation—making it suitable for all skin types and for daily use. Plus, it delivers a surge of hydration enveloped in a light, natural aroma to make it a potent vitamin C serum."
Previously: Bioelements Presents 'Urban Undo' Cleanser
In a 42-day consumer perception study of 100 women, with the use of vc10 Daily Glow, 91% of users claimed their skin appeared radiant; 85% claimed skin felt hydrated and more supple, appeared brighter and more toned; and 95% claimed the product was non-irritating.
Ingredients: Water (Aqua), Sodium Ascorbyl Phosphate, Glycerin, Dimethicone, Ascorbyl Glucoside, Lactobacillus/Acerola Cherry Ferment, Sodium Hyaluronate, Anadenanthera Colubrina Bark Extract, Tocopheryl Acetate, Allantoin, Citrus Aurantium Dulcis (Orange) Oil, Lysolecithin, Sclerotium Gum, Xanthan Gum, Pullulan, Phenoxyethanol, Ethylhexylglycerin, Potassium Sorbate, Disodium EDTA, Citric Acid