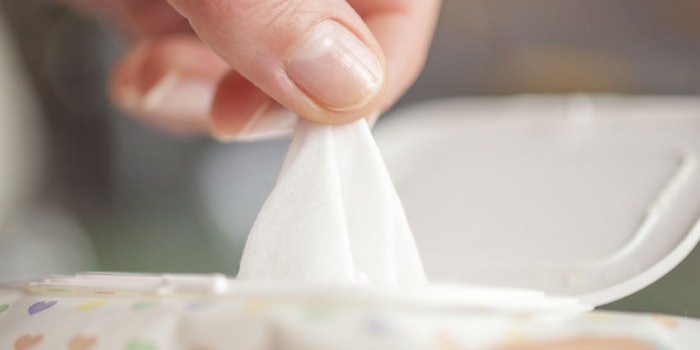 Touted as a phthalate-free, odor-free technology, SABIC's PP 514M12 polypropylene (PP) resin material was designed to provide good processability for melt-blown fibers with high levels of drawability, spinnability and uniformity. The resulting nonwovens, such as cleansing wipes, are said to combine high barrier properties and absorption with breathability in thin, lightweight webs with reduced material consumption.
According to the company, this material can serve a wide range of potential end uses in baby cleansing, personal hygiene and other market segments. This is the first in a new family of high-flow resin compounds, which, with a final melt flow rate of > 1,000 g/10 min, opens unique manufacturing possibilities for very lightweight and thin nonwovens.
The potential for the technology to improved absorption and barrier performance has best assessed in hydrostatic head tests, a frequent requirement for certain configurations of spun-bond/melt-blown/spun-bond (SMS) nonwovens for hygiene applications. The polymer resin is supplied in regular pellet form, which facilitates easier handling, storage and use.
Sampling by nonwoven manufacturers has underscored this new material as a great candidate for a wide range of potential end-use products; from diapers and sanitary napkins, to other hygiene applications. Beyond single-material and composite nonwovens, it can also lend itself as base resin for color master batches.
For more information, visit the company website.