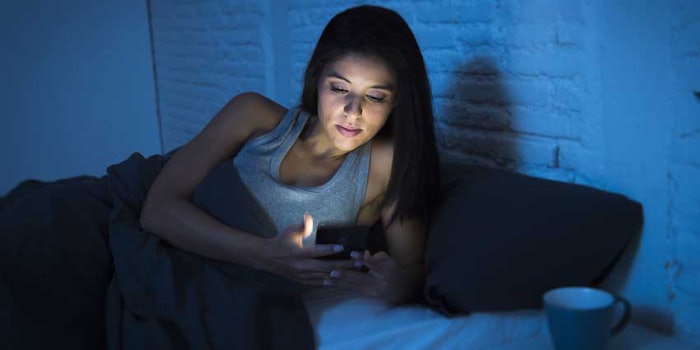 Naturex put its blue light protection to the test—its Eutectys cherry blossom active for skin care applications, Eliorelys (INCI: Glycerin (and) Betaine (and) Water (aqua) (and) Prunus Cerasus Flower Extract), has been found to be effective in providing protection against damage from blue light. Full findings from the brand's recent study will be revealed on Jan. 9–10, 2018, at Cosmetagora in Paris.
According to the brand, 90% of people ages 20–65 years old use electronic devices daily—this includes an average of five hours in front of blue light-emitting screens, which was found to damage human keratinocytes and live skin and cause skin aging similar to UVA radiation.
Naturex's researchers found that human keratinocytes incubated with Eliorelys showed up to a 75% decrease in DNA damage in comparison with untreated cells. This outcome shows the active can be used against blue light-induced DNA lesions.
Fortify Range
Also at the show, Naturex plans to launch Fortify, which is the fourth and final part of the company's Beautyfood collection of natural skin care solutions, formulated with ingredients from plants found in the food chain.
The new range includes five nutrient-rich ingredients: ginseng, oat, bamboo, nettle and ginger. These food and beverage inspired ingredients are recognized in their abilities to deliver regeneration and stimulation benefits.
"Our approach at Cosmetagora will be to unlock nature's beauty secrets and showcase some of the most exciting natural actives available today," said Stéphanie Puel, personal care director for Naturex. "Consumers love to be inspired by innovative beauty products that deliver effective benefits. In tune with this, both Eliorelys and the new Fortify range deliver high performance and a wow-factor that shoppers will love."