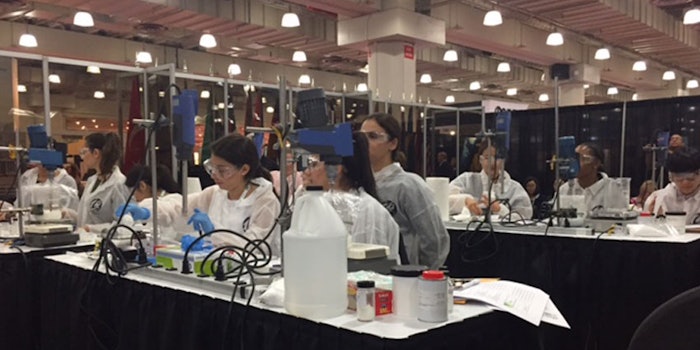 For the first time, NYSCC Suppliers' Day hosted a Future Chemists Workshop for aspiring cosmetic chemists, students and young formulators starting their careers. 
On Tuesday, May 2, participants could formulate either a skin care product in the morning session or a color cosmetic in the afternoon session. According to John Carola, sales manager at Protameen Chemicals, when the workshops were first introduced, they filled up so quickly that registration closed early.
A total of 15 students participated in each session, and were grouped into threes for the class exercises. Participants hailed from: Rutgers University, Fashion Institute of Technology, Seton Hall University, Montclair State University, Fairleigh Dickinson University, Kean University and Long Island University.
"These students will be running the labs in five to 10 years," said Carola.
The students donned gloves, goggles and lab coats to create a lotion in the morning session.
"[The group formulated] a generic body lotion, which is easy to make for first-time formulators," said Lynn Cunha, senior scientist at Edgewell Personal Care.
Cunha, the first session instructor, walked students step-by-step through the creation of the best lotion formula to meet consumer needs; the afternoon session was led by Ewelina Pitusiak, a cosmetic professional passionate about color cosmetics and skin care products.
"People want ingredients on skin that aren't oily, so you need to create a non-watery type of product," Cunha explained. "You must know the purpose of your raw material to be a successful formulator."
As the group was working on the formulation, Cunha went over significant statistics and gave students tips to hone their skills.
"There's going to be some purpose for what you're making," she said. "Make a plan. Change one thing at a time."
If a formulator runs into a problem, he or she needs to know what caused the issue; and the best way to do so is by evaluating the effect of that single formula change, explained Cunha.
"I hope [the students gained] a general understanding of emulsions and that they understand water and oil better—and that they had fun overall," she said.