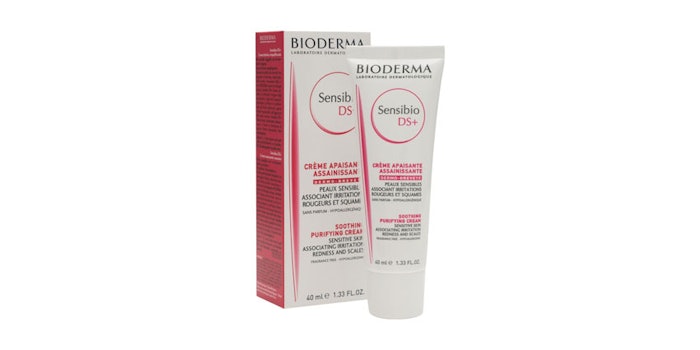 Bioderma's Sensibio DS+ Crème is touted as a soothing treatment for sensitive skin that helps to combat the source of redness and dry, flaky patches. Said to be suitable for the entire family, including babies, the formula is designed to be anti-irritating with a gel-cream texture that feels fresh and comforting upon application.
Formulated with soothing enoxolone and emollient coconut oil, the product aims to calm and visibly improve the appearance of skin. Light and non-greasy, it helps to relieve areas of redness while limiting irritants that can aggravate skin's condition. Purifying and comforting, the cream also reportedly contributes to an improved tolerance threshold to promote lasting comfort.
Additional claims include hypoallergenic, non-comedogenic and fragrance-free, and users are instructed to apply the product once or twice daily to cleansed skin.
This column will review the ingredient listing for claims substantiation and functionality.
Emulsion Base
The formula is a water-based emulsion system containing the solvent propylene glycol. The oil-based phase contains natural and modified emollients, including: coconut oil, caprylic/capric triglyceride and cetyl alcohol, as well as the silicone dimethicone. The emulsifier is sorbitan sesquioleate and glyceryl undecylenate is a surfactant and hydrating, skin-conditioning agent.
Active Ingredients
The active ingredients in the formula comprise the following. Glycyrrhetinic acid has been shown to alleviate atopic dermatitis. Climbazole is a topical antifungal agent used to treat eczema, and in combination with piroctone olamine, can alleviate seborrheic dermatitis.
Xylitol is a hygroscopic molecule, and mannitol and rhamnose are masking and hydrating agents. Fructooligosaccharides are pre-biotic compounds and kelp, a variety of brown seaweed, is known to soothe and reduce skin inflammation.
Thickeners and More
Carbomer and sclerotium gum serve as emulsion thickeners, and sodium hydroxide is a buffering agent, adjusting the pH of the formula. Finally, this cream is preserved by phenoxyethanol.
Conclusions
In my view, the ingredients support the claims for a soothing sensitive skin treatment, alleviating redness and a dry, rough skin texture. Furthmore, the combination of actives targets inflammation, the microbiome, fungal infection and skin hydration, potentially alleviating skin conditions and sensitivity.
Ingredients: Water (Aqua), Cocos Nucifera (Coconut) Oil, Propylene Glycol, Caprylic/Capric Triglyceride, Dimethicone, Glycyrrhetinic Acid, Sorbitan Sesquioleate, Climbazole, Piroctone Olamine, Glyceryl Undecylenate, Mannitol, Xylitol, Rhamnose, Fructooligosaccharides, Laminaria Ochroleuca Extract, Cetyl Alcohol, Carbomer, Sclerotium Gum, Sodium Hydroxide, Phenoxyethanol.
Source: http://www.bioderma.com/en/our-products/sensibio/ds-creme