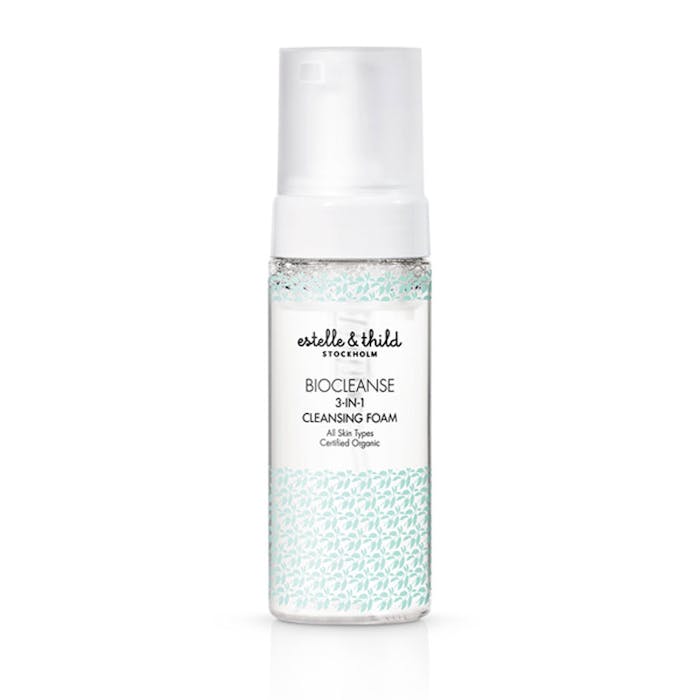 For many consumers, a lighter face wash is preferred for hot, summer months. With this in mind, we turn to a multifunctional cleansing foam from Estelle & Thild. 
Estelle & Thild's Biocleanse 3-in-1 Cleansing Foam is a certified organic, airy cleansing foam. It is said to form a skin-softening lather that renews and refreshes while energizing the skin. By gently washing away makeup and impurities, it aims to uncover a toned and radiant complexion. 
The label instructs users to dampen their face with water and gently apply a small amount of the foam to their fingertips, to form a thick lather. The product should be gently massaged for one minute, avoiding the eye area, then rinsed off. For best results, the company recommends pairing the cleanser with its multi-action facial toner.
For use morning and evening, the product is designed to create a clean and refreshed complexion with added moisture. Infused with black elderflower, the product is for all skin types and claims a vegan status.
This column will review the ingredient listing for claims substantiation and functionality.
Foam Base
This foam is a water-based system including aloe leaf juice for its calming, hydrating and anti-inflammatory activities along with glycerin, a humectant. The mild surfactant system is based on cocamidopropyl betaine along with polyglyceryl-4 caprate and glyceryl caprylate, which add emollient properties.
Skin Benefits
Gluconolactone is a polyhydroxy acid with chelating, moisturizing and antioxidant activities. In addition, elderflower extract has reported skin conditioning, refreshing, soothing and toning properties. Sodium gluconate also acts as a chelating and skin conditioning agent, while citric acid serves as a buffer. The product is perfumed and preserved by sodium benzoate and potassium sorbate.
Conclusions
In my view, these ingredients support the claims for a light cleansing foam that is gentle yet capable of removing makeup, and that could lead to toned and radiant skin—even in the case of sensitive skin types.
Ingredients: Water (aqua), Aloe Barbadensis Leaf Juice*, Glycerin, Cocamidopropyl Betaine, Polyglyceryl-4 Caprate, Gluconolactone, Sambucus Nigra Flower Extract*, Glyceryl Caprylate, Fragrance (parfum), Sodium Gluconate, Citric Acid, Sodium Benzoate, Potassium Sorbate Ingredient from Organic Farming.
*Made using organic ingredients; 99.817% of the total ingredients are from natural origin and 14.678% of the total ingredients are from organic farming; natural and organic cosmetic certified by ECOCERT Greenlife according to ECOCERT standards
Source: https://estellethild.com/shop/ansiktsrengoring/biocleanse-3-in-1-cleansing-foam/