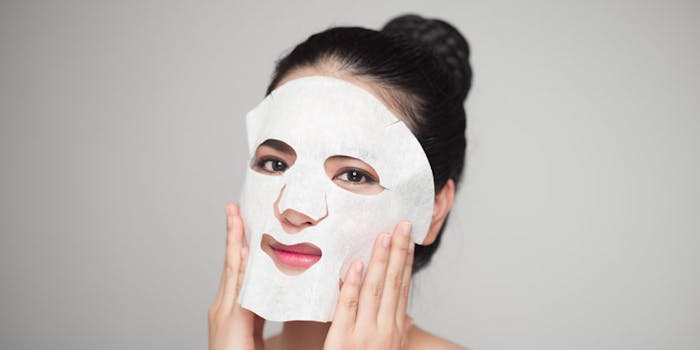 AmorePacific's Aritaum brand "Nature In Life Sheet Mask" is representative of the facial sheet masks that are gaining popularity worldwide. The mask contains Yeoju rice extract, whereby the rice has been cultivated in clean water and soil rich in organic matter, grown under large differences of day and night temperatures. According to the manufacturer, it imparts highly moisturizing benefits due to the rice's fermentation with red malt for eight days. 
The mask was developed to hydrate dry, flaky skin as well as comfort and cocoon it with rich nourishment. It is also said to improve wrinkles and whiten dark spots. The mask is used after refreshing skin with a toner. The sheet is taken out of the packaging and placed on the upper and lower parts of the face, avoiding the eyes. After 10-20 min, the sheet is finally removed and the skin gently tapped to promote absorption of the mask residue into skin.
This column will review the ingredient listing for claims substantiation and functionality.
Sheet Fluid Base
The sheet mask is soaked in water-based fluid composed of water, butylene glycol— a viscosity-enhancing solvent, and 1,2-hexanediol for skin conditioning. The emollient and emulsifying agents are PEG-60 hydrogenated castor oil and glyceryl caprylate. The formulation is stabilized by xanthan gum, another viscosity-control agent; gel-forming carbomer; and the chelator disodium EDTA. Ethylhexylglycerin acts as both a weak preservative and skin-conditioning agent.
Active Ingredients
Active ingredients include humectants, glycerin, pantolactone and trehalose, along with sodium hyaluronate, a hydrating macromolecule. Niacinamide also has an effect on hydration, evenness of skin color and sebum production.
Panthenol is a softening, soothing active. Peony (Paeonia suffruticosa root extract) is included for lightening and anti-inflammatory properties, and Centella asiatica extract (gotu kola) for anti-irritation, anti-inflammatory and wound-healing properties, which could also reduce the appearance of wrinkles.
Chamomilla recutita (matricaria) flower extract is an active with reported calming and anti-inflammatory properties while adenosine affects skin smoothness. Monascus/rice ferment obtained by fermented rice offers protective and calming benefits, too. Finally, the mask contains fragrance, boosted by arginine.
In my view, the hydrating claims are likely to be substantiated. In terms of improving wrinkles and whitening the skin, hydration can improve skin texture and tone, and may lead to the perception of wrinkle improvement with regular use. (Editor's note: Although it is noteworthy that rice ferment appears as the last item in this ingredient disclosure, after fragrance, indicating a level < 1.0%.)
Ingredients: Water (Aqua), Glycerin, Butylene Glycol, Niacinamide, Panthenol, Trehalose, Paeonia Suffruticosa Root Extract, Centella Asiatica Extract, PEG-60 Hydrogenated Castor Oil, 1,2-Hexanediol, Xanthan Gum, Chamomilla Recutita (Matricaria) Flower Extract, Glyceryl Caprylate, Arginine, Carbomer, Adenosine, Ethylhexylglycerin, Fragrance (Parfum), Disodium EDTA, Sodium Hyaluronate, Pantolactone, Monascus/Rice Ferment.
Source: Aritaum website