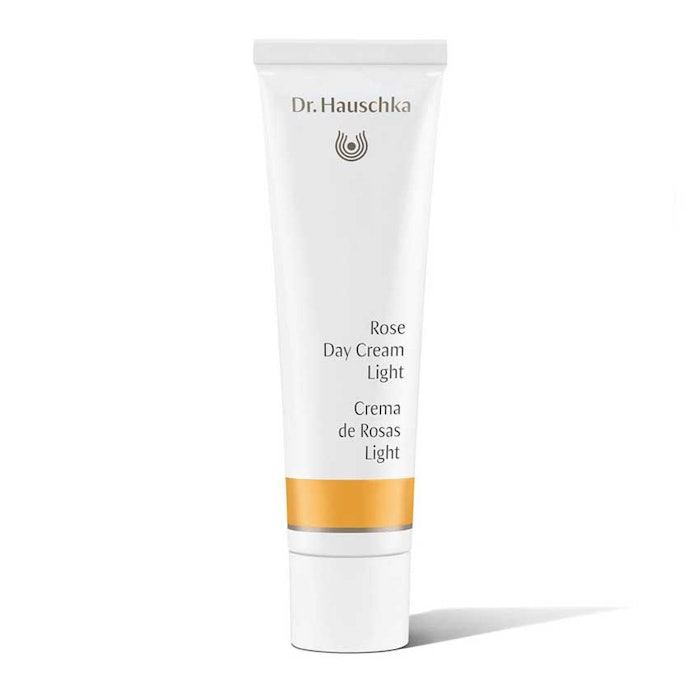 Rose Day Cream from the Dr. Hauschka range claims to nourish, protect and soothe normal, dry and sensitive skin. It is said to be beneficial for skin prone to redness, irritation and couperose, i.e., broken capillaries. The rich, luxurious formulation claims to to harmonize sebum and hydration, gently achieving comfort, balance and radiance in the skin. Additional claims include:
The extracts of rose petals and wild rose hips nurture and balance the skin.
Shea butter, rose petal wax and avocado oil protect and help to retain moisture.
Extracts of marshmallow and St. John's Wort soothe redness, hydrate and fortify skin.
The product targets dry, sensitive, reddened and mature skin.
This column will review the ingredient listing for claims substantiation and functionality.
Emulsion Base
This formulation is an emulsion as the lipid phase consists of rich plant oils and waxes: Arachis hypogaea (peanut) oil, beeswax (Cera alba), Butyrospermum parkii (shea) butter, Persea gratissima (avocado) oil, Copernicia cerifera (carnauba) wax and Rosa damascena flower wax.
Water is the main ingredient in the formulation. The water phase contains Althaea officinalis (marshmallow) root extract, Rosa damascena flower water, Hypericum perforatum (St. John's wort) flower/leaf/stem extract, Rosa damascena flower extract and Rosa canina fruit extract.
Emulsifiers and More
Sorbitan olivate surfactant and polyglyceryl-3 polyricinoleate are emulsifying agents. Lecithin also serves as a surfactant and skin conditioning emollient.
Benzyl alcohol and zinc sulfate act as the preservatives. The formulation also contains fragrance with potential allergens: citronellol, geraniol, linalool, limonene, citral, farnesol and eugenol—all of which stem from natural essential oils.
Comments
In my view, the ingredients in the emulsion formula support a protective, nurturing and soothing effect on dry, mature and sensitive skin types. The barrier-forming, soothing effect is derived primarily from the composition and traditional use of major plant oils and waxes. Quantification of the clinical effect on redness, broken capillaries and uneven skin tone would be of interest.
Ingredients: Water (aqua), Arachis Hypogaea (Peanut) Oil, Beeswax (Cera Alba), Althaea Officinalis Root Extract, Rosa Damascena Flower Water, Hypericum Perforatum Flower/Leaf/Stem Extract, Butyrospermum Parkii (Shea) Butter, Sorbitan Olivate, Persea Gratissima (Avocado) Oil, Polyglyceryl-3 Polyricinoleate, Fragrance (parfum)*, Citronellol*, Geraniol*, Linalool*, Limonene*, Citral*, Farnesol*, Benzyl Alcohol*, Eugenol*, Rosa Damascena Flower Extract, Rosa Canina Fruit Extract, Copernicia Cerifera (Carnauba) Wax, Zinc Sulfate, Lecithin, Rosa Damascena Flower Wax.
*From natural essential oils