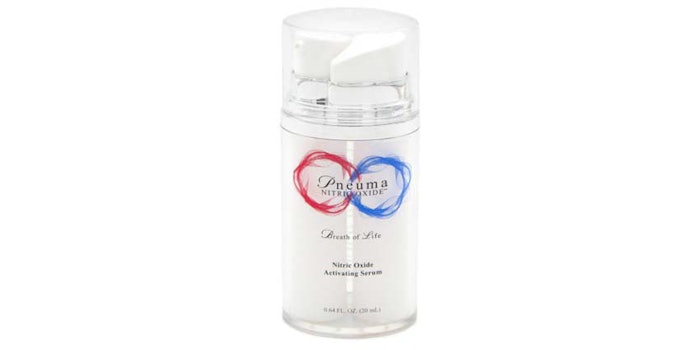 Pneuma Nitric Oxide
Research from the Department of Otolaryngology, Head and Neck Surgery, at St. Vincent Hospital in Indianapolis, explored the use of a nitric oxide-generating serum in a pilot study of Pneuma Nitric Oxide N101 Activating Skincare Serum to treat active acne and scarring in patients. The work was published in the International Journal of Pharmaceutica Analytica Acta.
According to the article abstract, NO gas is produced on the skin surface by mixing, on the skin, equal amounts of specified ingredients (see below) from each of two chambers. Nitric oxide is said to mediate vasodilation, inhibit platelet aggregation and increase blood flow via capillary recruitment. It also is capable of modulating the skin's innate immune responses to decrease inflammation, aid in scavenging free radicals and increase fibroblast proliferation while helping to preserve keratinocyte barrier function.
Furthermore, by reducing inflammation and increasing keratinization, nitric oxide reportedly increases moisture and reduces scar formation. It also can be applied safely on open wounds, which imparts added antibacterial activity, maximizing healing and minimizing scar formation.
Thirty patients of various ethnicities were treated in two centers between June 2019 and January 2020. Patients were excluded if they had been on Accutane within one year of the study and during the study, they refrained from using any other acne product. Patients applied the serum twice daily after washing skin with a gentle cleanser. Standardized photographs were taken prior to therapy and every four weeks thereafter for 16 weeks. Pustule and comedone counts were recorded every four weeks.
After 16 weeks, results showed reductions in active acne in 61% of patients; in erythema in 83% of patients; in hyperpigmentation in 86% of patients; improvements in skin tone in 78% of patients; and reduced scars in 72% of patients along with improvements in self-esteem and depression. The author concluded the nitric-oxide generating serum could dramatically reduce active pustules and comedones, and improve the appearance of mild to moderate scarring.
Ingredients: Water (aqua), Ascorbic Acid, Polysorbate 20, Hydroxyethylcellulose, Sodium Nitrite, d-Tocopheryl Acetate, Dehydroacetic Acid, Benzyl Alcohol, Sodium Sulfite, Sodium Metabisulfite, Tetrasodium EDTA.