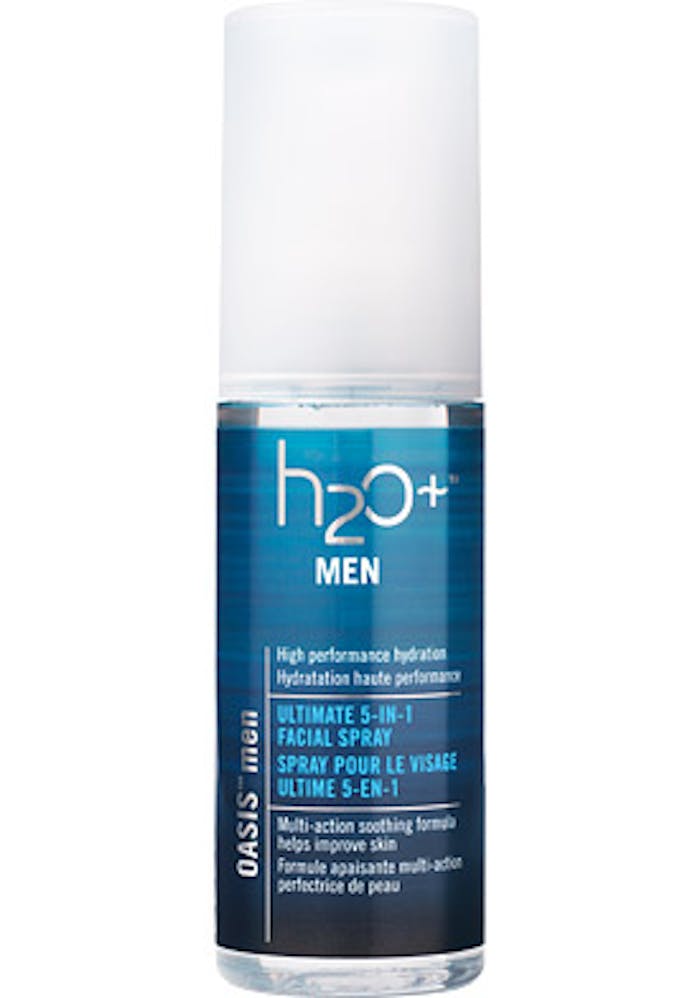 On the H2O Plus company website, the description for the H2O Plus Oasis Men Ultimate 5-In-1 Facial Spray reads, "This multi-action facial spray for men provides 5 benefits to help hydrate, soothe, even skin tone, and reduce the appearance of wrinkles and give a smooth, clean-shaven appearance." This column will review the ingredient listing for functionality and claims substantiation.
Four benefits are listed on the H2O Plus website for this product. I'm not sure why five benefits are not listed because the name of the product is "Ultimate 5-in-1 Facial Spray." However, this is a water-based solution with pentylene glycol and glycerin as the primary humectants. PEG-8 dimethicone is a water-soluble emollient that provides conditioning and slip.
The cosmeceutical, or "bio-active," ingredients include the numerous marine- and plant-based extracts of algae, cetraria islandica (Iceland moss), codium tormentosum (velvet horn or spongeweed seaweed), crithmum maritimum (sea fennel), fucus vesiculosus (bladderwrack), haslea ostrearia (micro algae), morus bombycis root (mulberry), narcissus tazetta bulb, nasturtium officinale (watercress), saxifragra sarmentosa (strawberry begonia), scutellaria baicalensis (Baikal skullcap) root, ulva lactuca (sea lettuce), undaria pinnafida (wakame) and vitis vinifera (grape) fruit.
The proprietary "Hydrating Marine Blend" of wakame, sea lettuce and fennel and "Hydrating Nutrient Complex" of watercress, sea kelp and Iceland Moss are featured benefit ingredients. The narcissus bulb extract claims to inhibit hair follicle growth for a longer-lasting smooth shave, postponing "5-o'clock shadow" by 3 1/2 hours in a clinical study. Beta glucan soothes and calms irritated skin, sodium hyaluronate moisturizes and plumps, and maris sal (sea salt) is a source of minerals and nutrients. The "marine brightening technology" includes knotted sea kelp and Asian botanicals mulberry, strawberry begonia, Baikal skullcap and grape to even skin tone.
The preservative system includes caprylyl glycol, chlorphenesin, phenoxyethanol, potassium sorbate and sodium benzoate. Sodium metabisulfite and sodium sulfite help boost the preservative system. And citric acid is a pH adjustor while disodium EDTA is a chelating agent.
Fragrance is listed, as well as fragrance components benzyl benzoate, hydroxyisohexyl 3-cyclohexene carboxaldehyde, lilial/butylphenyl methylproprional, limonene and linalool. Polysorbate 20 is the fragrance solubilizer.
Ingredients: Water (aqua/eau), Pentylene Glycol, Glycerin, PEG-8 Dimethicone, Algae Extract, Cetraria Islandica Extract, Codium Tomentosum Extract, Crithmum Maritimum Extract, Fucus Vesiculosus Extract, Haslea Ostrearia Extract, Morus Bombycis Root Extract, Narcissus Tazetta Bulb Extract, Nasturtium Officinale Extract, Saxifraga Sarmentosa Extract, Scutellaria Baicalensis Root Extract, Ulva Lactuca Extract, Undaria Pinnatifida Extract, Vitis Vinifera (Grape) Fruit Extract, Beta-Glucan, Butylene Glycol, Citric Acid, Disodium EDTA, Maris Sal/Sea Salt/Sel Marin, Polysorbate 20, Sodium Hyaluronate, Sodium Metabisulfite, Sodium Sulfite, Xanthan Gum, Caprylyl Glycol, Chlorphenesin, Hexylene Glycol, Phenoxyethanol, Potassium Sorbate, Sodium Benzoate, Fragrance (parfum), Benzyl Benzoate, Hydroxyisohexyl 3-Cyclohexene Carboxaldehyde, Lilial/Butylphenyl Methylpropional, Limonene, Linalool.