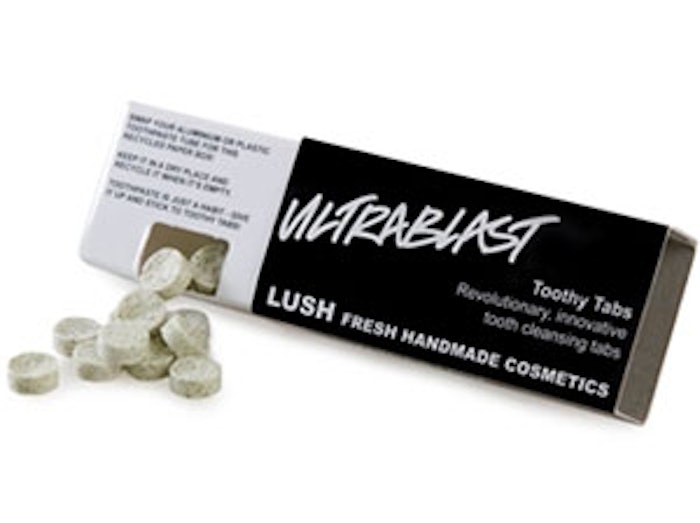 Lush has introduced a line of solid toothpaste tablets. Toothy Tabs are said to foam like "regular" toothpaste to clean teeth and leave your mouth feeling fresh. There are six varieties of tabs including: Atomic, Aquatic, Breath of God, Dirty, Sparkle and Ultrablast. Each variety features different signature ingredients used for a specific need.
Ultrablast was formulated to give its user fresh breath. Wasabi is included for its antibacterial action. Peppermint, spearmint and lavender oils are also incorporated to make the mouth feel clean. Lavender is also said to have antibacterial and soothing qualities.
Ingredients: Ultrablast: Dicalcium Phosphate, Sodium Bicarbonate, Cream of Tartar (Potassium Bitartrate), Glycerin, Lauroyl Sarcosine, Garden Pea Powder (Pisum sativum), Kaolin, Peppermint Oil (Mentha Piperita), Spearmint Oil (Mentha Viridis), French Organic Lavender Oil (Lavandula Angustifolia), Wasabi Powder (Wasbaia Japonica), Fair Trade Organic Dried Spearmint (Mentha Spicata), Coarse Sea Salt (Sodium Chloride), Citric Acid, Sodium Saccharin, *Limonene, *Limonene, *Linalool, Flavor.