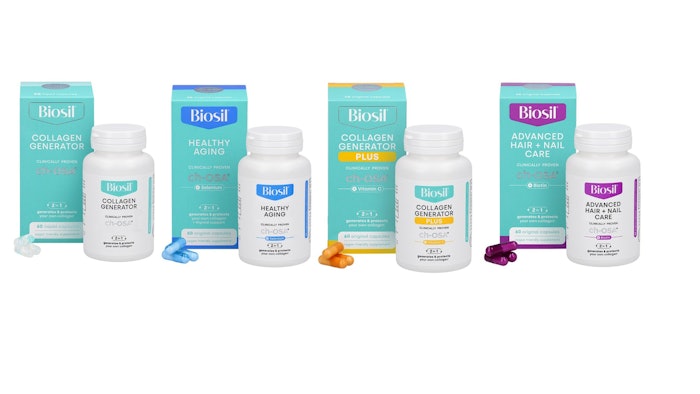 Biosil has announced its rebrand in the United States with updated packaging and the launch of several vegan formulations: Biosil Advanced Hair and Nail Care, Biosil Healthy Aging and Biosil Collagen Generator Plus. These products are available at Walmart in more than 1,800 stores and online and on Biosil.beauty.
The new products contain the brand's signature ch-OSA boosted with additional powerhouse ingredients, such as vitamin C, biotin, and selenium.
According to Biosil, the products reduce the need to supplement stack, a main consumer issue discovered during brand research. 
The rebranded packaging features a more modern look, while still honoring Biosil roots by including the brand's signature blue along with important clinical information on the box, such as a QR code that directs to clinical trial results and other data.
Chief marketing officer, Gwendolien Jesoirens, said, "Biosil has always been a science-driven company, evolving where and when science leads us. We're thrilled to launch our product extensions that deliver on our brand mission to create clinically backed, efficacious products that are crafted for our consumers' needs."