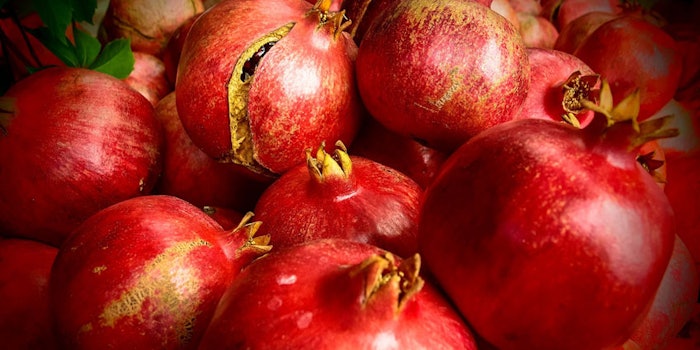 Euromed
Euromed S.A.'s
pomegranate nutricosmetic, 
Pomanox, 
has been shown in vitro to positively affect skin health parameters related to hyperpigmentation, UV-induced oxidative stress, barrier strength and skin dryness.
Related: Weleda Expands Pomegranate Line with Facial Oil
In terms of hyperpigmentation, a tyrosinase-inhibiting effect comparable with commercial inhibitors, e.g., thiazolidine, was observed. Pomanox also positively modulated hyaluronic acid and collagen metabolism under photoaging conditions, as demonstrated by an increase in pro-collagen type I and total collagen in the cell fraction, and significant inhibition of MMP-1 levels.
Pomegranate is a rich source of polyphenols—notably punicalagins α and β, in the case of Pomanox—which have potent antioxidant properties and inhibit pro-inflammatory enzymes, as shown here. According to the company, these mechanisms suggest the ingredient could improve dryness caused by UV rays and help to maintain skin elasticity. 
As such, Pomanox is proposed as a promising ingredient for nutricosmetic applications that may support skin health whether in the form of supplements, functional foods, beverages or pharmaceuticals. It is a natural standardized fruit concentrate obtained from pomegranates sustainably cultivated in the Mediterranean regions of Spain. The ingredient is available in organic form and is extracted using an eco-friendly, water-only proprietary technology.
Archived: Patent Pick: Meet the New Anti-aging Dynamic Duo, Açaí and Pomegranate