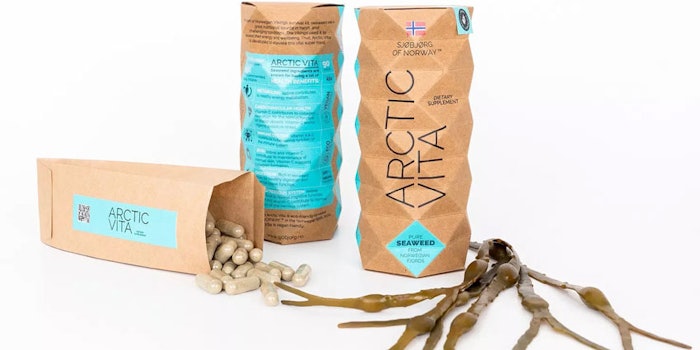 https://www.sjobjorg.com/product-page/arctic-vita-by-sj%C3%B8bj%C3%B8rg-of-norway
Arctic Vita by SJØBJØRG of Norway is a nutricosmetic that contributes to overall health, including skin.
Arctic Vita reportedly is created without any fillers and is made of 100% natural and sustainable raw material from Norwegian seaweed (Ascophyllum nodosum). The capsules comprise natural iodine and vitamins A, C and E.
According to the company, research has indicated seaweed has various health benefits such as reducing fatigue; improving skin and hair; strengthening the immune system; and more. In particular, iodine and vitamin C contribute to maintaining skin, while vitamin C additionally supports collagen formation. 
The company uses DNA-authenticated seaweed with full traceability to ensure quality. This involves chemical and nutritional analysis, iodine standardization, information on harvest sites, photographs and other relevant details.
See related: Lost in Extraction; DNA Reveals the Impact of Filtering on Sand Daffodil Extract Traceability