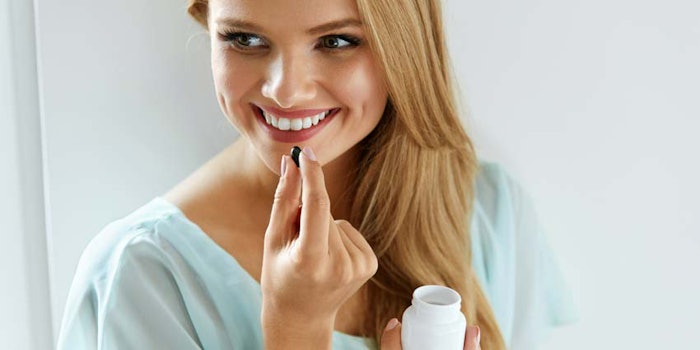 Fish-derived collagen has earned market attention due to its appeal to consumers who avoid meat for dietary or religious reasons, according to Stephan Hausmanns, Gelita's vice president of health and nutrition.
In relation, the company has released the results of two studies examining the cosmetic benefits of its Verisol Bioactive Collagen Peptides: one focused on skin health, the other on hair thickness.
See also: Gelita's 'Active' Capsules Boost Athleticism
Skin Health
In a randomized, placebo-controlled trial of 76 Asian and Caucasian women, ages 50-70 years, described by Proksch, et al. (2020), supplementation with the product at a daily dose of 5 g significantly improved skin elasticity and reduced wrinkle volume after four weeks, with more pronounced effects after eight weeks.
More specifically, the test site for wrinkle volume detection was the area around the left eye (lateral canthus), and the influence of the collagen peptides was measured using an optical 3D in vivo measuring instrument. Three measurements were conducted per test site at baseline and after 4 and 8 weeks of treatment. The final measurement was performed four weeks after the end of treatment. The eye wrinkle volumes were calculated and expressed in mm3 on the basis of the images obtained.
The test area for skin elasticity was the inner aspect of one volar forearm. Elasticity was assessed using a cutometer. Briefly, the extension of the skin was measured in response to a suction vacuum induced above the skin test area with a 350 mbar vacuum, consisting of a 5-sec exposure and non-exposure period, with 1 cycle per measurement. To analyze skin elasticity, the R5 value (Ur/Ue, immediate recovery/elastic deformation) was recorded. This parameter has proven to be most suitable in detecting age-related skin alterations. The measurement of each test area was conducted three times.
Hair Thickness
Also in a randomized, placebo-controlled study, 44 healthy women between the ages of 39 and 75 received a daily dose of 2.5 g Verisol Bioactive Collagen Peptides or a placebo for 16 weeks. Hair thickness was determined initially and at the end of the trial. In addition, the proliferation rate of human hair follicle cells exposed to the peptides was examined and the results compared with untreated control cells.
See related: Health and Hair, Making the Nutrition Connection
Hair thickness showed a statistically significant (p < 0.01) increase in the peptide supplement group, compared with the placebo. Over the course of the collagen peptide treatment, hair thickness increased by 1.93 ± 0.42 µm (p < 0.01), whereas a slight decrease in hair thickness of -0.99 ± 0.40 µm (p = 0.07) was measured in the placebo group. In addition, the data showed a statistically significant 31% increase (p < 0.01) in the cell proliferation rate, compared with the controls.