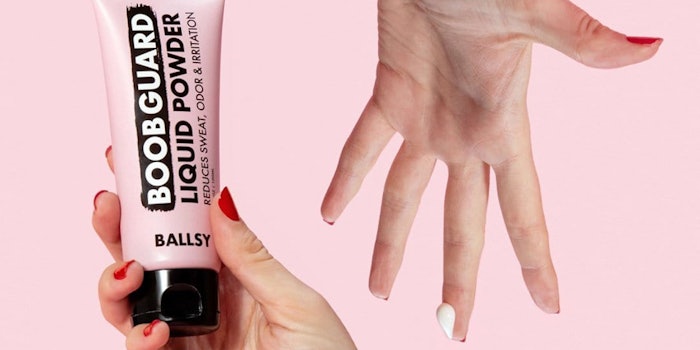 Ballsy
Ballsy, the men's intimate care company, has expanded its portfolio to include women with the debut of its Boobguard.
Related: Amyris' Baby Cream-to-Powder Offers Talc-free Alternative
Boobguard applies as a cooling and soothing cream and dries quickly as a mess-free powder. It is designed to help fight sweat, smell and chafing on the breasts and thighs.
Boobguard is also talc-, paraben- and aluminum-free.
Ingredients: Water (Aqua), Tapioca Starch, Zemea (INCI: Propanediol), Phenoxyethanol, Carborner, Ethylhexylglycerin, Aminomethyl propanol, Polysorbate-60, Xanthan Gum, Aloe Barbadensis Leaf Juice, Coco-Caprylate/Caprate, Avena Sativa Kernel Extract.