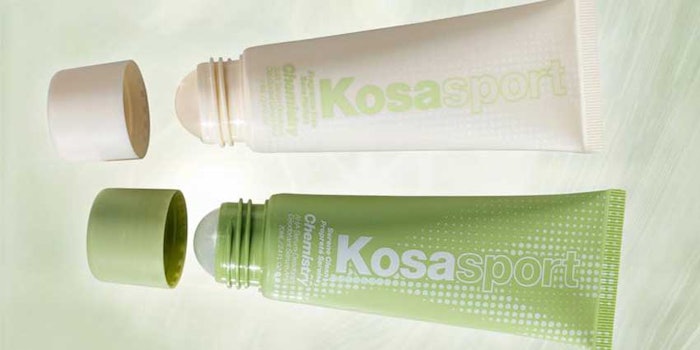 Kosas Cosmetics has unveiled its Chemistry AHA Serum Deodorant, a 'clean' and stain-free product that utilizes a blend of AHAs to fight odor-causing bacteria and prevent body odor.
The specific AHA blend helps to create a pH environment that is uninhabitable to odor-causing bacteria, fighting their presence to leave a fresh, clean feel and scent. The blend also is said to visibly brighten skin and provide exfoliation, to help with ingrown hairs.
The main acids in the blend are shikimic, derived from star anise, which imparts antimicrobial properties and naturally helps to stop odor; mandelic, derived from almonds, which visibly brightens and combats skin dullness; and lactic, which exfoliates skin and seals in moisture. The product also includes aloe juice to moisturize and soothe skin; hyaluronic acid to hydrate, soften and also smooth the skin; and bioactive peptides to aid in skin conditioning and firming.
The deodorant is free of aluminum, baking soda, parabens and sulfates. It is also positioned as vegan and cruelty-free and is available in a fragrance-free option.
Ingredients (Serene Clean): Water (Aqua), Aloe Barbadensis Leaf Juice, Mandelic Acid, Glycerin, Shikimic Acid, Lactic Acid, Palmitoyl Tripeptide-5, Sodium Hyaluronate, Citric Acid, Tartaric Acid, Polyglyceryl-4 Cocoate, Simmondsia Chinensis (Jojoba) Seed Oil, Citrus Reticulata (Tangerine) Peel Oil, Cananga Odorata Flower Oil, Citrus Aurantium Amara (Bitter Orange) Flower Oil, Xanthan Gum, Sodium Hydroxide, Potassium Sorbate, Sodium Benzoate.
Source: Kosas Cosmetics