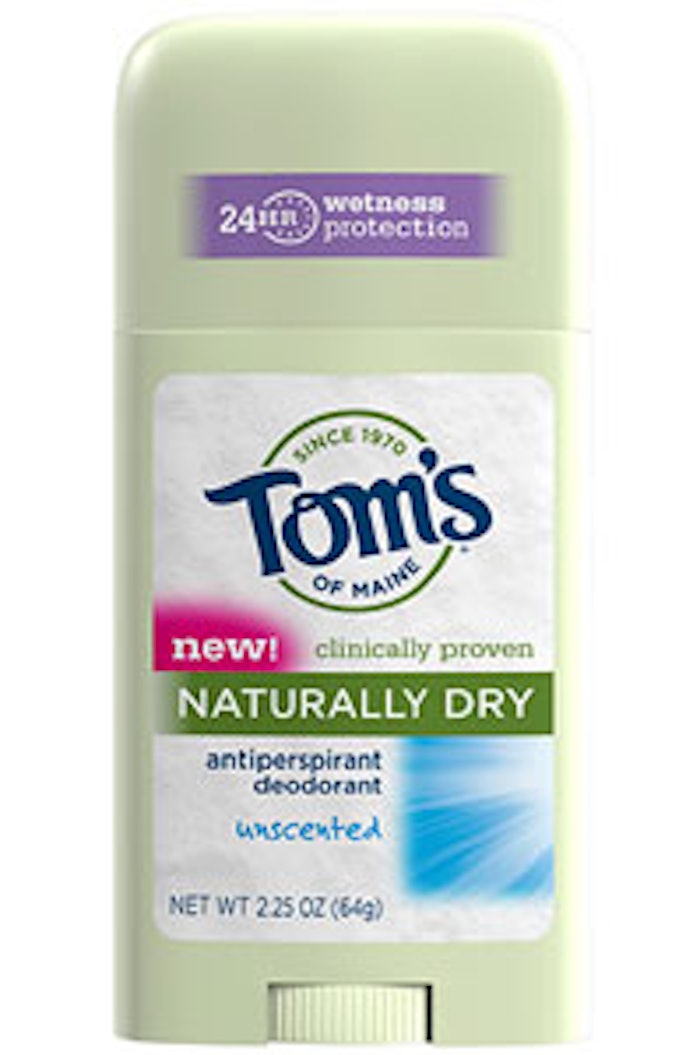 Tom's of Maine has launched an antiperspirant line that is formulated with sustainably sourced ingredients. Naturally Dry's wetness protection ingredient, aluminum chlorohydrate, is made from recycled aluminum that was originally derived from natural mineral bauxite ore. The formulations also contain olive leaf extract for its antimicrobial benefits.
The antiperspirants are derived from plant and mineral sources, and the formulations do not contain artificial fragrances, preservatives and silicones. The antiperspirants perform according to the US Food and Drug Administration's standards for wetness protection for all underarm antiperspirant products. They are said to provide 24-hour odor protection and are available in Unscented and Natural Powder varieties.
Ingredients: Unscented Naturally Dry Antiperspirant: Aluminum Chlorohydrate 22%, Elaeis Guineensis (Palm) Kernel Oil, Stearyl Alcohol, Hydrogenated Soybean Oil, Hydrogenated Castor Oil, Talc, Dicaprylyl Ether, Natural Fragrance, Olea Europaea (Olive) Leaf Extract, Maltodextrin.