During the period June 2006–2007, more than 170 products claiming color protection were launched around the world. The vast majority of these products come in the form of shampoo and conditioners. Surprisingly, few of the new products exist as leave-on systems. Leave-on systems allow formulators to include functional ingredients like cationic film forming polymers that bind with negatively charged amino acids on the surface of hair. These types of film-forming polymers can be found primarily in hair styling gel and mousse formulations designed for hair hold but they can also be used in personal care applications where a need exists to form a protective barrier on the hair cuticle. Formulators of high end sunscreen products, for example, typically include acrylic based film forming polymers in the formulation as a strategy to maintain the active on skin in the presence of water. This protective barrier phenomenon can be strongly applied to products claiming hair color protection. The film formed on the hair is believed to protect hair color from losing its vibrancy as a result of excess washing.
A Look at Hair Color Protection Strategies
Consumer product makers employ a variety of formulation strategies to address the needs of people who have recently colored their hair. Rinse-off products typically contain ingredients that emphasize the benefits of moisture retention and UV filters. Leave-on products, on the other hand, emphasize ingredients that serve to seal hair. Both formulation strategies address consumers who want to maintain the vitality of natural looking hair following hair color treatment. Naturally, consumers have a strong interest in adopting a hair care regimen that can extend the color vibrancy of hair, yet color fading and the loss of color vibrancy typically comes with everyday cleansing.
Formulations focused primarily on the avoidance of hair color degradation as a result of cleansing will serve consumers who want to extend the duration of rich, brilliant hair color. So, what does the ideal product formulation look like in this area? What set of products may be available to address consumer needs in accordance with daily cleansing routines?
In looking at the product labels of hair color protection products, it is apparent that many formulations rely substantially on polyquaternium compounds or silicone-containing dispersions as the functional ingredient. It is known that two product forms, rinse-off and leave-on, can be used to deliver these functional ingredients. However, the optimum product form and functional ingredients that work best in extending the color vibrancy of hair have not been explored. To better understand this, AkzoNobel Personal Care developed a qualitative method for evaluating hair color vibrancy and retention using a trained panel of 8 people. The panel was asked to evaluate color vibrancy based on an anchor system of control swatches. The control swatches were all from the same dye lot and were washed a different number of times. The control palette can be seen in Figure 1. Treatment of the sample swatches is described in Table 1. These experimental swatches were then rated according to the control palette.
Figure. 1: Red Hair after 0, 3, 5, 9 and 15 Shampoo Washes

Table 1: Color Vibrancy Testing Methodology
Hair swatch specifications
• 5 g, 7" light brown hair swatches bound flat
Hair swatch preparation
• Swatches dyed with Color #44 Radiant Ruby according to package instructions
Post dye hair swatch treatment
• Wet swatch, apply 1g of test product, dry swatch
• Wash swatch with shampoo, dry
• Evaluate color in light box vs. control
A series of three commercial leave-on products were evaluated to identify the product form best associated with hair color protection: a traditional mousse formulation with polyquaternium-4 as the film former; a daily color sealer with a blend of cyclopentasiloxane, dimethiconol, and PG-amodimethicone; and a silicone water emulsion cream with dimethicone and polyacrylamide as the functional ingredients. After applying the products and washing the swatches ten times, the trained panel evaluated the swatches on the basis of color retention.
Significant differences in performance were noted. The silicone water emulsion cream retained virtually no color vibrancy when evaluated using the control color palette. The daily color sealer, with a blend of silicone-containing ingredients, retained only 10% of color vibrancy. The traditional mousse product with Polyquaternium-4 fared much better, providing a 50% improvement in color retention. The panel indicated that mousse is one of the best product forms for the delivery of hair color protection. The sealers and creams that were evaluated provided little or no benefit when the products contained silicones or silicone-containing blends as the functional ingredient. Since the mousse formulation provided some color protection benefits, it was decided to explore other types of film formers in this application area.
Mousse Formulas with Film Forming Polymers
If mousse formulations with polymers provide the highest level of hair color protection, then is it possible to raise the level of color retention beyond 50% through a careful selection of polymer technology? A second round of panel evaluations revealed differences in the performance of a standardized mousse formulation substituted with various polymers (see Table 2).
Table 2. Film Former Comparisons in Mousse Systems
Percent Color Retention After Ten Washes
1% Active of polyquaternium- 4/hydroxypropyl starch copolymer, 75%
3% Active of polyquaternium- 4/hydroxypropyl starch copolymer, 87%
1% Active of polyquaternium- 4, 51%
1% Active of polyquaternium-11, 70%
1% Active of polyquaternium-16, 60%
1% Active Water (aqua) (and) silicone quaternium-18 (and) trideceth-6 (and) trideceth-12, 53%
No Polymer (Control), 0%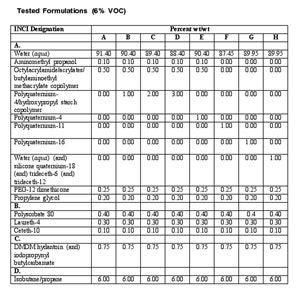 The mousse containing a film forming starch polymer was judged by panelists as the highest performing product in terms of hair color protection. The linear structure of the high amylose starch provides film formation properties on hair. And the better the film forming property on hair, the higher the hair color protection benefit.
A standardized mousse formulation substituted with polyquaternium-4/hydroxypropyl starch copolymer suggests that there is an opportunity to formulate higher performing hair color protection products as leave-on systems. Given that polyquaternium- 4/hydroxypropyl starch copolymer delivers on the promise of higher performance, formulators can look to mousse formulations containing starch-based film forming polymers as a strategy to gain a new level of acceptance and loyalty in mass-market offerings.
-C&T magazine online exclusive article supplied by AkzoNobel Personal Care