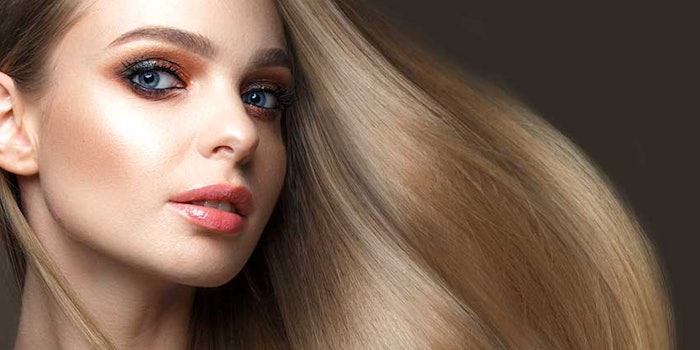 When it comes to hair care, consumer motivations have experienced a shift; products that combat increasing air pollution have become a large driver of the global hair care market, which is expected to be worth US $211.1 billion by 2025 (according to Grand View Research). At the same time, an aging population base is demanding products that increase softness and shine for their more delicate hair.
This month's installment of the Cosmetics & Toiletries Supplier Roundtable—which poses formulating challenges to industry experts—asked just that: How can a formulator create softness and shine in hair? Responses are as follows:
Danielle Prima, Technical Analyst, Lubrizol
Merquat 2003PR (INCI: Polyquaternium-53) is cationic in nature; however, it can be used in shampoo formulations. In the rinse cycle of the shampoo process, the polymer coacervates into an anionic surfactant environment, then the coacervate is delivered on the hair. The polymer binds to the hair and deposits on the surface. In the presence of an ester such as Hydramol PGPL (INCI: PEG/PPG-8/3 Laurate) or a silicone, the anionic surfactant complex and the cationic polymer together flocculate the ester or silicone. The floc then deposits onto the hair.
A conditioner formulation containing Merquat 2003PR polymer binds to the hair, and deposits on the surface due to the difference in charges between negatively charged hair and the cationic polymer.
When Merquat 2003PR deposits on the hair surface, it provides general detangling properties, ease of combing in the wet stage, and softness and shine in the dry stage. A molecular film of the polymer is formed on the hair that helps to smooth and align the cuticles. This polymer film makes the hair surface hydrophobic, further creating the appearance of shine and hair smoothness.

Hydramol PGPL will enhance the spreadability of a formulation on the hair, and the ease of gliding provides a soft, smooth perception. The high refractive index of Hydramol PGPL also provides the perception of added shine from a hair product, such as from a shampoo or conditioner. These effects were assessed and the results confirmed a reduction in friction on the hair fiber surface, as determined by CETR (Bruker instrument). Hair shine also was verified by human test panel evaluations.
Ashraf Hossain, Business Scientist, Ingredion Inc.
Formulators have used cationic polymers such as cellulose and galactomannan since the 1970s but experienced performance and clarity issues. To achieve higher performance, formulators turned to synthetic deposition and conditioning polymers. But with rising consumer interest in natural products, an opportunity to differentiate products by replacing synthetics with plant-based products that deliver superior performance now exists.
To support the retention of soft curls by improving silicone deposition, Ingredion's high performance, plant-derived Pencare DP 1015 cationic polymer (INCI: Starch Hydroxypropyltrimonium Chloride (SHC)) can help fill the performance gap commonly associated in "free-from" product lines.
In rinse-off applications, cationic polymers contribute to the quantity of silicone deposition, boosting performance benefits, e.g., hair softness, silkiness and manageability. External testing indicates SHC outperformed polyquaternium-10 (PQ-10) and guar hydroxypropyltrimonium chloride (cationic guar) in a shampoo system containing 0.25% polymer and 1% dimethiconol. The ICP-OES method indicated SHC deposits 57% more silicone than PQ-10, and two times as much silicone as cationic guar.
External testing indicated ease of combing improved with the application of a sulfate-free basic shampoo formulated with SHC, as measured by the Garcia and Diaz test method. SHC also required less wet-combing force than cationic guar.
In a sulfate- and silicone-free shampoo, SHC offered wet-combing performance comparable to a sulfate-free shampoo made with cationic guar and silicone—a compelling advantage for brands and consumers seeking performance in natural and sustainable products. Finally, SHC boosted curl texture over PVP, resulting in 40% higher curl retention at half the usage level. By varying levels of polymer, SHC supports soft curls, fine-tuned texture and retention.
Future Roundtables
To participate in a future Supplier Roundtable, contact Cosmetics & Toiletries assistant editor Brooke Schleehauf at bschleehauf@allured.com. Upcoming topics will cover:
How to Go Green and Remain in the Black—Case Studies (July)
Proxy Formulating: Using Alternative Ingredients (September)
Formulating Multifunctional Products (October)
Hitting the Rheology Bullseye (November)