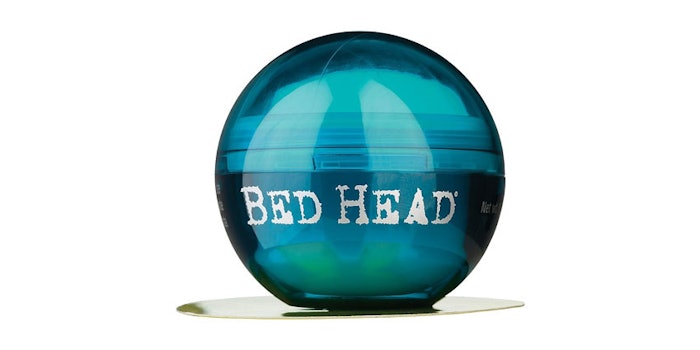 Ulta.com
This 'Read the Label' reviews Bed Head by TIGI's Hard to Get Texturizing Hair Styling Paste—a wax that makes hair look thicker and texturized while conditioning it.
Related: Measuring Tack in Hair Styling Products
TIGI is a hair care brand that was created by brothers Toni and Guy Mascolo in their hair salon, Toni & Guy. The salon was successful and soon expanded to multiple locations and training academies across the United Kingdom. In 2002, Anthony Mascolo, aka Toni, wanted to branch out and the brothers agreed that Guy would take over the salons and Toni would look after their hair care brand, TIGI.
TIGI expanded into the sub-brands:
TIGI Copyright: a professional salon brand,
Bed Head TIGI/Bed Head for Men TIGI: at-home wash and styling hair products and
Catwalk TIGI: at-home wash and styling products inspired by fashion.
All four brands were created to prolong the consumer's hair after a salon visit to enhance the cut, color, style and finish. In 2009, TIGI was acquired by Unilever where the brands continued to grow globally.  
Product Claims
Regarding this hair styling product, TIGI claims this wax makes hair look thicker and texturized whilst conditioning it and imparting a soft, light finish with a tropical berry fragrance. The product is said to contain film-forming polymers to add a long-lasting, medium hold that leaves a natural matte look in short to medium-length hair.
To use, the paste should be removed from the packaging with the fingertip and worked together in the palms of hands before evenly distributing into the hair. The ingredients below in bold are ones that I believe are strongly contributing to the product's performance and claims:
Ingredients: Water (Aqua), Stearyl Alcohol, Bis-Diglyceryl Polyacyladipate-2, Hydrogenated Castor Oil, Oleyl Alcohol, Propylene Glycol, Beeswax (Cera Alba), Euphorbia Cerifera (Candelilla) Wax, PVP, Copernicia Cerifera (Carnauba) Wax, Ceteareth-25, Isopropyl Myristate, PEG-40 Castor Oil, PEG-8 Beeswax, VP/VA Copolymer, Dipentaerythrityl Hexacaprylate/Hexacaprate, Cetyl Acetate, Tridecyl Trimellitate, Phenoxyethanol, Phenyl Trimethicone, Fragrance (Parfum), Triethanolamine, Acrylates/C10-30 Alkyl Acrylate Crosspolymer, Tridecyl Stearate, Acetylated Lanolin Alcohol, Neopentyl Glycol Dicaprylate/Dicaprate, Tetrasodium EDTA, PEG-4 Dilaurate, PEG-4 Laurate, Iodopropynyl Butylcarbamate, PEG-4, Isopropyl Alcohol, Laurtrimonium Chloride, Benzyl Benzoate.
Editor's note: While the "Read the Label" series provides an overview of the ingredients cosmetic manufacturers use and their related claims, without use levels or access to clinical studies, the author is drawing conclusions based on speculation—albeit from training, formulating experience and, in some instances, evidence in the literature. The following is offered for your consideration and further verification.
Stearyl Alcohol
This white, waxy flake is commonly used as an emulsion stabilizer and a thickener. The fatty alcohol also helps to opacify emulsions to create a rich, white appearance.
Because this ingredient is so high up on the ingredients list, I am confident to say this is creating the main body of the paste formula while still giving a nice pick-up upon application.
Bis-Diglyceryl Polyacyladipate-2
Personally, it's interesting to me to see this ingredient used, as it's mostly implemented as a lanolin alternative to create paste-like textures and high emolliency without using animal-derived lanolin. However, further down the INCI list, the brand uses lanolin as well. Perhaps the reason for using the alternative is to reduce any odor in the formula, as lanolin itself in high quantities can possess fatty, unpleasant notes.
Hydrogenated Castor Oil
Castor oil is commonly used in lipsticks due to its high emolliency, great pigment dispersion and smooth payoff. It is also popular in hair care and seems to be growing in eyebrow and eyelash care, too.
This nourishing oil has been hydrogenated (i.e., hydrogen molecules have been added to the chemical structure), which transforms the oil into a solid wax. This wax will increase the melting point of the formula so that it doesn't melt or turn runny in high temperatures.
The formula contains a variety of different waxes with different melting points. The concentrations of these must be carefully blended to get the perfect melting point for the final product to melt in the hands but then solidify again and stay in place on the hair.
Previously: Targeting Texture: Adapted Combing Test to Assess Curly Hair Product Efficacy
PVP
Polyvinylpyrrolidone, known as PVP, is a primary fixing agent. It is used in all sorts of hair styling products, from gels to aerosol sprays.
When wet, this is a sticky-feeling polymer that forms a film and then constricts when it dries to hold the hair in its place. PVP can also be used as a dispersant in hair dyes, and it has emulsion-stabilizing properties, too.
There are different concentrations of PVP the formulator can use. I believe the most common is 30% but each grade is different in terms of performance.
VP/VA Copolymer
This was always my ingredient of choice when creating styling products in the lab. It is also a primary fixative agent like PVP; however, it creates a slightly different texture and makes good waxy pomades such as this TIGI product. This ingredient is a white powder that gives a strong, stiff hold and performs well even in high humidity conditions.
Dipentaerythrityl Hexacaprylate/Hexacaprate
This ingredient is a light feeling emollient that reduces the tackiness of formulas. Sensorial enhancement is the main feature of this raw material.
Tridecyl Trimellitate
This material is a clear, thick, glossy substance most often used as the base in lip glosses. It is hydrophobic with long-lasting properties and provides slight water repellence to this hair styling product. It will also condition the hair and provide a nice shine.  
Phenyl Trimethicone
There were big global shortages of this material in 2019 and I believe it is still in high demand and short supply. This phenyl modified silicone ingredient has a high refractive index, making it incredibly shiny. In hair care, this is the main ingredient used to create gloss/shine and brands all over the world, from multinationals to niche start-ups, use this in hair care for that exact reason. It is also popular in makeup such as lip glosses and in nail varnishes. Basically, any application that requires a high shine finish.
Acetylated Lanolin Alcohol
This is what I see as an old school ingredient. Lanolin is a by-product of sheep's wool and is rarely used in formulas today since it is not suitable for vegans. However, lanolin is a by-product of the wool industry that would otherwise go to waste, and it does provide great conditioning and moisturizing properties.
This hair styling product is offered online, in certain hair salons or in beauty stores for £18.75 for 42 g ($23 for 1.5 fl oz).
Source: TIGI

Disclaimer: This article was produced in the UK and therefore the INCI listing and INCI names comply with European labeling requirements.