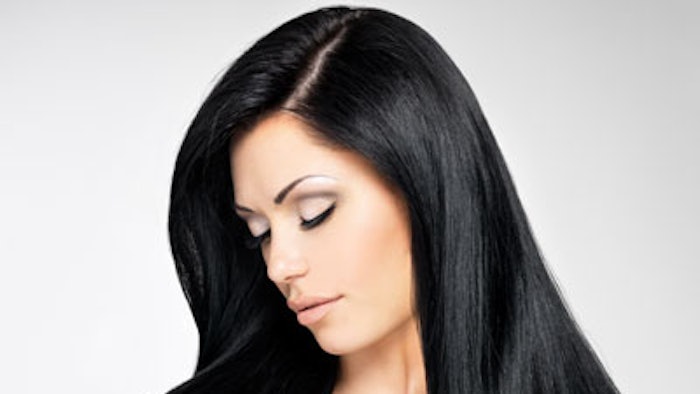 Prior to the 1950s, the few commercial hair care products available for women included harsh shampoos and soaps, hair lacquers and brilliantine; and for men, greasy creams and tonics. After World War II ended, silicones made a modest debut as lubricants to prevent blockage in hair spray nozzles.1 However, by the 1970s and 1980s, the benefits of multifunctional silicone chemistries propelled them to the forefront of hair conditioning.
Following their introduction to leave-in conditioners, silicones steadily expanded into other hair product types. For example, in the 1990s, amino-functional polymers were incorporated into styling mousses and rinse-off conditioners, while fluid or emulsion forms of high molecular weight polydimethylsiloxane (PDMS) were formulated into two-in-one conditioning shampoos. Today, silicones are available as fluids, emulsions, resins, elastomers, waxes and blends. Their momentum in diverse hair care products, ranging from setting gels, to volumizers and frizz control, continues.
In fact, the global hair care market is forecast to reach $84.3 billion by the end of 2015, led by shampoos and conditioners.2 Of the thousands of new hair care products launched each year, approximately 60% will contain at least one silicone material—often more, in the case of conditioners.3
Silicones have sustained popularity in hair care for several reasons. They are safe4-6 and used to impart various benefits to hair; which are described next. In formulations, silicones are stable and exceptionally versatile. Furthermore, recent advances in silicones have enabled new sensory dimensions such as feather-light smoothness, in addition to heat protection, hair repair and lasting frizz control. The present article describes the main silicone types and reviews how they have advanced hair care.
Types of Silicones
The chemical structure of silicones allows for the development of a variety of materials and added functionalities to meet various hair care needs.
PDMS: Linear PDMS, also known as dimethicone, can have a range of molecular weights and viscosities. Those with viscosities less than 5 centistokes (cSt) are considered volatile. The most commonly used forms for personal care applications range from 350 cSt to 12,500 cSt. Although conditioning performance increases with higher viscosity, it may increase the difficulty of formulating.7
Dimethicones can be delivered in an emulsion form for ease of use and to facilitate the incorporation of incompatible ingredients. Cyclic PDMS or cyclomethicone fluids decrease combing forces by reducing friction and surface energy. They also provide transient gloss to hair due to their high refractive index and hair alignment properties.
Silicone gum/fluid blends: Silicone gum/fluid blends are composed of high molecular weight PDMS having low to medium viscosity, and cyclic or linear PDMS fluid. The low-viscosity fluid helps to spread the gum on hair. These materials offer a high level of substantive conditioning and frizz control while imparting a soft, dry and lubricious feel to hair.
Amodimethicone: Amine-functionalized silicone, or amodimethicone, is a family of silicones modified for specific properties. These silicones provide conditioning via electrostatic attraction. Amodimethicone fluids and emulsions are recognized for their ability to provide medium to intensive conditioning. They can be used in clear and opaque shampoos, rinse-off conditioners, semi-permanent and permanent colorants, and leave-in conditioning treatments. In addition, they impart softness, smoothness, color protection, heat protection and repair and reduced fly-aways.
Phenyl trimethicone: Phenyl trimethicone is based on linear PDMS with the addition of phenyl groups. This combination results in a higher refractive index, which increases the apparent shine on hair and can be used in styling products or cuticle coats. Phenyl trimethicone also adds softness with low residue and exhibits good compatibility with organic ingredients such as waxes and oils, in addition to its excellent solubility in alcohol.
Silicone polyethers: Silicone polyethers, or silicone surfactants, are a family of water- and/or alcohol-soluble silicone materials. They contain both a water-insoluble silicone backbone and a number of water-soluble polyether pendant groups. Due their structure, silicone polyethers can act as emulsifiers or co-emulsifiers, or be used as resin modifiers to aid in curl retention.
As emulsifiers, they can aid in the formulation of stable, aesthetically pleasing cosmetic emulsions with high water content, while requiring no heat during processing. These materials are commonly used in clear shampoo formulations for daily use, where light to medium conditioning is desired.
Enabling Consumer Trends
Novel textures and a natural look/feel are among the benefits consumers seek from hair care products. In response, innovations in silicone technologies continue to enable new formulations, product forms and benefits, all to keep up with these demands.
Customization: Consumers are accustomed to technologies that tailor products on demand. Take virtual fitting rooms, for example, which enable shoppers to virtually "try on" clothes for size, fit or style. These technologies use computer-generated, three-dimensional (3D) images to create an experience similar to that seen in computer games. They generate a mannequin or avatar using customer body measurements and shape information, raising personalization to a new level.
In relation, silicones can provide customized, multifaceted hair care solutions based on hair type or trends. For instance, Asian women are moving away from traditional hair styles and adopting curly or exotic cuts and vibrant colors. To address these preferences, shampoos and conditioners can be precisely engineered using silicones for mild to intense conditioning, volume, color enhancement, heat protection, frizz control and/or combinations thereof.
One commercial silicone example is an optimized blend of dimethicone, phenyl trimethicone, trimethylsiloxysilicate and dimethiconola, which was developed to provide frizz control performance in water-based, leave-in formulations as well as the ability to style hair after use. This blend also imparts heat protection, shine and curl definition to hair.
Wellness: Consumers also are focused on control over their health, as exemplified by the strong adoption of fitness trackers and wearables. This dovetails with a desire for hair that conveys vitality and health, which from a hair care perspective means attributes such as shine, volume, smoothness and hold.
Since silicones are excellent for reducing friction and surface energy, even at levels as low as <1%, they can give coarse hair a smooth, shiny, healthier look and feel. A commercial ingredient example for these effects is a transparent, water-dispersible emulsion based on a hydrophilic modified silicone technologyb. This smooth, lightweight silicone polyether microemulsion can be used to support hair repair and color protection claims in applications such as high-performing shampoos and clear, moisturizing leave-in conditioners.
Anti-aging: In relation to wellness, the overall anti-aging megatrend is driving new criteria for hair care products—similar to skin care. Products are sought to improve properties of aging hair including thinness, brittleness, dullness and porosity. As described, silicones can provide moisturizing and conditioning for dry hair. In addition, they can enhance volume without weighing down fine or thinning hair while also enhancing shine and color protection.
Rising prosperity: Spending on hair care products is steady in developed countries but emerging economies are becoming engines for major growth. Sales in São Paulo, for example, are expected to grow by approximately $1 billion over the next decade, which is double the $0.5 billion growth in hair care sales expected from France. As the middle class expands in China, India and Brazil, rising prosperity also is driving demand for products beyond basic necessities.8
This change has multiple implications for hair care—whether it means an upgrade from bar soap to shampoo; more frequent or more diverse purchases; or a move to luxury products at higher price points. Consumers in emerging nations typically demand cost-effective products, however, with demonstrated value, including superior sensory effects. They also expect products tailored to the needs of their hair type, style and cultural norms. As has been described, all these expectations can be met with the versatility of silicones, as has been described.
Safety: Lastly, beneath all the trends, consumer safety is of fundamental importance, and extensive testing on silicones in hair care has been conducted over the years. In fact, silicones are among the most studied materials used in today's consumer applications–more than 1,000 studies9, 10 by silicone manufacturers have demonstrated their safety in relation to workers, consumers and manufacturing processes (see Misconceptions About Silicones sidebar).
Conclusion
Today's dynamic hair care market is affected by changes in individual preferences and global megatrends, and silicones provide value-added performance in formulas that address them. New silicone ingredients will continue to be developed to deliver new solutions to the marketplace. Whether they give hair cream lasting hold, or add shine and moisture to hair, silicones combine proven performance with a vast potential for innovation.
References
www.cosmeticsandtoiletries.com/formulating/function/moisturizer/7653302.html (Accessed May 20, 2015)
Market size, Euromonitor Passport Database (Jun 2015)
Mintel Global New Products Database (GNPD) (Jun 2015)
http://ec.europa.eu/health/scientific_committees/consumer_safety/opinions/index_en.htm (Accessed Jul 2, 2015)
http://globalsilicones.org/research/environment/ (Accessed Jul 2, 2015)
www.realclearpolicy.com/articles/2013/06/25/the_epa_vs_silicone_manufacturers.html (Accessed Jul 2, 2015)
www.mckinseyonmarketingandsales.com/finding-profits-and-growth-in-emerging-markets (Accessed Jul 2, 2015)
www.dowcorning.com/content/publishedlit/25-530-01.pdf (Accessed Jul 2, 2015)
www.sehsc.com (Accessed Jul 2, 2015)
www.silicones.eu (Accessed Jul 2, 2015)
http://kjbennett.com/cosmetic-silicone-safety-fact-fiction/ (Accessed Jul 2, 2015)
www.dowcorning.com/content/publishedlit/01-847-94.pdf (Accessed Jul 2, 2015)
Z Draelos et al, A comparison of hair quality and cosmetic acceptance following the use of two anti-dandruff shampoos, J Invest Derm symposium proceedings, 10(3) 201-204 (Dec 2005)