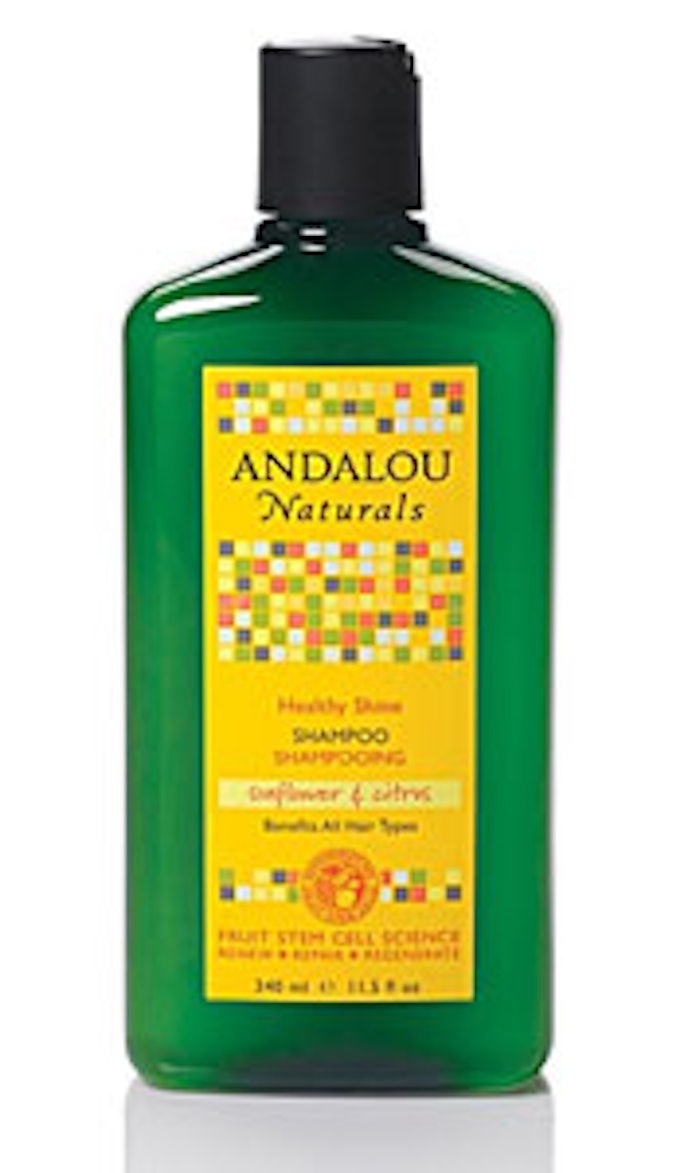 Andalou Naturals made quite a splash in the natural products market with its Fruit Stem Cell Science line that includes skin, body and hair care products. The line uses a number of "eco-friendly" and "green" claims including "made naturally without sulfates, GMO, petrochemicals, phthalates, parabens, synthetic fragrance, colors or preservatives." Additional claims include "pH balanced, hypoallergenic, vegetarian and cruelty free." This column will review the ingredient listing of the line's Healthy Shine Sunflower & Citrus Shampoo for claims substantiation and functionality.
Notably, Aloe barbadensis juice is listed first in the ingredient listing in lieu of water, which is common practice in many natural and salon brands. This practice takes advantage of the lack of strict rules about how diluted the "juice" may be in the actual formula, yet still has top billing in the deck.
The primary and secondary surfactants are sodium lauryl glucosides, hydroxypropyl sulfonate and sodium cocoyl methyl taurate, which are mild, free of sulfates, derived from plants and renewable.
More than likely, all ingredients listed after the cleansing/foaming agents are present in the formula at 1% or less. Helianthus annuus (sunflower) and Linum usitatissimum (flax) oils are emollients, and glycerin is a humectant; however, both moisturize the hair. Black cumin oil is a folkloric cure for nourishing and conditioning damaged hair, adding shine and repairing split ends. The guar gum is the thickener and conditioning agent to help minimize frizz and enhance body.
The bio-active or cosmeceutical ingredients include chamomile and quince extracts to refresh and moisturize along with allantoin, panthenol (pro-vitamin B5), tocopherol (vitamin E) and hyaluronic acid. The key to the color protection claims is the cocktail of fruit stem cell culture extracts, specifically the Vitis vinifera (not Solar vitis) grape variety, which protects against UV stress to help maintain color.
While the claim for "paraben-free" is upheld, "preservative-free" is not an accurate statement since sodium benzoate, potassium sorbate and ethylhexylglycerin are all preservatives and probably supplied as a blend.
The product is synthetic fragrance-free and scented with natural citrus oils of orange and tangerine. Citrus extracts are commonly known to be "clarifying and brightening," but the claim that they help to "invigorate follicles and circulation" to help "improve follicle longevity" leans toward making a drug claim.