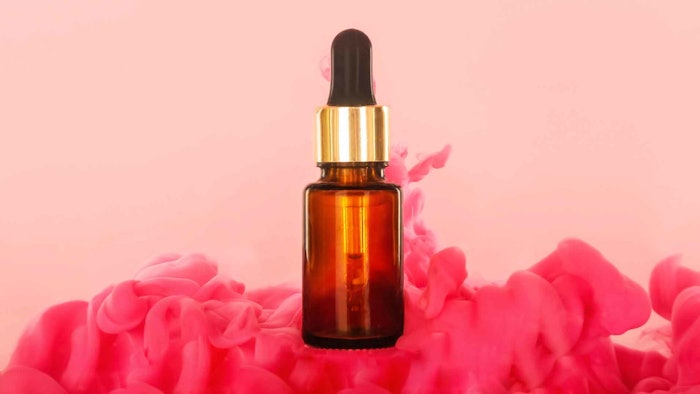 Pixel-Shot
The newest launch from The Ordinary's skin care line is a soothing and barrier support serum. Its bubblegum pink color is eye catching and generating buzz online, much like the brand's bright red AHA and BHA exfoliating peeling solution has in the past.
The Ordinary describes the serum as a "multi-active solution designed to help repair skin barrier, soothe discomfort and reduce the look of redness." It also features an unexpected ingredient that is seen in the pharmaceutical industry in the form of a sublingual tablet or injection — cyanocobalamin, also known as B12.
This article will take a closer look at the formulation to better understand it contents. The ingredients listed in bold are believed to provide the claimed effects are discussed in further detail below.*
See related: Read the Label: MAC Cosmetics Squirt Plumping Gloss Stick
Ingredient Disclosure
Aqua (Water), Propanediol, Isodecyl Neopentanoate, Pentylene Glycol, Niacinamide, Hexyldecanol, Cetearyl Alcohol, Xylitylglucoside, Ceteth-20 Phosphate, Anhydroxylitol, Ethyl Linoleate, Asiaticoside, Asiatic Acid, Madecassic Acid, Naringenin, Cyanocobalamin, Panthenyl Triacetate, 4-T-Butylcyclohexanol, Hydroxyphenyl Propamidobenzoic Acid, Cetylhydroxyproline Palmitamide, Bisabolol, Brassica Campestris Sterols, Sphingolipids, Phospholipids, Epigallocatechin Gallatyl Glucoside, Gallyl Glucoside, Propyl Gallate, Xylitol, Zingiber Officinale Root Extract, Stearic Acid, Dicetyl Phosphate, Isoceteth-20, Xanthan Gum, Trisodium Ethylenediamine Disuccinate, Tocopherol, Dehydroacetic Acid, P-Anisic Acid, Phytic Acid, Sodium Phytate, Sodium Citrate, Sodium Hydroxide, Benzyl Alcohol, Ethylhexylglycerin, Phenoxyethanol, Chlorphenesin.
Pharmaceutical Translated to Topical Cosmetic
Cyanocobalamin, or vitamin B-12, is well-known in the pharmaceutical industry in cases where patients are deficient in this nutrient. Typically found in meat and dairy products, vitamin B-12 may be administered to patients as an injection or sublingual tablet. In this product, it is being used topically for skin barrier repair and soothing effects. It also gives the serum its bubblegum pink color.
Dry and Tight Skin Relief
The overuse of exfoliating ingredients and harsh weather conditions may cause excessively dry, tight and uncomfortable skin. Sugar-derived ingredients such as xylitylglucoside, anhydroxylitol and xylitol increase skin hydration and reduce water loss (TEWL). In addition, a popular Korean skin care ingredient, Centella asiatica extract (i.e., asiaticoside, asiatic acid and madecassic acid on this label) has made its way into Western skin care and provides moisturizing and skin repairing benefits.
Cetylhydroxyproline palmitamide is structurally similar to natural ceramides found in the skin and when applied topically, can also provide a skin barrier function. Furthermore, when skin is excessively dry and water deficient, this can disrupt the natural processes of skin cell maturation, skin renewal and the composition and organization of skin lipids. Sphingolipids and phospholipids are plant-derived lipids that are being used here to restore the skin's lipids and provide dry skin relief.
Itchy, Irritated and Red Skin Relief
The effects of this product to reduce the appearance of redness and irritation can be attributed to multiple ingredients. A multifunctional ingredient, niacinamide is reported at a 2% concentration in this formulation. It is known to mitigate redness and when applied topically, it also has been shown to reduce the appearance of fine lines and wrinkles, hyperpigmentation and sebum production (i.e., providing oil control).
Panthenyl triacetate and naringenin reduce skin redness and irritation by interrupting the skin's irritation signaling process (the release of cytokines). Bisabolol, propyl gallate, gallyl glucoside and epigallocatechin gallatyl glucoside provide a soothing layer to this formula through a similar mechanism.
Individuals afflicted by dry skin, hallmarked by redness and irritation, may also experience itchiness; this is subdued by the hydroxyphenyl propamidobenzoic acid in this formula.
Sensory and Emulsification
This formulation is an emulsion with a patented blend of emulsifiers that requires a neutralization process to pH 6-6.5 using sodium hydroxide. The emulsifiers affect the viscosity of the formulation as well as the aesthetics of the product such as spreadability and rub out. A pleasant sensory profile is an important factor for consumer use and will assist in their consistent use and repurchasing of the product.
Final Thoughts
A bubblegum pink formula in the year of the Barbie movie is sure to catch the attention of consumers. The Ordinary is known for its affordable approach to skin care and for hitting the market by showcasing singular ingredient-labeled products.
The Ordinary, a DECIEM brand, states its products are "clinical formulations with integrity" providing effective formulations with innovative technologies at affordable price points. The serum discussed here sells at $17 for 30 mL or about 1 oz, which is a standard amount for a serum. It can be found at Sephora, Ulta Beauty and The Ordinary websites for purchase.
*Disclaimer: While the "Read the Label" series provides an overview of the ingredients in a product and their related claims, without use levels or access to clinical studies, the author is drawing conclusions based on speculation —albeit from training, formulating experience and, in some cases, evidence in the literature. The information provided is for your consideration and further investigation; including any patent protections.