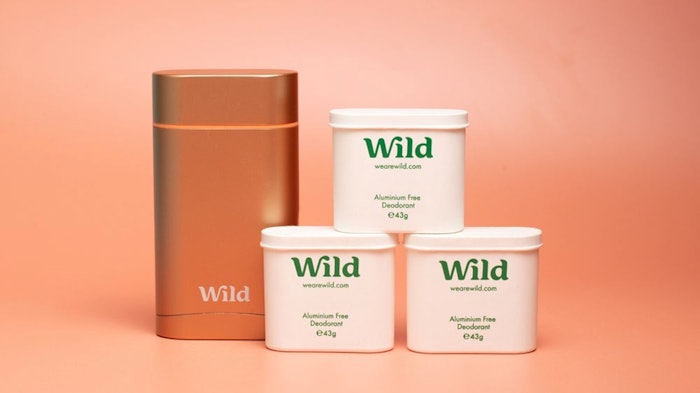 Image source: wearewild.com/
Editor's note: While the "Read the Label" series provides an overview of the ingredients cosmetic manufacturers use and their related claims, without use levels or access to clinical studies, the author is drawing conclusions based on speculation—albeit from training, formulating experience and, in some instances, evidence in the literature. The following is offered for your consideration and further verification.
Wild is an eco-conscious brand that is fighting the battle against single-use plastic. Relatively new to the scene, the company has developed a range of natural deodorant products, packaged in a reusable aluminum applicator that reportedly, "will last you a lifetime."
Related: Formulating on Trend: AHA Deodorant
The deodorant refills are delivered to the consumer's door and are made with bamboo pulp fixtures that can be recycled in standard paper recycling or left to decompose in a compost heap once emptied. The brand states that every time the deodorant case is refilled, consumers can save 30 g of plastic from going into a landfill.
While a range of deodorants is available, the base formula in each is primarily the same except for the fragrances used. Wild claims that the base formula is scientifically proven to provide 24-hr protection from body odor and helps to keep armpits smooth and moisturized.
The ingredients below in bold are ones that I believe are strongly contributing to the product's performance and claims.
Ingredients: Bergamot & Grapefruit (note: scent now discontinued): Caprylic/Capric Glycerides, Tapioca Starch, Stearyl Alcohol, Sodium Bicarbonate, Triethyl Citrate, Sunflower Seed Wax, Parfum, Cocos Nucifera (Coconut) Oil, Theobroma Cacao (Cocoa) Seed Butter, Butyrospermum Parkii (Shea) Butter, Tocopherol Acetate, Magnesium Hydroxide, Zinc Ricinoleate, Limonene, Linalool, Citral.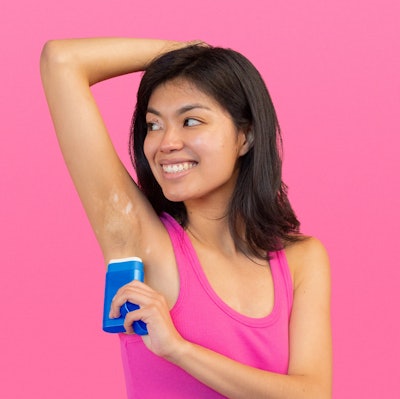 Tapioca Starch
Tapioca starch is the main ingredient, making up the bulk of the product. It is cost-effective and has a sponge-like texture, which gives it strong absorption properties. The ingredient draws in moisture, so is ideal to help keep armpits dry. Tapioca starch also can swell and work as a natural thickener when heated to high temperatures.
Sodium Bicarbonate
Sodium bicarbonate is a popular ingredient, used throughout multiple industries, with the most familiar being in cooking applications. Better known as baking soda, the ingredient reacts with acids to cause carbon dioxide bubbles, which then create light and airy textures in cakes and bread, for example. In this product, it provides deodorizing properties and its listing relatively lower in the ingredient lists suggests a lower use level, which reduces the risk for skin irritation.
Fragrance (Parfum)
This ingredient is the primary differentiating factor in each of the deodorants available from Wild. In the particular product being reviewed (note: now discontinued), bergamot and grapefruit have been used—two aromas that are fairly powerful at masking malodor.
Cocos Nucifera (Coconut) Oil
Low levels of this ingredient have been used in the product, which suggests it is working as a binder to help hold the various kinds of butter, powders and oils together. Coconut oil is a good emollient, too, that will help to improve the spreadability of the deodorant on the skin while leaving a pleasant feel. 
Theobroma Cacao (Cocoa) Seed Butter
Cocoa butter of course comes from the cocoa bean; it is a pale-yellow fat that is often used in the production of chocolate. In its crude form, it contains a subtle cocoa aroma and is a more yellow/pale brown. It is often refined, bleached and deodorized (RBD), and commonly comes in the form of solid blocks.
Featured: Keeping Cosmetics in Check: APs/Deos—Truly Essential or Marketing Hype?
Cocoa butter has an ideal melting point between 34-38°C, which means it melts as soon as it comes into contact with the skin (usually 35°C externally). It has occlusive properties to form a barrier on the skin to reduce water loss.
Butyrospermum Parkii (Shea) Butter
Shea butter is known for its rich moisturizing and nourishing properties, and similar to cocoa butter, it has a melting point of roughly 35°C/95°F, making it melt upon contact with the body. It exhibits a thixotropic behavior, meaning the finished deodorant balm will be fairly solid at first but after pressure is applied through the application, it will melt onto the skin.
The shea tree is native to Africa and it produces small, green shea fruits that can be eaten. Inside the fruit, the shea nut is found, which contains high levels of oleic and stearic acid. The levels of these two fatty acids change the physical properties of the butter as higher stearic acid levels can make the butter firmer. Depending on the area where the shea tree is grown, the fatty acid component can vary and the physical properties of the butter can differ. Shea butter is commonly used in intensive nourishing treatments for dry, cracked skin.
Magnesium Hydroxide
Magnesium hydroxide has some mild antibacterial properties, reducing the growth of Gram-positive bacteria. As many formulators know, it's not the sweat that causes body malodor—it's the bacteria consuming the sweat that causes the malodor. Magnesium hydroxide is therefore being used to help neutralize bacteria on the skin's surface, to keep users smelling fresh.
Zinc Ricinoleate
This powerful deodorant ingredient is based on a zinc salt of ricinoleic acid. It absorbs and traps certain odor molecules to reduce their odor.
Usage
Users are directed to apply a couple swipes of the product to their dry under-arm areas at the start of the day or after showering. As stated, the bar is soft enough that it will absorb into the skin without the need to rub it in, and it reportedly leaves no wet or sticky after-feel.
Wild's deodorants can be purchased online for £18 for a set of three refills; a case starts from £10.
Previous "Read the Label:" Squeak Cleansing Powder by Sood
Disclaimer: This article was written in the UK. Therefore, the INCI listing and INCI names comply with European labeling requirements.