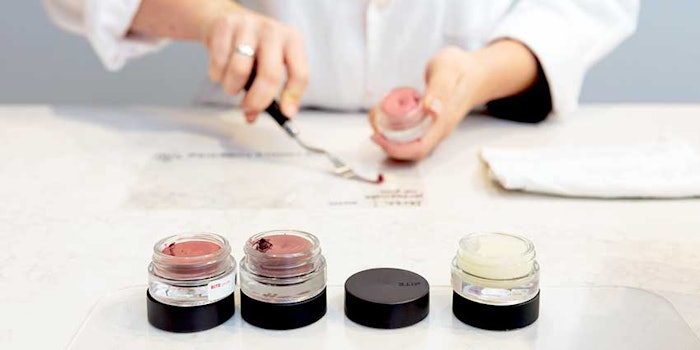 Bite Beauty
Editor's note: In the spirit of this issue's "consumer driven" focus, our assistant editor, Brooke Schleehauf, took to NYC to fully immerse in her own customized cosmetic experience. Following is her personal account and video footage of the bespoke process.
The current wave of personalization in the beauty industry is wide-sweeping; from subscription-based fragrance wardrobes, to e-commerce questionnaires on skin health that curate custom skin care routines, and products individualized "just for you" on a microscale. This trend has pervaded consumer desires to become a phenomenon in its own right.
One company that fosters the personalized outlook is Bite Beauty. Based in Toronto, the natural lip product manufacturer has grown to open four North American Lip Labs by BITEa—brick-and-mortar locations where consumers can create custom lipsticks on the spot.
At each location, dozens of customers per day create lipsticks based on one of two package options: Lip Lab's custom service, which allows clients to combine one of over 200 different pigment premixes, four textures and nine fragrances; or the bespoke service, in which the client works with Lip Lab artists to hand-mix a unique pigment combination for their "perfect" lipstick, whose formula is recorded for future visits.
These custom pigment and fragrance options are then mixed with the consumer's chosen texture base and scaled to size—in this case, to a single stick. The fragrance options include cherry, mint, vanilla, fresh citrus, violet, coconut, citrus mango, wild berry or lime; the textures are: cuvée, matte, glossy sheer, luminous.
Customer Favorites
What preferences stand out in the niche personalized lipstick market? According to Christina Del Percio, Lip Lab Manager, Lip Lab by BITE Soho, consumers often go for the classics.
"A lot of people get neutral [colors]," shared Del Percio. Reds and nudes are most common, with many general "make me a red" requests. These are often paired with a vanilla-scented, matte formula.
Not everybody comes in for their perfect red lip, though. One of Del Percio's recent favorites falls on the other side of the spectrum—a cool, "wearable" royal blue. Check out our video footage of the Lip Lab experience and to watch this shade being mixed.
Though the actual formulation is carried out by Bite Beauty formulators, consumers get to feel that they created this lipstick.
Consumers also often bring in discontinued favorites to recreate, or visit the Lip Lab to mix up keepsakes, such as their wedding color.
"When you think about it, many companies will come out with 16 or eight [lipsticks] per season, but there will only be two nudes or reds. That's why people come in most—to find the shade that's perfect for them but doesn't look like [they're] wearing a friend's lipstick," commented Del Percio.
To achieve these pigment feats, Lip Lab artists join the team with a preexisting knowledge of color theory, and often with an additional art or skin care background.
Contrary to how it may seem, the bespoke options are easier to create—with 200+ pigments at hand, it is simpler to consult with consumers and create an individualized shade, rather than choosing from existing options. And although most arrive at the Lip Lab wanting the less expensive custom option, many change their minds once inside.
Consultations usually take 45 min-1 hr, during which consumers sometimes ask for their Lip Lab artist to surprise them with a shade of their choice. Though some pigments take longer to set—for instance, orange shades are often softer—the finished lipstick is ready within 15 min after the formula is decided.
In the Lip Lab: A Firsthand Account
I love bold, striking lipstick colors. When I visited the Lip Lab in Soho in May 2018, Del Percio helped me create two matte shades I had been searching for—a punchy, bright pink, sans white or coral; and a cool orange-red.
We started with the pink. Although she sometimes throws in wild cards, Del Percio noted that she typically begins consultations with more muted options and adjusts from there—which makes sense since many visit the Lip Lab to create neutral shades. I was not in that camp, so the third pass brought in brighter tones to make the lipstick pop; we landed on a combination of Bite's Grapevine and Lilac pigments.
For my second shade, I wanted an orange lipstick that could make my smile appear brighter and whiter. To achieve the desired vivid orange-red, we blended a fiery orange with a deep, cool red to balance out warm undertones—the company's Sherry, Apricot and Red 121 pigments. The resulting shade reminded me of lip trends from the 1950s.
Regarding the fragrance, certain combinations are popular, according to Del Percio; for instance, mixing citrus mango and cherry to result in a "fruit punch" effect. She also noted that lipsticks are commonly named after pets, song lyrics or favorite flowers.
I settled on a vanilla and wildberry mix for my pink lipstick and named it Dolores; and although I was tempted to incorporate tropical coconut fragrance in my orange, I went with classic vanilla, which I named Quaffle. (Spot the Harry Potter references?)
The pigments and matte formula bases were then weighed to scale up to a single stick and melted. The blends were then color-matched to the original pigment mixes before adding fragrance. After mixing, they were poured into molds to freeze and 10 min later, they were popped out into Bite's lip-embossed lipstick tubes. Finally, to add to the luxe experience, Bite Beauty packages bespoke clients' lipsticks with a lip care kit.
Personalization at Large
Though the actual formulation of the Lip Lab's personalized lipsticks is carried out by Bite Beauty formulators, the steps described give consumers the feeling that they created this lipstick—all of the building blocks were there, it was just up to them to select which blocks to use and build the final product.
While the process of customizing a cosmetic may be rewarding, one factor detracting from the production of personalized products is the question of how to create them on a large scale while still being efficient and cost-effective. Though innovators have proposed novel solutions, brands like Bite Beauty sidestep this issue in part by creating custom products on a case-by-case basis—which not only bypasses the mass production dilemma, but also adds to the tailor-made quality of the Lip Lab service.
Services like Bite Beauty's are not alone in the beauty industry. Wella Professionals recently introduced its Color DJb service, whereby hairdressers work individually with clients to determine a hair color, level of care and preferred scent to create a custom-made hair gloss on-site. L'Oréal's SkinCeuticals brand also launched Custom D.O.S.E.c, which evaluates consumers' skin to create serums within minutes based on an individual's skin aging, discoloration and other factors.
On the Up and Up
Bite Beauty itself is expanding—at press, the company's most recent Lip Lab opening took place in Los Angeles.
Regarding the Lip Labs' popularity, Del Percio noted: "Customers are interested in creating personalized lipstick at Lip Lab by BITE because it's completely tailored to what they're looking for. They're able to create their perfect lipstick that compliments their skin tone with their preferred finish and even pick their desired scent."
As a recent report on the topic1 states, customized experiences are a major driver in the next generation of this field, and that "companies that do not pursue personalized beauty are leaving a significant growth opportunity on the table." Time will tell how these growth opportunities and new technologies play out to make personalized beauty more accessible for formulators and consumers alike.
References
(Accessed Aug 14, 2018)