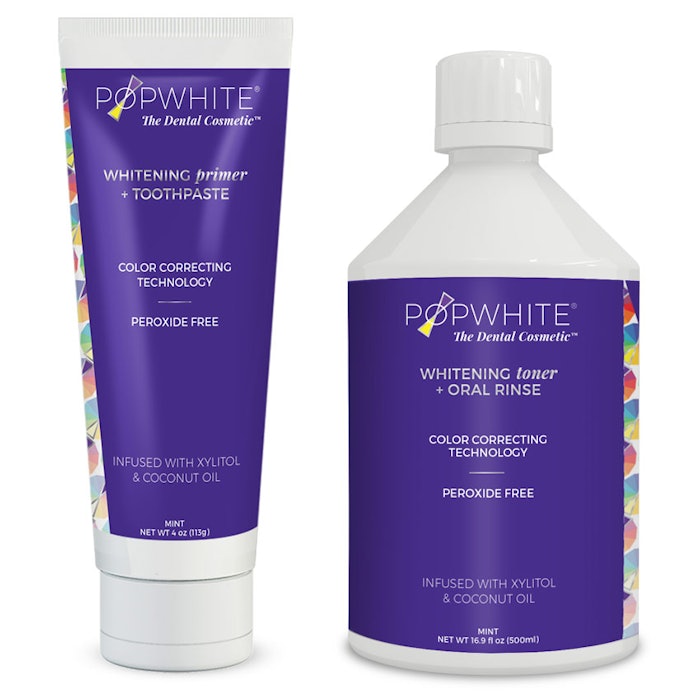 POPWHITE utilizes FDA-approved Red 33 and Blue 1 colorants to create the brand's signature purple formula, reducing the visibility of yellow dental stains. The peroxide-free color-correcting Primer (toothpaste) and Toner (oral rinse) help whiten, brighten, polish and clean teeth while freshening breath with peppermint oil, xylitol and coconut oil.
Ingredients: Primer: Sorbitol, Purified Water, Hydrated Silica, Vegetable Glycerin, Xylitol, Xanthan Gum, Sodium Lauryl Sulfate, Coconut Oil, Titanium Dioxide, Peppermint Oil, Menthol, Citric Acid, Sodium Benzoate, Sucralose, Red 33 and Blue 1.
Toner: Purified Water, Xylitol, Vegetable Glycerin, Sorbitol, Coconut Oil, Polysorbate 20, Peppermint Oil, Peg 40 Hydrogenated Castor Oil, Sodium Benzoate, Menthol, Zinc Pyrrolidone Carboxylic Acid, Vitamin, C, Red 33 and Blue 1.